NYC Mayor-Elect Adams to Keep Health Chief as Covid Surges
(Bloomberg) -- Eric Adams will keep Dave Chokshi as New York City's chief health official through March, a sign the mayor-elect seeks to maintain continuity with Mayor Bill de Blasio's pandemic response against a backdrop of surging Covid cases.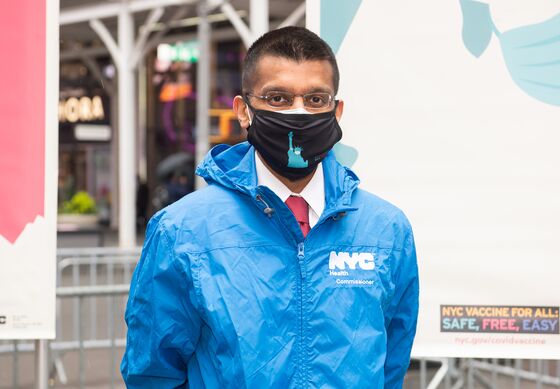 Ashwin Vasan, president of mental-health nonprofit Fountain House and co-chair of the Adams transition team's health committee, will take over on March 15 as health commissioner. In the interim, Vasan will serve as a senior public health adviser. 
"We are at a critical moment in our fight against Covid-19," Adams said in a statement. "The virus is a formidable opponent, and our city's response to it must be smart and strong. For the next three months as we get through this surge, Dr. Chokshi will continue the excellent work he is doing now." 
Chokshi, who has led the New York City Department of Health and Mental Hygiene since August 2020, will continue to manage the city's health system and vaccine campaign when the new administration takes over Jan. 1. 
He took over the city's health commissioner in the middle of the pandemic, following the resignation of Oxiris Barbot, who left after disagreements with de Blasio over his Covid response. Before that, Chokshi served as the Chief Population Health Officer at New York City's Health + Hospitals.
Since then, the city has been more aggressive than some jurisdictions in virus restrictions and, later, pushing vaccinations. After requiring all municipal workers get shots, the city announced a private-sector mandate to start Dec. 27. Roughly 71% of the city and 82% of adults are fully vaccinated.
Now, Chokshi will have to help Adams face the fast-spreading omicron variant, a rapid spike in Covid cases and a run on testing sites that has spawned long lines for the screening. 
The city's public hospitals also said on Wednesday that the system would begin banning most visitors amid the Covid spike, spurred by a recent outbreak in one of the hospitals. Women in labor, children, and hospice patients will still be able to receive visitors. 
Adams has said he'll evaluate the private-sector mandate and other Covid strategies once the new year starts. On Sunday, the mayor-elect said there will be "continuity" between his and de Blasio's administrations so "there is no confusion or gap in our Covid response" when Adams takes office.
Still, Adams has criticized the de Blasio administration's pandemic response and said in September that he was "not happy" with the performance of the city's health department.
The mayor-elect has pledged to create a new color-coded warning system to alert New Yorkers to the Covid threat level. He has said he'd be open to mandating vaccines for schoolchildren and requiring boosters for New Yorkers to enter venues if his health advisers recommend the moves.
Throughout Adams's mayoral campaign and on his transition website, Adams highlighted Vasan and Fountain House as a model for how to treat people experiencing mental illness. 
A practicing physician, Vasan also serves as an assistant professor at Columbia University's Mailman School of Public Health and Vagelos College of Physicians & Surgeons. He holds a Master of Science degree in Epidemiology from Harvard, a medical degree from the University of Michigan, and a Ph.D in Public Health from the London School of Hygiene & Tropical Medicine.
"Dr. Vasan brings 20 years of expertise and experience working in public health that will ensure New Yorkers are well-equipped to continue the fight against Covid-19," Adams said. "After Dr. Vasan assumes the role, we will build on the progress we have made, ensuring that we continue our fight against the pandemic while delivering on my public health priorities."