NYC Doesn't Need More Police, Says Mayoral Hopeful Morales
(Bloomberg) -- New York mayoral hopeful Dianne Morales says adding more police officers on the streets or in the subways isn't the answer to reducing violent crime and boosting the economy in the most populous U.S. city.
The nonprofit executive is one of the few Democratic candidates in a crowded race to maintain support for the "defund the police" movement, which erupted on the streets of New York last year after the killing of George Floyd.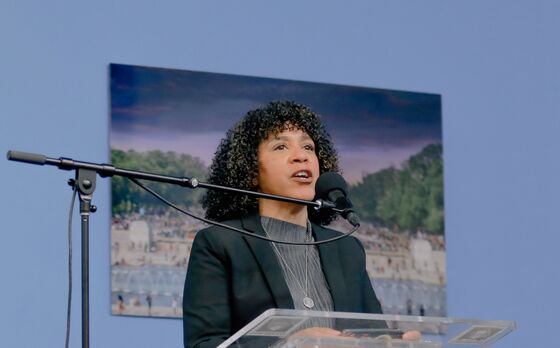 Morales, whose kids were pepper-sprayed and assaulted at the protests, said she would reallocate $3 billion of the NYPD's budget to other community services in a bid to fundamentally reshape the city's policies. The most left-leaning of the candidates, Morales would have to reconcile her ideological goals with the realities of a city where unemployment is twice the national average and shootings were up in April by more than 166% from a year ago.
"Police aren't keeping us safe," Morales, 53, said Tuesday during a one-hour interview with Bloomberg News editors and reporters. "The shooting of the four-year-old girl in Times Square happened a few blocks radius from a police precinct, an area of the city most heavily surveilled, and it goes to the idea police didn't prevent it, they just responded to it."
During the interview, Morales acknowledged a report by The City that she directed her father to pay a $300 bribe to a city inspector in 2002, who offered to dismiss a $12,500 water bill in return for a personal payment. Morales, who worked for the city's education department at the time, said that she was a single mother of two, a new homeowner, and was "in over her head." She said it didn't occur to her that she could turn down the inspector, who was later investigated for his role in a larger bribery probe.
"I'm not surprised this came up now because my campaign is doing better than people would like," she said.
Morales said one of the most astonishing things about the race is that no one expected her to get this far. She was able to raise more than $2.2 million of matching funds and appeared in the first televised debate last week, where a number of candidates listed her as their second-choice pick. The primary will be the first conducted via ranked choice, where voters list as many as five candidates in order of preference. The winner of the June 22 primary is heavily favored to become the next mayor of the overwhelmingly Democratic city.
"There has been a consistent dismissal of my candidacy," she said. At the same time, she said it was "undeniable" that she pushed the overall field closer to some of her progressive policy priorities, including reforming the police.
She said she raised more than $255,000 in the filing period ended May 17. She said she had the most successful fund-raising day yet on Monday, taking in $50,000 in a 24-hour period. She said she hasn't yet spent money on television advertising yet, a push she'll begin next month to focus on the last few weeks of the race.
"This is anyone's race still," Morales said. "People are just beginning to tune into the mayoral race."
In a poll released late Monday by Emerson College and Pix11, 6% of voters said Morales was their first choice, ahead of rivals Maya Wiley, a civil rights lawyer; Shaun Donovan, former city housing commissioner; and former Citigroup banker Ray McGuire. Brooklyn Borough President Eric Adams led the race, with 18%, followed by former presidential contender Andrew Yang and Scott Stringer, each with 15%. Kathryn Garcia, the former city sanitation commissioner who was recently endorsed by the New York Times, had 8% among the 631 people polled from May 13-15.
If elected, Morales would be the city's first female mayor and first Afro-Latina leader of the city. The former teacher said she would issue an executive order in her first 100 days to desegregate the city's public schools, the nation's largest school system. That includes removing the screens and tests for selective schools, redrawing boundaries of districts and instituting what she calls a culturally-responsible curriculum.
Morales was an early and vocal proponent of the "defund the police" movement and continues to use a phrase others have walked back, including Mayor Bill de Blasio. She said she would create a community-first responders department, sending out mental health and other professionals to address issues that didn't require the police.
De Blasio on Monday pledged to send 250 more police officers into subway stations and has proposed raising the police budget next year. Respondents in the Emerson College poll were split on their view of the NYPD, with 52% having a positive opinion and 30% wanting to decrease the police budget.
"Throwing more police at the issue is not the answer," Morales said, in reference to plans by rival Brooklyn Borough President Eric Adams to bolster the city's force.
On Tuesday, Adams told Bloomberg Television that he planned to re-institute a controversial anti-gun unit that was disbanded after complaints and instances of force piled up.
"We must go after the gangs and over-proliferation of guns in city," Adams said in an interview with Bloomberg Television. "If we don't, we are not going to have the economic recovery, tourism, business travelers or have our offices back and running."