NYC Crime Wave Dominates Mayoral Debate Marked by Insults
(Bloomberg) -- The eight top Democratic candidates for New York mayor sparred Wednesday night over how to reduce violent crime, fix schools and housing programs and revitalize a city still careening from pandemic-induced economic losses.
During their first in-person televised debate, the candidates slung insults and accusations at one another for two hours as they tried to distinguish themselves in a crowded race with three weeks until the June 22 primary.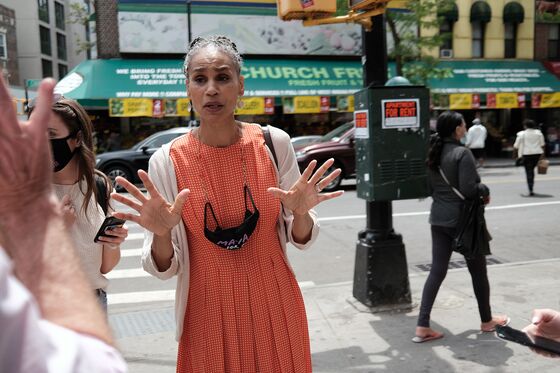 An increase in hate crimes, subway assaults and shootings have become central to the race. Brooklyn Borough President Eric Adams and former presidential contender Andrew Yang called for more police officers on city streets and transit systems, while civil rights lawyer Maya Wiley and former educator Dianne Morales advocated for redirecting funds from the force. Former city Sanitation Commissioner Kathryn Garcia said she would focus on gun buybacks and stopping the flow of firearms into New York.
"Defunding the police is not the right approach for New York City," Yang said.
City Comptroller Scott Stringer warned that a rise in crime did not merit a return to past policies like stop-and-frisk or plainclothes police units that disproportionately impacted Black and Latino residents, two policies that Adams has said he wanted to bring back if modified. Adams, who spent two decades in the NYPD and has been leading recent polls, said that he fought against stop-and-frisk when he served on the force.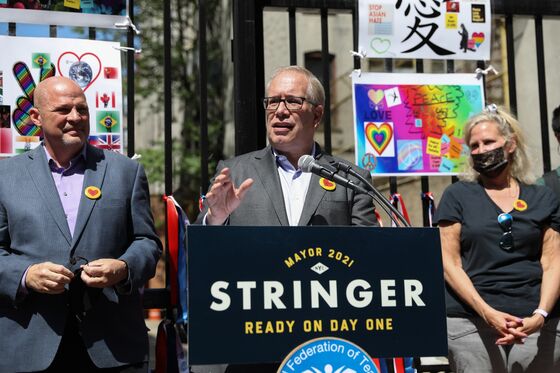 Adams also defended himself after Wiley attacked him for saying he would carry a firearm as mayor.
"Isn't that the wrong message to send our kids we're telling not to pick up the guns?" Wiley asked him. Adams responded that he and others who are well trained and accountable should be able to carry guns.
The candidates also debated how to address crime in the subways, which has depressed ridership and kept workers from returning to their city offices. Yang and Garcia said there should be more cops in the system, while Adams said there should be a proper deployment of the police that are there, with officers on every train.
"Everybody keeps running toward flooding the zone with cops, and that is not what is going to solve the problem," said Stringer, who called for more mental health professionals.
Gathering for the first time in person, the candidates launched into numerous shouting matches and personal attacks. Much of the vitriol was directed at Adams and at Yang, who mostly stayed out of the fray and answered questions with even-keeled responses that avoided caustic attacks. When former Citigroup banker Ray McGuire attacked a Yang plan to provide immigrant families with $1,000 a month and Stringer called Yang a Republican, Yang didn't respond.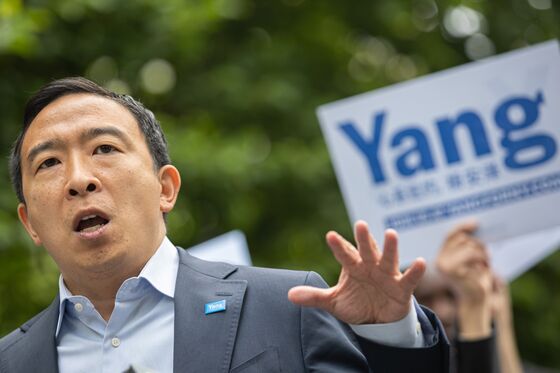 But Yang erupted after Adams attacked him for leaving the city during the pandemic and for his failure to vote in previous city elections. "How the hell do we have you become our mayor with your record like this?" Adams asked during a debate round that allowed candidates to direct their own questions against rivals. "You can't run from the city if you want to run the city."
Yang hit back and attacked Adams for corruption investigations and taking donations from real estate developers. "Eric, we all know you've been investigated for corruption everywhere you've gone," Yang said. "You think you're going to enter City Hall and it's going to be different?"
Adams got four of the eight questions asked by candidates during that round. Yang was asked two questions, by former city housing commissioner Shaun Donovan and Adams, while Stringer got the other two, from McGuire and Garcia.
Adams led in a May 13-15 poll by Fontas Advisors and Core Decision Analytics, with 18% of respondents saying they were definitely or probably their first choice. Yang got 13% and Garcia came in third with 11%. In a separate PIX11/Emerson College poll conducted May 23-24, Garcia surged to the lead after scoring key endorsements from the New York Times and Daily News, with 21% of respondents naming her as their first choice, up from 5% in March. Adams rose slightly to 20%, while Yang plunged to 16% from 32%.
This will be the first mayoral contest in the city decided by ranked-choice voting, a system that asks voters to rank their top five selections. Because voters get to express support for backup choices as well, it's a method that's supposed to discourage negative campaigning, but that hasn't proven true in the final weeks of New York's mayoral contest.
On Wednesday, just two of the candidates said they had a second choice for mayor: Donovan, who named Wiley; and Yang, who named Garcia. Wiley declined to name a second pick after previously saying she would choose Morales, whose campaign has been recently accused of staff misconduct. Morales on Wednesday acknowledged bad behavior among her staff and said it was dealt with expeditiously.
Candidates directed attacks at Yang and Adams for accepting multimillion-dollar donations from billionaires who support raising the cap on charter schools, which has long spurred controversy by critics who say they siphon public school funding and exert overly punitive disciplinary measures on minorities. Adams, Yang and Garcia said they would support charter schools, but that public schools remained their major focus. "I believe in scaling up excellence," Adams said.
"I would increase the cap on charters because I put children first, but my focus is on public schools," said Garcia, who pledged to redirect $130 million to classrooms from the department of education's headquarters. Stringer, who has the endorsement of the city's largest teachers union, said charter schools weren't the answer to improving the city's schools. He criticized Yang and Adams for "taking millions of dollars from Republicans who want to privatize the school system." The teachers union has stuck by Stringer despite accusations he sexually harassed a campaign volunteer decades ago, claims he denies.
When asked whether they would want to be endorsed by incumbent Mayor Bill de Blasio or scandal-plagued Governor Andrew Cuomo, all candidates demurred except for Yang. The group generally supported de Blasio's initiative for universal pre-kindergarten, but said the term-limited mayor deserved failing grades on housing, police and management of Covid.