Norway's Outgoing Cabinet Flags Cut in Oil Wealth Spending
Norway's outgoing government projects the oil-rich Nordic nation will clearly reduce reliance on its $1.4 trillion sovereign wealth fund next year as a robust recovery allows the withdrawal of record stimulus.
The government of Prime Minister Erna Solberg, defeated in last month's elections, estimates that the so-called structural non-oil fiscal deficit will shrink to 2.6% of the fund next year, or 322.4 billion kroner ($37.6 billion), compared with 3.6% this year and last. The central bank last month projected a 2.9% gap.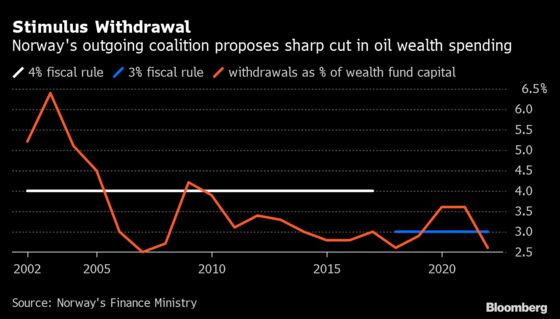 "This is tighter than our expectations," Kristoffer Kjaer Lomholt, Danske Bank's Head of FX and Corporate Research, said. "Still, we doubt the effect is large enough to change the rate outlook significantly."
The incoming minority coalition of the election-winning Labor Party and the agrarian Center Party, another proponent of oil exploration, will present their government platform on Wednesday and are likely to flag that they will make changes to the budget plans. 
Labor leader Jonas Gahr Store and his Center counterpart Trygve Slagsvold Vedum, who is reported to become the next Finance Minister, have signaled more welfare spending and tax increases. 
While the outgoing government proposed continuing the reduction of the tax on working capital, it also suggested that the wealth tax on the most expensive homes be increased -- a reflection of Norway's housing price rally during the pandemic that has pushed home prices up 10.6% year-on-year in the third quarter.
Western Europe's biggest oil producer relies on the sovereign wealth fund -- the world's largest -- to plug budget deficits, and has resorted to withdrawals on a record scale in the past two years. This helped the economy to return to pre-pandemic levels in the second quarter, faster than most other developed nations, with the central bank last month beginning to raise borrowing costs as the first among the so-called G-10 group of the world's major currencies. 
Norway's consumption-driven recovery exceeded policy makers' projections in the second quarter. The government now expects mainland GDP, which adjusts for Norway's oil and offshore industry, will expand 3.9% this year before growing 3.8% in 2022.
"Good momentum in the Norwegian economy and a sharp rise in the fund in recent years indicate that fund withdrawals should now be well below the long-term guideline of 3%," the Finance Ministry said. "This would reduce vulnerability to falls in fund value, and we are better prepared to face any new setbacks and crises." 
Still, Nordea's economists Kjetil Olsen and Dane Cekov disagreed with the ministry's claim the 2022 budget would have a tightening impact.
"The budget proposal is lower predominately due to the phasing out of the extraordinary and temporary COVID-19 policy measures," they said in a research report. "The 2022 budget deficit is still markedly higher compared to 2019 and it should not be seen as a contractionary budget."