Northern Ireland's DUP Names Jeffrey Donaldson as Next Leader
(Bloomberg) -- Northern Ireland's largest political grouping, the Democratic Unionist Party, named Jeffrey Donaldson leader, its second in less than a month.
The 58-year-old was the only candidate to apply for the post, the party said on Tuesday. He will succeed Edwin Poots, who was ousted last week after just three weeks in the job.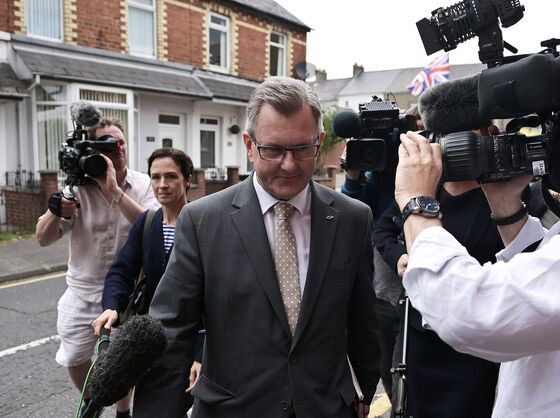 Donaldson takes over at a tumultuous time for the party, which has seen its popularity slump as Brexit roils business in Northern Ireland. Poots was ousted by his colleagues last week after making a deal with the U.K. government and nationalist Sinn Fein to restore the region's power-sharing Assembly.
The region has been hit by some of the worst violence in years, fueled in part by Brexit's Northern Ireland Protocol, which created an economic border in the Irish Sea and separated the province from the rest of U.K., angering unionists. That discontent could be magnified as marching season gets underway in coming weeks.
"It is not realistic to expect stability when every unionist representative in the devolved institutions opposes the Northern Ireland Protocol," Donaldson said in a statement. The U.K. "government and those who claim to be protectors of peace and stability, must step up and deal with the protocol in a manner which respects the constitutional and economic integrity of the United Kingdom."
There could also be further friction at Stormont. First Minister Paul Givan has been asked to step down once the new DUP leader is in place, according to the Belfast Telegraph -- a move that would require both the DUP and Sinn Fein to make fresh nominations for the posts of first and deputy first ministers, something that could trigger a fresh round of horse-trading between the two sides.
If the two sides fail to strike a deal within seven days of Givan vacating the post, U.K. Northern Ireland Secretary Brandon Lewis may have to call elections to the Assembly -- the power-sharing body that runs Northern Ireland under the terms of the Good Friday Agreement.
A fresh vote could shift the balance of power in Northern Ireland decisively away from unionists, who want to remain part of the U.K.. A May poll showed Sinn Fein leading with 25% support, while support for the DUP was tied with the Alliance Party at 16%.