North Korea Threatens 'Crisis' in Last-Ditch Bid to Sway Seoul
(Bloomberg) -- North Korea threated a "security crisis" over U.S.-led military drills, in what appeared to be a campaign to pressure South Korea's pro-engagement president for greater support before he leaves office next year.
Training exercises scheduled to start Monday risk sinking a two-week-old deal between Seoul and Pyongyang to improve ties, said Kim Yong Chol, a North Korean ruling party official. The remarks, reported Wednesday by the official Korean Central News Agency, were the latest in a series of demands by top regime officials in recent days for a halt to drills.
"We will make them feel every moment how close they are to a huge security crisis," Kim said. "We must let them know the cost of blowing up the opportunity to improve the inter-Korean relations and responding to our goodwill gesture with hostile actions."
South Korean President Moon Jae-in's government heralded the July 27 deal to restore cross-border communications that had been silent for more than a year as a turning point in talks with Kim Jong Un. But North Korea didn't answer a hotline call two straight days and ignored regularly scheduled calls via a military communication line, signaling the good feelings may be short-lived.
North Korea's shift appeared intended to leverage Moon's desire to improve ties before he leaves office next year, getting him to advocate sanctions relief and driving a wedge between Washington and Seoul. More than 70 lawmakers from Moon's progressive camp issued a joint statement last week calling for the exercises to be postponed to keep inter-Korean ties on track.
"Pyongyang sees that Moon's days in the presidential Blue House are numbered and that Moon would like to mend inter-Korean ties as much as possible before he leaves office," said Rachel Minyoung Lee, a nonresident fellow with the 38 North Program at the Stimson Center. "North Korea seems to be using that to its advantage."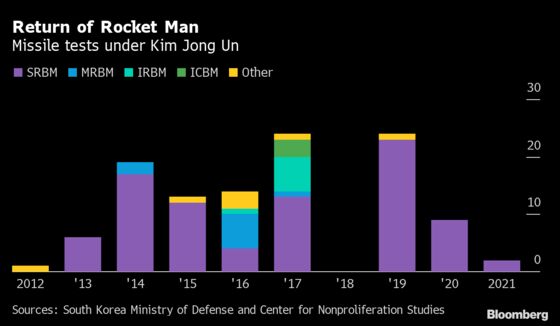 The statement didn't contain concrete rhetoric to back up the threats, said Lee, a former analyst for the U.S. government. She said the hotlines with the South were low-lying fruit and Pyongyang could also increase pressure through moves such as missile launches and closing an office that manages relations with Seoul.
North Korea tested two short-range ballistic missiles in March, the first since President Joe Biden took office. But it has so far refrained from the type of provocations it used when Barack Obama and Donald Trump began their presidencies, which included nuclear tests and long-range missile launches.
Even though North Korea may be facing some of the greatest food insecurity since Kim Jong Un took power nearly a decade ago, the leader hasn't given indication he's willing to unwind his nuclear arsenal in return for economic incentives.
Moon has been looking to revive stalled inter-Korean projects put on hold by political rancor but the bigger money for Kim come from easing international sanctions put in place to punish him for tests of nuclear weapons and missiles that could deliver a warhead to the U.S. mainland.
"Seoul remains the X factor here" said Soo Kim, a Rand Corp. policy analyst who previously worked at the Central Intelligence Agency. "So it may seek to find 'balance' -- which, I think from Washington's perspective, does not bode a rosy picture for the alliance."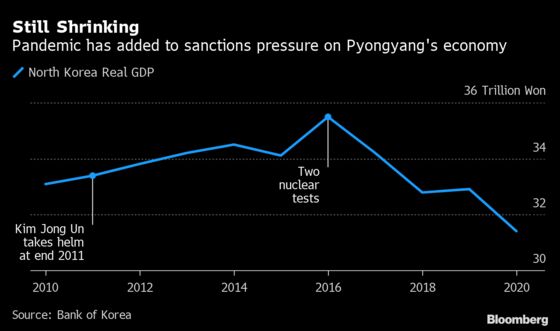 State Department spokesman Ned Price said that the drills were "defensive in nature" and not a threat to Pyongyang's leaders. "The United States harbors no hostile intent towards the DPRK," he told a news briefing Tuesday, referring to North Korea by its formal name.
The U.S. and South Korea have been holding joint exercises for decades without any major incidents, but that has not stopped North Korea from denouncing them as a prelude to an invasion. The upcoming "command post" exercises will mostly take place in bunkers out of public view by personnel sitting behind computer screens.
North Korea has long sought to use the prospect of talks to scale back the drills, something which Trump controversially agreed to during hi summits with Kim. Drills were canceled in the first half of 2020 because of the pandemic and computer simulation exercises were carried out in August 2020 and March 2021, raising concerns about the alliance's readiness.
Daniel Pinkston, an international relations lecturer at Troy University in Seoul and a former Korean linguist with the U.S. Air Force, said most American personnel are in South Korea for about a year and get just one exposure to combined and joint training. The exercises are more about helping troops prepare for contingencies and provide regional security that increasing capability, Pinkston said.
"If the military doesn't train or prepare for possible scenarios and potential crises, then they are not going to be ready to respond," he said. "Not only is the region less secure because the military is less capable in responding to various situations, but it also invites challenges by North Korea."