Kim Jong Un Wants Second Summit With Trump Soon, Moon Says
(Bloomberg) -- Kim Jong Un wants to hold a second summit with U.S. President Donald Trump soon, South Korean President Moon Jae-in said on Thursday after a three-day visit to North Korea.
The North Korean leader is willing to take faster steps on denuclearization if the U.S. guarantees his regime's safety, Moon said, adding that Kim has a message for Trump that hasn't been disclosed in any agreements.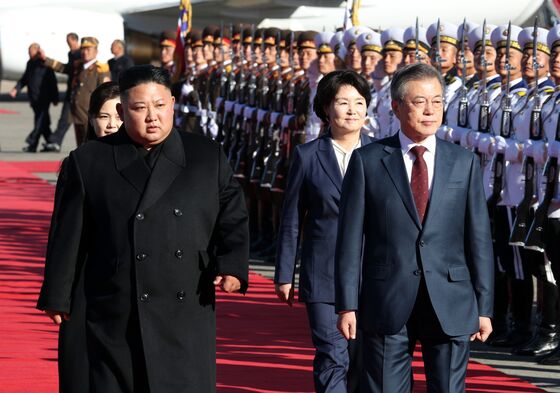 "A second U.S.-North Korea summit could bring a breakthrough to the impasse," Moon told reporters in Seoul. The next meeting between Trump and Kim should seek to produce a timeline for denuclearization, he said.
Moon's comments suggest the U.S. and North Korea are getting closer to a breakthrough after seeing little progress since Trump's landmark summit with Kim in June. The Trump administration has resisted North Korea's demands for a peace declaration, as it may bolster arguments for easing sanctions and scaling back the U.S. military presence in South Korea.
Moon sought to alleviate those concerns on Thursday, saying a peace declaration amounts to a political statement that would build trust without leading to a reduction of U.S. forces in South Korea. A full peace regime would only be signed after North Korea gets rid of its nuclear weapons, Moon said.
Kim wants U.S. Secretary of State Michael Pompeo to visit Pyongyang so the two sides can resume talks over the regime's nuclear weapons, Moon said. Pompeo on Wednesday had called for a new round of talks with the goal of ridding North Korea of nuclear weapons by the end of Trump's first term, saying he was heartened by progress made at the inter-Korean summit.
North Korea had promised to dismantle a missile test site -- under the eye of international observers -- and move to shutter North Korea's main Yongbyon nuclear production site if the U.S. takes unspecified "corresponding measures." Moon said that Kim must destroy any long-range missiles and dismantle any nuclear production facilities apart from Yongbyon.