North Korea's Gateway to China Is Optimistic Regardless of Trump
(Bloomberg) -- In the city of Dandong, the main crossing point into China from North Korea, optimism is brewing even after Donald Trump abruptly canceled a landmark meeting planned with Kim Jong Un.
Here the summit that matters most is being broadcast in a continuous loop on a giant screen on the Yalu River facing North Korea: a film of Kim and Chinese President Xi Jinping strolling together in the city of Dalian, 300 kilometers (186 miles) away, in early May.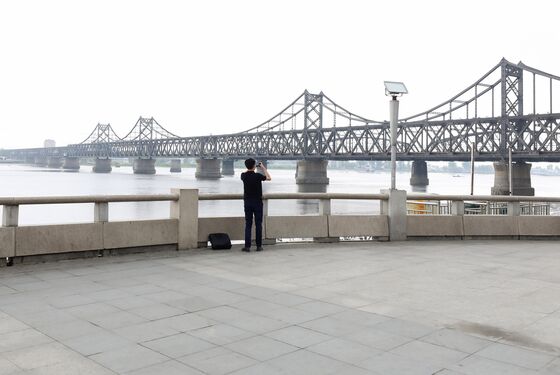 "Whether they meet or not doesn't make a big difference," Xie Zhiqiang, 50, general sales manager from "Singapore City," a property project in Dandong's new town area next to the bridge that leads to North Korea, said of Trump and Kim. "The meetings between Xi and Kim are more important to us."
Dandong is a barometer on how well the United Nations sanctions are working to starve North Korea of funds. About 80 percent of North Korea's international trade is with China, much of it through this frontier city filled with shopkeepers, smugglers and real-estate dealers whose fortunes rise and fall with the trade across the River Yalu.
While there have been sanctions on and off for years, Dandong's economy has really only taken a hit since since China agreed to enforce harsher measures last year. A rapprochement between Xi and Kim could bring back the North Korean trucks -- good for Dandong, but a lost opportunity for Trump.
With U.S.-North Korea talks now indefinitely delayed, attention is turning to how strongly Kim's neighbors -- China, South Korea and Russia -- will continue to enforce sanctions against his regime. All of them want to keep up the diplomatic momentum instead of returning to the days of persistent threats of nuclear war.
On May 21, Trump tweeted that he heard the border between China and North Korea has already "become much more porous." Among the real estate dealers, shopkeepers and vendors who hawk goods across the bridge, there's a sense that could happen soon as relations between Xi and Kim improve. Some said they've been stockpiling goods in preparation for an upturn in trade.
What everyone in Dandong agreed on is that the sanctions have been bad for business since China cracked down. Interviews with dozens of traders, shopkeepers, villagers and diplomats who live on the border or have recently inspected it, all confirmed that China is fully implementing the restrictions.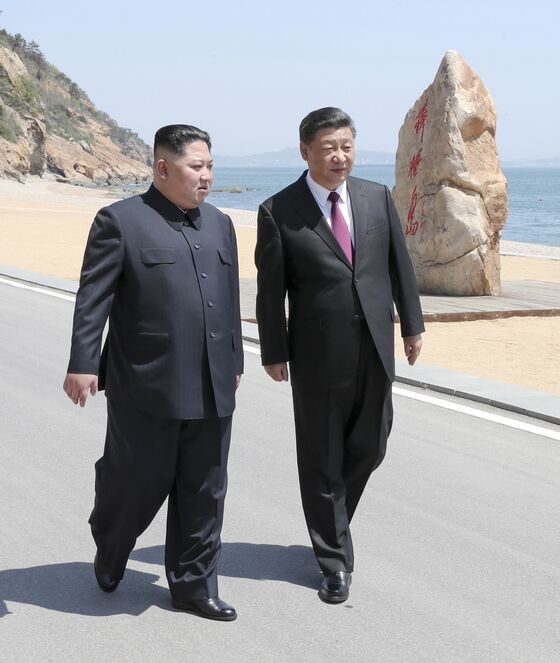 "Fewer and fewer people have come over since last October," said vendor Wang Xue, 28, adding that this is the worst time in the four years she's been working at Youli Store.
Like many in Dandong, Wang's shop is geared to sell products to North Koreans. She offers vitamins, kitchen appliances and South Korea-made underwear. She once sold an $800 Samsung robot vacuum cleaner to a North Korean.
She still hopes that North Korean and the U.S. can reach a deal that would ease trade restrictions. "If they don't talk, it might impact North Korea's economy and that will impact our business," she said.
Others remain skeptical that real progress will be made with the U.S. because of the sticking point over Kim's nuclear arsenal.
"I was never optimistic" about the Singapore meeting, said Teng Wei, 49, who sells durable plastic bags for shipping goods at Tian Cheng Su Liao.
"President Xi sees things from a comprehensive perspective, but Trump is a businessman and doing business always comes with conditions," Teng said. "I don't think the North will give up its weapons because of what happened in Libya and Iraq. As long as North Korea doesn't give up its nuclear weapons, sanctions will continue."
Teng said in 2000, when then-South Korean President Kim Dae-jung made his historic trip to Pyongyang, business was great. Around 300 trucks would cross the border from North Korea every day. Now it's just a few dozen. "Sanctions are really bad for regular people," he said.
A 50-year-old shopkeeper who gave his name as Chen rented a store on the border back then to prepare for the new era. But after three years, he said, nothing happened.
"North Korea's window is closed and no breeze can flow through," said Chen, who has been involved in trade with the country on and off for 20 years.
'Lighter' Sanctions Preferred
Some residents are even more skeptical the Kim would open North Korea's economy and allow a flood of immigrants to leave the country, threatening his rule. Such a move could hurt some companies in Dandong because of competition from South Korea, said Teng, the plastic bag seller, who prefers a return to the era of "lighter" sanctions.
For at least one resident, who only gave her family name Wang, the rising and dashing of hopes is just the way things always are on the peninsula. She was born 40 years ago in North Korea and has lived for the past two decades in Dandong.
"Canceling the meeting is a pretty normal thing for me," she said. "They think in different ways. We're educated in different ways. It's always been like this. It's good for a while and then it's bad for a while."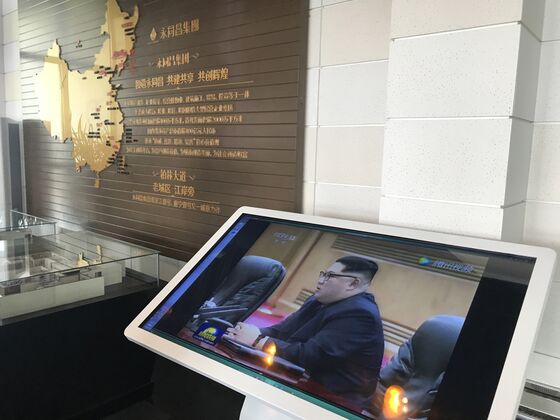 Still, the detente between North Korea and China has made some residents think this time is different.
Xie said the "Singapore City" housing project has seen its ups and downs since it began 10 years ago, and is operating at a loss. Now, the recent diplomatic activity has spurred a surge in interest. Last year, the company sold only 20 houses. But in the past 20 days, it sold more than 400, he said.
One buyer was Sui Heliang from the city of Mianyang in Sichuan Province, at the opposite end of the country. He and his wife were on a flight from Sichuan to Dandong on Thursday night when Trump announced the cancellation of the Singapore summit. He signed a contract in the morning for a two-bedroom apartment in "Singapore City" for 420,000 yuan ($66,000).
Sui is in the glassware business and Kim's first visit to China convinced him there would be future opportunities in Dandong to sell his products to the North Koreans.
"Xi has met with Kim twice which is a good signal," said Sui, 31. "I'm not worried about Trump's cancellation of the Singapore summit because what Xi does is important while Trump is a shortsighted man."
At the showroom for "Berlin Boulevard," another real estate project just outside the city center, the same video of the meeting between Kim and Xi was showing on a loop.
Sales Manager Sun Jian, 35, said prices in the main city have been stable, and growth is in the "new area," which is attracting buyers from other provinces. He's hoping that the cancellation of the Singapore meeting with Trump is just a hiccup and that Kim won't restart nuclear tests.
"I think they'll definitely have a chance to sit down together," said Sun, a Dandong native. "North Korea is sending good signals."