North Korea Fires Suspected Missiles After New Threat at U.S.
(Bloomberg) -- North Korea appears to have fired two ballistic missiles into waters off its east coast-- in what could be its third rocket-volley test in less than 10 days -- hours after issuing a fresh warning to the Biden administration.
South Korea's Joint Chiefs of Staff said that North Korea launched what it suspects were two short-range ballistic missiles Friday in an eastward direction at a distance of 430 kilometers (270 miles) and reaching 36 km in altitude. Japan said at least one missile was fired that flew about 400 kms and landed in waters well outside of its exclusive economic zone.
The trajectories announced by the two countries would be consistent with flight paths of North Korea's short-range ballistic missiles. Pyongyang typically doesn't comment on its missile tests until about a day after the fact, where it often lauds its advances in state-controlled media and releases images that are scrutinized by weapons experts.
Earlier in the day, North Korea warned it would take a "stronger and certain reaction" after the U.S. sanctioned individuals associated with Pyongyang's weapons program, saying separate tests this month of its hypersonic missile system were part of its "legitimate right" to enhance its self-defense. A few hours after the statement appeared on official media, North Korea fired off the two suspected ballistic missiles in what may be an effort to show it could back its words with a quick response.
South Korea's presidential Blue House in a statement expressed "strong regret" over the recent launch, while the U.S. has called on North Korea to halt "destabilizing activities" and get back to the bargaining table. 
North Korea conducted two separate launches of a new hypersonic missile system designed to evade U.S.-operated interceptors. Leader Kim Jong Un supervised one launch Tuesday, making his first reported appearance at a weapons test in almost two years. It also underscored the importance of a missile that state media said would "help bolster the war deterrent of the country."
The first test this month was on Jan. 5, when North Korea fired a hypersonic system similar to the test witnessed by Kim. 
The tests in January come after Kim told a year-end meeting of top ruling party officials he was more interested in bolstering his arsenal than returning to nuclear talks with the U.S. that were stalled for nearly three years. In his remarks, Kim, who turned 38 on Saturday, urged North Korea to focus on easing food shortages and containing Covid, while suggesting disarmament talks were a low priority in the coming months. 
The Biden administration has indicated it could offer financial rewards such as easing global sanctions that have squeezed North Korea in return for verifiable disarmament steps. 
While sanctions have tightened, Kim's government has turned to state hackers to help fill depleted coffers through cybercrimes that finance his nuclear arms program and prop up the economy, the U.S. and United Nations have said. Kim is struggling to rebuild an economy that is smaller now than when he took power a decade ago.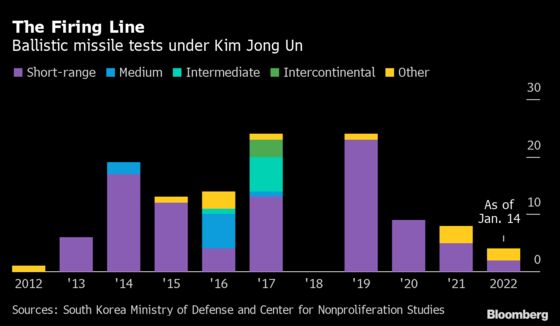 North Korea's hacker army launched at least seven attacks on cryptocurrency platforms in 2021 that menaced global players and netted the reclusive state almost $400 million worth of digital assets, a report said.
The cybercrimes haul marked a 40% increase from a year before, the report from blockchain research firm Chainalysis released Thursday said, adding that the attacks primarily targeted investment firms and centralized exchanges.