North Korea Fault Lines Exposed at UN Security Council Meeting
(Bloomberg) -- The divide over the future of North Korean sanctions dominated a United Nations Security Council meeting on Thursday just a few weeks before America's top diplomat visits Pyongyang to press the country's leaders for swifter progress toward denuclearization.
The foreign ministers of Russia and China called on the Security Council to ease sanctions, an idea that met strong resistance from U.S. Secretary of State Michael Pompeo and underscored the challenge the Trump administration will face keeping up pressure on Kim Jong Un's regime.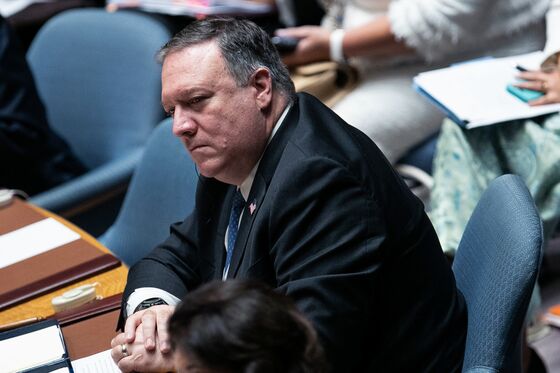 "Enforcement of UN Security Council sanctions must continue vigorously and without fail until we realize final, fully-verified denuclearization," Pompeo said, adding that the U.S. believes restrictions on fuel sales to North Korea have already been breached.
But citing progress in talks between the U.S. and North Korea -- a boast President Donald Trump makes regularly -- China's Foreign Minister Wang Yi said the Security Council should consider invoking provisions that would lift some restrictions in order to encourage Pyongyang "to move denuclearization further ahead."
Russian Foreign Minister Sergey Lavrov backed that call, saying that "any negotiation is a two-way street."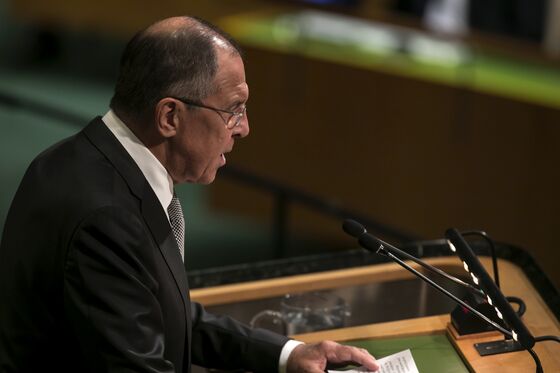 The fault lines exposed the central conflict between the U.S. -- which views North Korea's nuclear program as one of its biggest national security threats -- and China and Russia, which oppose Kim's weapons program but have the power to easily undermine sanctions pressure as the North's main economic lifelines. North Korean diplomats didn't address the chamber.
The U.S. has stepped up criticism in recent weeks that Russia and China are doing exactly that. In August, U.S. Ambassador to the UN Nikki Haley accused Russia of allegedly continuing to issue work permits for North Koreans in violation of international sanctions.
Pompeo, speaking ahead of Wang on Thursday, also vented his frustration about Security Council members evading the sanctions, particularly on oil transfers. He said an annual cap of 500,000 barrels in oil exports to North Korea had already been violated. He didn't name names, but China and Russia were clearly his target.
His remarks were echoed by U.S. allies on the Security Council including the U.K. and Poland. But the countries that matter the most on the issue are North Korea's neighbors to the north, China and Russia. Without their help, the U.S. will struggle to sustain economic pressure on Kim.
All through the process of negotiations with North Korea, Pompeo has struggled to maintain a balance between keeping up pressure on the isolated regime and projecting an attitude of optimism about steps taken so far. North Korea has suspended nuclear and missile tests and expressed its willingness to dismantle some missile and testing facilities.
Pompeo's remarks highlighted that contradictory task. He said the world had arrived at "the dawn of a new day" with North Korea, but insisted sanctions remain.
Pompeo has also had to deal with an additional challenge: Trump frequently extols his relationship with Kim and says he wants to meet the North Korean leader for a second time "very soon."
To help make that happen, the top U.S. diplomat will visit North Korea next month, but appeasing Trump and pressuring Kim's regime is a delicate balance.
In a news conference on the sidelines of the UN General Assembly on Wednesday night, Trump undercut Pompeo's insistence that North Korea give up its nuclear weapons by January 2021, saying he didn't want to play "the time game."
That's a statement North Korean negotiators may remind Pompeo of when he returns to Pyongyang.