Blinken Hits Out at China's 'Coercion' on Debut Trip to Asia
(Bloomberg) -- Top U.S. officials spent their first trip abroad rallying Asian allies around a common approach toward China, even as North Korea tried to grab attention with its harshest words yet toward the new administration.
Secretary of State Antony Blinken and Defense Secretary Lloyd Austin reaffirmed their support for Japan during a visit Tokyo, in a symbolic first trip to visit allies that neighbor China. In remarks with Japanese counterpart Toshimitsu Motegi on Tuesday, Blinken accused Beijing of using "coercion and aggression" in places including Hong Kong, Taiwan and Xinjiang.
Talks also turned to North Korea, which greeted the visiting U.S. officials with its clearest signal yet of displeasure with President Joe Biden. Kim Jong Un's sister, Kim Yo Jong, warned the new team in Washington against "causing a stink."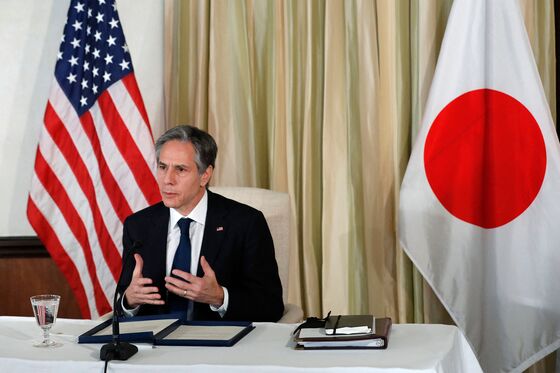 Blinken and Austin -- who will both travel to South Korea on Wednesday -- are seeking to build a united front with two countries that host the bulk of U.S. troops in the region. The trip is intended to reassure the U.S. allies of Washington's commitment after former President Donald Trump accused Japan of being a security freeloader and sought a five-fold increase in troop funding from Seoul.
The U.S. reaffirmed its commitment to defend Japan, including with nuclear weapons, in a joint statement. The top diplomats singled out China for behavior that "presents political, economic, military and technological challenges."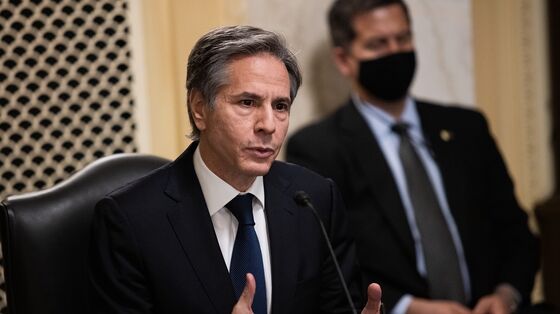 "This alliance matters deeply to the United States and to Japan," Blinken said after the meeting between the four ministers. "As of today, I feel very confident in saying it is stronger than ever."
After South Korea, Blinken heads to Alaska on Thursday where he will be joined by National Security Adviser Jake Sullivan for the highest-level, in-person talks with China since the administration took power. The discussions will be with Yang Jiechi, a member of the ruling Politburo, and Wang Yi, China's foreign minister, and White House Press Secretary Jen Psaki told reporters Tuesday that talks "could be difficult."
Blinken and Austin met Prime Minister Yoshihide Suga after formal discussions with their Japanese counterparts. The Japanese premier is planning a trip to Washington in April for what would be Biden's first face-to-face meeting with a foreign leader since becoming president.
Biden appears set to maintain much of Trump's hard line against Beijing, as evidenced by the move to ban the export of 5G components to Huawei Technologies Co. But his administration is seeking to avoid the perception it's only interested in engaging Asian nations as part of efforts to contain China.
The trip comes days after the leaders of Australia, India, Japan and the U.S. vowed to promote regional security in their first virtual "Quad" summit. While China wasn't mentioned in the group's final statement, references to an "open" Indo-Pacific region and shared security interests left little doubt that the meeting was a show of unity against Beijing.
Japan and South Korea both count China as their biggest trading partner and walk a fine line in maintaining a good relationship with both Beijing and Washington. Japan and South Korea host about 80,000 U.S. military personnel between them, a front-line defense against North Korea and a counterweight to China.
The comments from North Korea were prompted by a U.S.-South Korea military drill that began this month, even though the exercises are mostly computer-based. Kim Yo Jong said the U.S. administration "had better refrain from causing a stink at its first step," if it "wants to sleep in peace for the coming four years," according to the Korean Central News Agency.
North Korean state media, which ahead of the presidential campaign called Biden an "imbecile bereft of elementary quality as a human being," has yet to mention him by name since his election victory. Blinken reiterated that the administration has not received any response from Pyongyang despite reaching out through several channels starting in mid-February.
Three meetings between former U.S. President Donald Trump and the North Korean leader resulted in no steps to wind down the country's nuclear arsenal. During Trump's tenure, North Korea built its stockpile of fissile material, developed more powerful atomic weapons and tested new missiles designed to deliver nuclear warheads to all of the U.S. mainland.