North Korea Claims It Fired 'New' Ballistic Missile From Submarine
(Bloomberg) -- North Korea said it test-fired a new type of ballistic missile from an existing submarine, potentially slashing the time before U.S. and allied forces in the region would need to be concerned about nuclear strikes from the sea. 
Kim Jong Un's regime heralded the launch, saying it "demonstrates the military muscle" of the state, its official Korean Central News Agency reported Wednesday. North Korea's biggest newspaper, Rodong Sinmun, splashed photos of the test on its front page.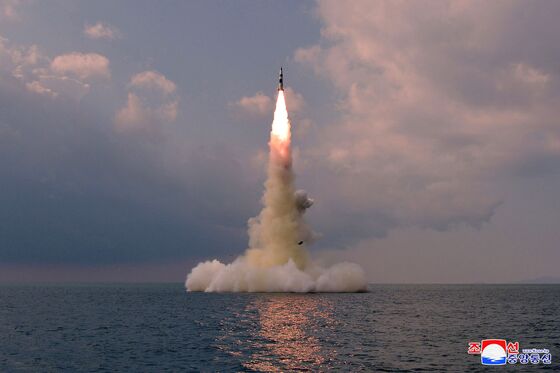 State media gave no indications that Kim witnessed Tuesday's event, which was the first of an SLBM since a 2019 launch from an underwater platform. North Korea said it used the same submarine for its most recent test-firing as the one it used in 2016 when it conducted its only other sub launch.
The missile launched Tuesday flew about 590 kilometers (370 miles) and reached an altitude of about 60 kilometers, Yonhap News Agency reported, putting in range South Korea and Japan -- the two countries that host the bulk of American troops in the region.
That would be consistent with a short-range ballistic missile. The distance was not nearly as great as when North Korea last tested a submarine-launched ballistic missile in October 2019, firing a Pukguksong-3 with an estimated range of at least 1,900 kilometers. That test involved an underwater platform. 
South Korean President Moon Jae-in's government, a strong backer of reconciliation with North Korea, expressed deep regret over the launch. The White House and Japan condemned the test, which they said violated multiple United Nations Security Council resolutions imposed on Pyongyang.
"We call on the DPRK to refrain from further provocations and engage in sustained and substantive dialogue,' White House Press Secretary Jen Psaki told a news briefing, referring to North Korea by the initials of its formal name. "These launches also underscore the urgent need for dialogue and diplomacy."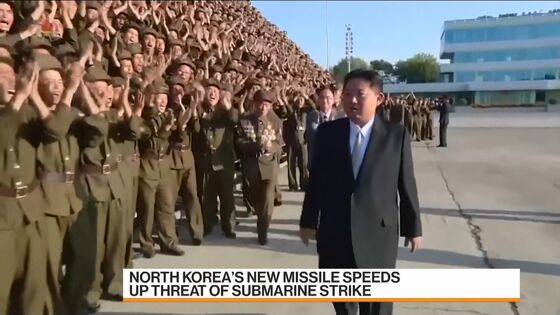 The latest test-firing provided a reminder to President Joe Biden that Kim's nuclear arsenal remains among the U.S.'s biggest foreign policy challenges despite former President Donald Trump's holding face-to-face summits with the North Korean leader. Although Kim made a vague commitment in 2018 to "work toward complete denuclearization of the Korean Peninsula," he has continued to advance his nuclear weapons program.
The submarine missile launch coincided with talks in Washington among nuclear envoys from Japan, South Korea and the U.S., who were trying to find a way to have Pyongyang return to table.
North Korea has not responded to overtures from the Biden administration, Moon and others to return to nuclear disarmament talks that have been dormant for about two years. Kim has been steadily adding to his stockpile of nuclear material and advancing his capabilities to launch a strike on the U.S. mainland and America's allies.
In January, Kim outlined broad plans to upgrade his nuclear arsenal to improve the capability to hit at the U.S., feeding speculation he would resume weapons tests. His state returned to provocations in full force from September, increasing Kim's leverage as he tries to ease sanctions choking his state's anemic economy.
Last month, his regime tested new long-range cruise missiles, showed off a new system to fire ballistic missiles from a train and shot what it called a "hypersonic missile." It also appears to have restored plutonium-producing operations and expanded a plant that enriches uranium for weapons.
North Korea has one submarine capable of launching missiles and has been building a second one at Sinpo, near where the latest test took place. While such a vessel would probably be noisy and unable to stray far from the coast without being tracked, even one sub lurking off the Korean Peninsula would give U.S. military planners a dangerous new threat to consider in any conflict. 
Weapons experts said North Korea put its new SLBM on display last week at a defense expo in Pyongyang attended by Kim. The North Korean leader has shown particular focus in developing SLBMs, which would force the U.S. and its allies to consider the possibility of missile attack from different directions.
Joseph Dempsey, a research associate for defense and military analysis at the International Institute for Strategic Studies, said the trajectory of Tuesday's launch suggested the state might be making a pragmatic compromise to deploy missiles faster.  
"It's smaller size could allow more missile tubes to be mounted on a single submarine, but also could be easier to integrate on some existing designs," Dempsey said.