Biden Offers Quip to a Heckler, Pizza to Allies: Campaign Update
(Bloomberg) -- Democratic nominee Joe Biden delivered pizzas to Pittsburgh firefighters. Kanye West makes the Iowa ballot. And supporters of President Donald Trump start a new political action committee.
There are 64 days until the election.
Biden Delivers Pizzas to Pittsburgh Firefighters
Biden delivered boxes of pizza to firefighters in Pittsburgh on Monday, thanking them for their service and support.
After giving an address that contained a forceful rebuke of Trump's leadership, Biden met with a handful of firefighters in a parking lot nearby. The International Association of Fire Fighters was one of Biden's earliest endorsements during the primaries.
As Biden was greeting the firefighters, a Trump supporter heckled the former vice president from atop a truck across the street. Yelling that Biden had abandoned Pennsylvania and wouldn't win the state in November, the man said retired firefighters supported the current president.
As Biden got out of his vehicle, he turned around, removed his mask and responded to the man: "Don't jump." -- Tyler Pager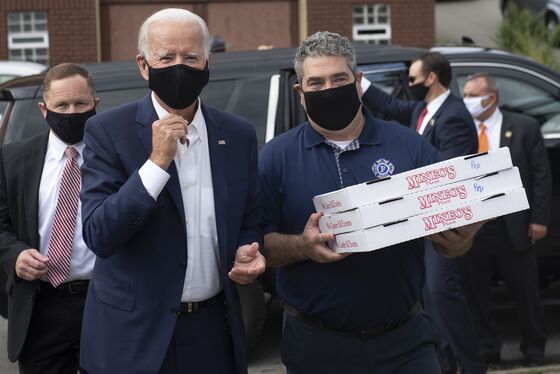 Kanye West Makes the Ballot in Iowa (3:31 p.m.)
Kanye West fended off two challenges to his candidacy in Iowa as his quixotic presidential campaign continues its state-by-state quest for recognition.
The rapper has been cleared to appear on the Nov. 3 ballot in the Hawkeye State after a state panel unanimously dismissed two challenges to his candidacy Monday, a spokesman for the Iowa secretary of state's office said.

West, who announced his candidacy in July, has now qualified for the ballot in at least nine other states: Arkansas, Colorado, Idaho, Louisiana, Minnesota, Oklahoma, Tennessee, Utah and Vermont.
West has been disqualified in multiple states for lacking enough valid signatures and other reasons. His campaign has filed lawsuits to overturn the decisions keeping him off the ballot in Ohio and Wisconsin. -- Mark Niquette
New Super-
PAC

Backs Trump's Re-Election Effort (2:42 p.m.)
A group of veteran Republicans including one who worked on the Swift Boat campaign in 2004 have started a super PAC to support Trump's re-election effort.
The group, named Preserve America, plans to spend $30 million on advertising, with $25 million going to television ads and $5 million to digital ads, according to a person familiar with the matter, who asked not to be named discussing internal deliberations.
Two ads are scheduled to debut Tuesday in Georgia, Iowa, Arizona, Wisconsin, Pennsylvania, North Carolina and Florida, the person said.
Preserve America is being led by Chris LaCivita, a Republican strategist who worked with the Swift Boat Veterans for Truth group, the person said. The Swift Boat group questioned Democratic nominee John Kerry's record in the Vietnam war during the 2004 presidential election. Jon Downs, another strategist, is also among the leaders of Preserve America.
"The radical left-wing mob is trying to destroy our country from within and Joe Biden is too weak to stop them," LaCivita said in an emailed statement. "It's a concern shared by a growing number of Americans and we intend to spread their message far and wide over the coming months." -- Mario Parker
Trump Campaign Asks Commission to Ensure Biden Attends Debates (2:19 p.m.)
Trump has long attacked the Commission on Presidential Debates, raising questions about whether he would agree to debate. But now he wants to ensure that Biden shows up.
Trump's re-election campaign asked the Commission on Presidential Debates to ensure that Biden will participate in the forums this fall, after House Speaker Nancy Pelosi suggested the Democratic nominee shouldn't debate his rival.
"Pelosi became the highest-ranking Democrat official to urge Biden to cancel debates, adding her voice to other prominent Democrats advising the same," campaign adviser Rudy Giuliani wrote in a letter sent Monday. "The public discussion of canceling the debate schedule should not be allowed to continue unchecked."
Last week, Pelosi said she would advise Biden to skip the three debates with Trump scheduled for September and October, arguing that she "wouldn't legitimize a conversation with" Trump. Biden later dismissed the idea, telling MSNBC "I'm going to debate him," and Pelosi later walked back her comments.
In the same letter, the Trump campaign also asked the Commission on Presidential Debates for details about alternative debate sites if the hosts of the current locations cancel because of coronavirus concerns.
The campaign repeated its call to schedule the debates earlier, arguing that the timetable does a "terrible disservice" to voters who cast their ballot early. An earlier request by the campaign for a schedule change had been dismissed by the Commission. -- Misyrlena Egkolfopoulou
Poll Shows Active-Duty Military Prefer Biden (11:38 a.m.)
President Donald Trump loves to talk of his support among the military, but a recent poll shows a plurality of active-duty members prefer Biden.
That's a much different result than in 2016. A Military Times poll taken in October of that year showed that 41% of active-duty troops planned to vote for Trump, 21% for Democratic nominee Hillary Clinton and 34% for a third-party candidate.
The survey of 1,018 active-duty troops was conducted July 27 to Aug. 10. It has a margin of error of less than 2 percentage points.
North Carolina Sends Ballots Out Friday (6:37 a.m.)
Some voters in North Carolina may be able to cast their mail-in ballots as early as this weekend.
According to Michael Bitzer, a politics professor at Catawba College who is tracking absentee requests, more than half a million voters in North Carolina requested a mail-in ballot as of Sunday -- 15 times as many as on the same day in 2016.
Mail-in voting has also become vastly more popular with Democrats in the state, where requests were closely divided in the last presidential election. As of Sunday, 53% of requests were from registered Democrats, 31% from unaffiliated voters and only 16% from Republicans.
It's unclear whether the surge of mail-ins will give Democrats an advantage, but some Republican strategists are concerned that it will put more pressure on their side to turn out voters on Election Day.
Jill Biden Teams Up With 'Queer Eye' Cast
Jill Biden will hold an online fundraiser Tuesday with the cast of "Queer Eye," a reality TV series on Netflix featuring makeovers.
The cast's five members -- Jonathan Van Ness, Antoni Porowski, Karamo Brown, Bobby Berk and Tan France -- are all participating in the fundraiser.
In a short video posted by the Biden campaign, the five ask if "you care about ending this pandemic" before talking about other issues, including homeless veterans, the environment, education, "trans lives, Black lives," and "health care for those who can't afford it."
"What about just getting Donald Trump out of office?" asks Berk.
Van Ness endorsed Massachusetts Senator Elizabeth Warren in September, noting that even with a strong health care plan his HIV medication cost $3,500 a month.
Democratic nominee Joe Biden has leaned on celebrities such as actor Don Cheadle, musician Carole King and figure skater Michelle Kwan to draw attention to online fundraisers and campaign events during the pandemic.
Biden travels to western Pennsylvania to deliver remarks about recent protests.
Trump will head to Kenosha, Wisconsin, which has been roiled by protests that have turned violent in recent days, on Tuesday.