No Winners Seen for Investors in Pakistan Neck-and-Neck Election
(Bloomberg) -- Whoever wins Pakistan's election next week, gains in the rupee, stocks and bonds are likely to be short-lived as the new government grapples with a mounting set of economic challenges.
Investors including Standard Life Investment Ltd. and Frontier Investment Management Partners Ltd. say a victory for former cricket star Imran Khan's Pakistan Tehreek-e-Insaf or Movement for Justice, would create uncertainty but could lead to progress on tackling corruption over the longer term. A win for the business-friendly Pakistan Muslim League-Nawaz would probably be better for the market, according to Terra Nova Capital Advisors Ltd.
The victor will inherit a fast-deteriorating economy -- the rupee has been devalued four times since December -- that will probably soon require a bailout from the International Monetary Fund. Khan is seen as being more likely to go to the IMF, while the PML-Nawaz may seek assistance from China before approaching the multilateral lender. The two parties were neck-and-neck in a Gallup Pakistan poll released earlier this month.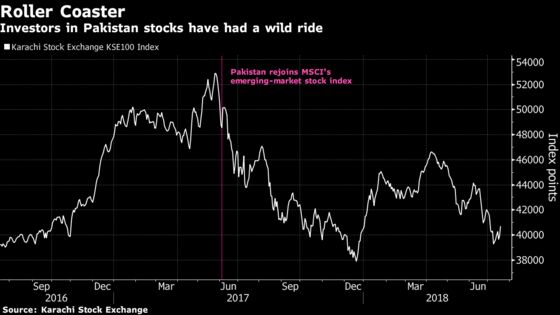 Gabriel Sacks, Edinburgh-based portfolio manager at Standard Life Investments, which oversees around $30 billion of emerging-market assets
A PML-N victory "brings more clarity for businesses"; a Khan win could be positive longer term if they don't try to rock the boat too much. They have an anti-corruption agenda, which is positive. They will probably be quite pragmatic, as they don't want to cause a lot of economic damage
The key risk is the balance-of-payments crisis; an IMF bailout will be the best outcome and it gives the market confidence that there's a backstop
It's a tricky time but the valuations reflect these risks. It's a cheap market and there are some very good companies to invest in, although it does take a longer-term view
Mohammed Ali Hussain at Frontier Investment, which manages $2 billion of stocks
Imran Khan's government could be good for governance but he's untested and nobody is certain about his policy direction; if he wins there will be a wait-and-see period for foreign investors, while we get a feel for his foreign and economic policy
If PML-N wins, there may be a short-term relief rally but then economic concerns will resurface
Another IMF bailout will not be easy as there were a lot of structural reforms that were delayed or not done last time round. The IMF will be much stricter in its enforcement
Frontier Investment has reduced its exposure to Pakistan to around 5 percent of its overall holdings from a peak 15 percent allocation last year. Hussain likes Bank Al Habib, Meezan Bank and Amreli Steels
Maheen Rahman, chief executive officer at Alfalah GHP Investment Management in Karachi
If PML-N comes back, they have generally shied away from the IMF over the last 4-5 years, so you'd probably see more of the same and they may go to the Chinese to fund the deficit
If Khan forms the government, it's very hard to predict what will happen as the party has not been in power before
The worry for investors is a continuation of the conflict between government, the judiciary and the establishment that we've seen over the past six months. The market is really looking for a stable government
The new government will have to hit the ground running as the economic situation requires quick and decisive action
Ami Kemppainen, Dubai-based managing partner at Terra Nova Capital Advisors
Inaction is the biggest risk for Pakistan since it's one of the smallest emerging markets and it can be ignored, so investors will wait for issues to be resolved
From an investor perspective, Sharif's PML-N is probably the more favorable outcome given its market-friendly policies
If Khan's party wins, the short-term question is where everything is headed
Amjad Waheed, chief executive officer at NBP Fullerton Asset Management Ltd. in Karachi
Whether the PML-N or Khan wins will not make a difference since the IMF will dictate economic policies
Domestic funds will start to invest when they see the current-account deficit is narrowing; there's a lot of liquidity and valuations are reasonable
The next three months will be difficult before the economy and market starts improving
Ali Wahab, head of debt capital markets at Sharjah Islamic Bank
Structurally the economy isn't as bad as it looks; Pakistan's exports have never been that great and imports are usually high for the oil-importing nation
The new government will have to focus on overall structural improvements, which always come through an IMF program