No-Shows Hobble Rollout as Poorest EU State Bulgaria Faces Vaccine Doubt
(Bloomberg) -- Front-line workers missing vaccine appointments and widespread public mistrust are crippling the rollout of shots to stop Covid-19 in the European Union member with the worst record on inoculations.
Bulgaria has administered just 1.2 doses per 100 people. That's about a fifth of the average in the 27-member EU, which has struggled behind the U.S. and the U.K. to obtain doses and get them into the arms of its roughly 450 million citizens.
The government's failure to employ the shots it has received -- and its wider response to the coronavirus -- comes as its approval ratings are near record lows before April general elections. While Prime Minister Boyko Borissov's cabinet has insisted the vaccine campaign is on track, a survey by the Alpha Research pollster showed Thursday that more than half of Bulgarians aren't planning on getting inoculated.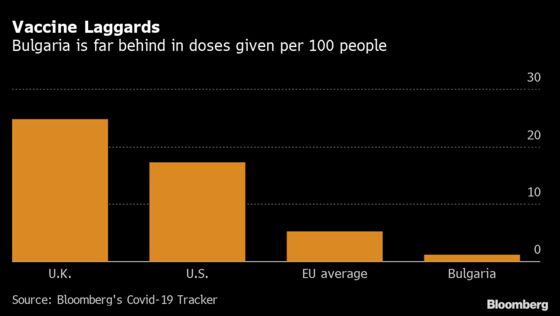 "The vaccination plan isn't about to fail," Health Minister Kostadin Angelov told reporters on Thursday. "It will happen despite the distrust that keeps spreading on a large scale and despite the spread of false information related to vaccinations."
Health officials blame the slow roll out mainly on low trust in public institutions, reports of side effects, conflicting statements by experts and the weak state of the health care system.
Some general practitioners have advised patients to avoid getting the shots, Angelov said. Doctors are vaccinating about a third of their scheduled patients at Pirogov Hospital, the country's biggest emergency facility, Chief Executive Officer Asen Baltov added.
"We're ready to work at a much greater intensity," Baltov said. "The problem is when the people that have to be vaccinated don't show up."
With many teachers, doctors and others first in line for inoculations skipping appointments, the government is now planning to give doses to older and at-risk Bulgarians, speeding up a process that was previously scheduled for later.
According to the Alpha Research poll, only 10% of Bulgarians want to get vaccinated as quickly as possible -- a drop of 4 percentage points since December. Another survey last month showed that at least a fifth of Bulgarians don't think the vaccine is safe, and one in 10 thinks there isn't enough research on side effects.
"We're putting an enormous effort into this principle of convincing Bulgarians," Angelov said. "Believe me, it's very hard."