East Europe's Not Panicking About the Growth Slowdown in the West
Eastern European nations aren't fretting that economic growth will be hijacked by a slowdown among their biggest trading partners.
Backed by rising wages, increased consumer spending and investment, as well as space to kindle growth through public spending, officials from ex-communist countries including Romania and Hungary said links to the European Union's manufacturing base aren't the only thing that will keep their economies expanding faster than the 19-member euro area.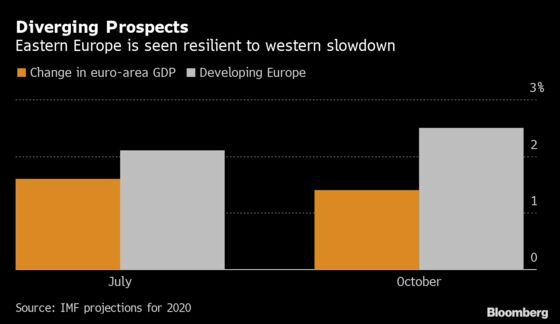 "The way we built the budget for 2020 with more attention to investment, we shouldn't be affected," Romanian Finance Minister Florin Citu said on the sidelines of a Euromoney economic conference in Vienna on Tuesday. "I'm not worried about the slowdown."
That confidence is backed by projections from the International Monetary Fund. While it cut its 2020 growth forecast for the euro zone in its latest World Economic Outlook, it raised its estimate for emerging and developing Europe.
"This is not the panic button," Nadeem Ilahi, the IMF's senior resident regional representative in central and eastern Europe, told the conference. "This is a slowdown we are seeing at the end of a very long growth cycle, which will certainly not put the region into recession."
Europe's eastern wing has for years outpaced the west, as former-communist countries took advantage of foreign investment to make productivity gains while remaining cheap sources of labor for western manufacturing chains. That dynamic has begun to change, however, as double-digit increases in salaries from the Baltics to the Balkans boost consumption, tax revenue and investment.
In Hungary, Prime Minister Viktor Orban's government is relying on commitments from private companies to invest more than 10 billion euros ($11.1 billion), said Gabor Gion, minister of state for financial policy affairs.
While he didn't give details, he said the government is also planning on introducing a new fiscal stimulus package -- aimed mainly at companies -- by the second quarter of the year.
"Investment levels are very high," Gion said in an interview at the Euromoney conference. "We believe we can maintain an investment level of 25% of output and more."
In North Macedonia, a former Yugoslav republic that's overhauling its economy as it vies to start EU accession negotiations, 48% of exports go to Germany. The slowdown has had an impact, with the government cutting its 2020 growth forecast. Still, it projects an expansion of 3.8% this year.
"We are at a moderate risk level," Finance Minister Nina Angelovska said. "We have broad-based growth."
The decoupling from Europe's big manufacturing supply chains isn't complete, however, and there may be some impact if the slowdown becomes more extreme, according to the IMF's Ilahi. And with many countries' central banks having cut interest rates to record-low levels, it may be up to governments to counter any tapering of growth through spending, he said.
"So if an adjustment has to be made, it should be looked at from the fiscal side," he said. "We've been talking about the advanced Europe slowdown for more than a year and it still hasn't spilled over to eastern Europe in a significant manner."