No New Taxes But No Deepening Budget Deficit, French PM Promises
(Bloomberg) -- French Prime Minister Edouard Philippe, who hinted the government could abandon planned increases in energy taxes and prices, said he "won't raise new taxes or deepen the deficit."
He had less to say, however, on how he'd reconcile those conflicting goals, considering the suspension of the measures for six months will cost the state about 2 billion euros ($2.3 billion). A day after President Emmanuel Macron's government suspended the implementation of the unpopular increase in fuel taxes -- that sparked traffic blockades and violent clashes -- Philippe tried to reassure both voters and the European Commission.
"We don't want to pass on an uncontrollable debt to our children and load their future purchasing power; that's my only requisite," Philippe told lawmakers in a speech on Wednesday.
It's far from clear that the measures and his comments have appeased the so-called Yellow Vests protesters enough to end the unrest that has swept France for more than three weeks. Over the last two weekends they brought the fight to Paris, with images of burning cars, broken stores windows and clashes between the police and demonstrators making the rounds worldwide. Protesters plan another day of action on Saturday to the great concern of the government.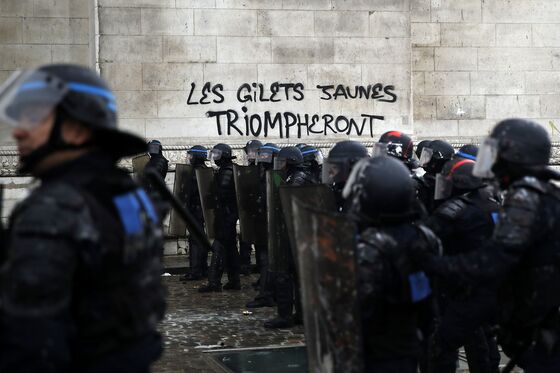 Among other developments:
For the head of the Opposition Republicans Party in parliament, Christian Jacob, the government's promises do little. He demanded that the president "be accountable to French people," saying that postponing the tax increases is a "provocation."
"We will face up to agitators and rioters and we will be uncompromising," Philippe said in Parliament ahead of Saturday's protests. Macron asked political and union leaders to make a "clear and explicit call for calm."
Philippe, in a 20-minute speech in parliament ahead of a debate that won't end with a vote of confidence, said his government will maintain Macron's reform policies. His government will press on with a planned pension-system reform next year and stick to the "2017 agenda" set by Macron's election.
France's main workers' unions plan to hold meeting on Thursday on the Yellow-Vests protests, AFP reports, citing union sources. French Transport Minister Elisabeth Borne plans to meet road transport union representatives on Thursday.
For 70% of the French, the government postponing a planned fuel-tax increase would justify stopping the yellow-vests protest, according to a poll by BVA Opinion for La Tribune published late on Tuesday.
Energy Minister Francois De Rugy said the government is "working on measures that allow the prevention of an increase in electricity prices" at the start of next year and it will "play" on several "mechanisms" in the power-price formula. Decisions made by the end of first quarter will be legally sound, de Rugy said.
Splits are appearing among the Yellow Vests, a grassroots movement that has yet to throw up any real leaders. Most protesters interviewed said Philippe's measures were too little, too late, and some early founders of the movement called for another round of demonstrations Saturday in Paris, while others called for a pause.
Some members of the government are suggesting a return of the wealth tax Macron abolished in 2017. The first was Gender Equality Minister Marlene Schiappa who said Tuesday on France 3 TV that if it didn't lead to money trickling down to the real economy, she would favor re-introducing it. Government spokesman Benjamin Griveaux said Wednesday that a return of the tax, called ISF, isn't in the cards but that the government in late 2019 could start to evaluate whether it has helped boost investment.
Protests are spreading to other sectors. Education Minister Jean-Michel Blanquer said about 200 high schools were blockaded by students Wednesday, the same as the day before. They are angry about changes to graduation exams. Separately, the truckers' unions have called for an indefinite strike starting Sunday over overtime pay.
Meanwhile, U.S. President Donald Trump is wading into the French debate. Last year, Macron used social media to criticizeTrump's decision to withdraw the U.S. from the Paris climate accord. Trump is returning the favor after Macron suspended the fuel taxes, which were meant to wean France off fossil fuels:
But another post re-tweeted by Trump is plain wrong: No one has heard chants of "We Want Trump" during the French protests: