No Halloween Brexit Surprise, Macron's Man in Dublin Promises
(Bloomberg) -- Ireland, we won't abandon you. That's the message from Paris's man in Dublin as Brexit negotiations come to a crunch.
France's ambassador, Stephane Crouzat, arrived in the Irish capital in June, as the question of how to avoid a hard border in Ireland became the thorniest issue in talks over the U.K.'s departure from the European Union.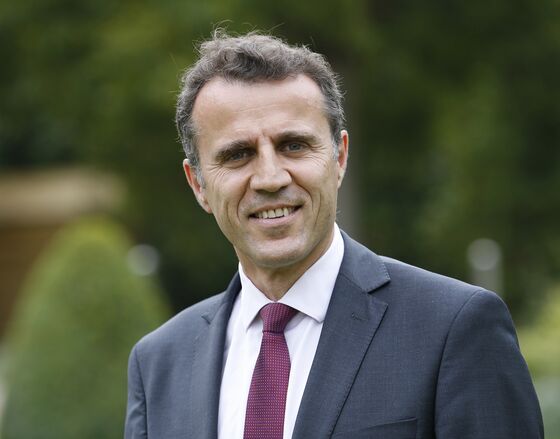 France has been among Ireland's leading allies, but as the deadline for a Brexit deal approaches and with no resolution in sight, some are concerned that EU leaders led by German Chancellor Angela Merkel and French President Emmanuel Macron could desert Ireland at the last minute to secure a wider trade agreement with Britain. It's a scenario that's been dubbed a "Halloween Surprise" by former Irish Prime Minister Bertie Ahern.
It's not going to happen, the French envoy said.
"Some people in Ireland seem worried about being sacrificed on the altar of compromise," Crouzat, 54, said in an emailed response to questions this week. "It's absolutely not something we have in mind. We are intent on preserving complete unity and solidarity" among the remaining 27 EU members, he said.
That solidarity in part reflects Irish Prime Minister Leo Varadkar's commitment to protecting the EU's single market, according to Crouzat. There had been a fear in Paris that Ireland would try to do bilateral deals with the U.K., but that hasn't been the case, he said.
"This has been seen in a very positive light," he said.
In February, the EU laid out a plan for avoiding a hard border by effectively keeping Northern Ireland in the bloc's customs union and parts of its single market as a last resort. But that would amount to erecting a customs frontier within the U.K., which Prime Minister Theresa May says is unacceptable.
EU officials are exploring how to unlock talks by making its so-called backstop plan more palatable to the U.K.
"We can see the beginning of some creative thinking" from the EU on the border issue, Crouzat said. "We have to make sure there is no gaping hole in the single market, because that will attract all sorts of illicit trade."
The U.K. and EU will probably reach a Brexit deal by November, Varadkar said this week, even after last week's stormy meeting of European leaders.
Crouzat, too, is hopeful.
"There is still hope that we will reach an agreement in the end," he said. "There just cannot be a border -- local people will just not accept it, so there has to be some sort of solution, I am hopeful reason will prevail. A camera on the border -- how long would that last?"