`No Alternative' to My Brexit Deal, U.K.'s May Writes in The Sun
(Bloomberg) -- There is "no alternative plan on the table" to Britain's Brexit deal negotiated with the European Union and a rejection by parliament risks sending the U.K. "back to square one with all the division and uncertainty that comes with it," Prime Minister Theresa May wrote in a column in The Sun newspaper.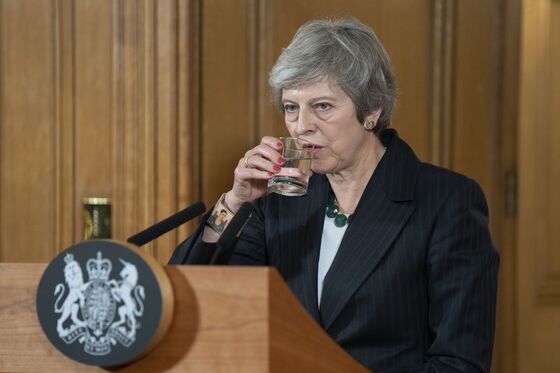 May said the Northern Ireland "backstop" -- a plan that involves keeping the U.K. within an EU customs union even after a 21-month planned transition period -- would ensure there would be "no problems on the Irish border" even if not all arrangements are settled in time for the U.K.'s withdrawal.
The backstop is "an insurance policy" that her government does not expect to use and the U.K. will not become stuck with it, May said.
The "backstop" is the focal point of hostility among Brexiteers who say May's deal leaves the U.K. in perpetual limbo, unable to escape the bloc's influence. Several members of May's cabinet resigned on Friday amid a gathering plot to oust her from the leadership.