Nikki Haley to Leave as UN Envoy at Year's End in Surprise Exit
(Bloomberg) -- Nikki Haley will leave her job as U.S. ambassador to the United Nations at the end of the year, President Donald Trump said, an announcement that surprised the White House and led to fresh speculation about her political future.
Trump said Haley told him six months ago she wanted a break after spending two years in the post. "She's done a fantastic job and we've done a fantastic job together," Trump said Tuesday.
"No, I am not running in 2020," the former South Carolina governor told reporters in the Oval Office. She would campaign for Trump, she added.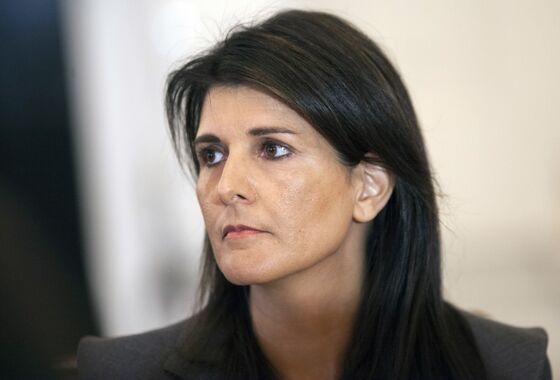 Haley has repeatedly deflected speculation that she might harbor presidential aspirations of her own. "It has been the honor of a lifetime," she said of the UN job, in which she led efforts to tighten U.S. sanctions on North Korea and pressure Pyongyang to engage in talks to abandon its nuclear weapons program. She didn't say why she's leaving or what she would do next.
"I don't have anything set on where I'm going to go," she said. After eight years in public service, she said, "I think you have to be selfless enough to know when you step aside and allow someone else to do the job."
Haley's decision startled many White House officials, including Chief of Staff John Kelly and Vice President Mike Pence, officials said. Trump teased an announcement less than 15 minutes before his appearance with Haley, after news organizations began reporting she would resign.
Her resignation was first reported by Axios. Several senior White House aides wondered about the timing of her decision, weeks before midterm congressional elections.
Trump said he'd name a successor in two to three weeks or sooner.
One potential replacement is Goldman Sachs Group Inc. partner Dina Powell, a former Trump adviser who left the White House earlier this year, two people familiar with the matter said. Another is the U.S. ambassador to Germany, Ric Grenell, who quickly won Twitter endorsements from conservative broadcaster Hugh Hewitt and several Trump associates.
Several government officials and Trump advisers said that Secretary of State Mike Pompeo and National Security Adviser John Bolton, a former UN ambassador himself, are expected to play a central role in selecting Haley's replacement.
Haley has been a strong advocate of Trump's foreign policy. On her first day as UN ambassador she warned, "for those that don't have our back, we're taking names. We will make points to respond to that accordingly."
She's been one of the more effective members of Trump's cabinet. As UN envoy, she was credited with rallying the Security Council to ramp up sanctions on North Korea as it increased its nuclear weapon and ballistic missile tests last year. Those sanctions are now under strain, but the administration says they forced Kim Jong Un to the negotiating table.
U.S. ambassadors to the UN typically serve short terms. Haley will have served longer than five of the last 10 people who held the job.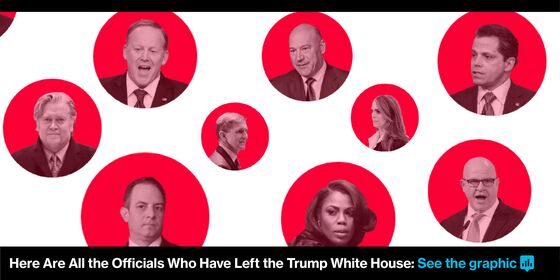 After a frosty relationship with Rex Tillerson, Trump's first secretary of state, she and Pompeo often exchanged mutual praise.
She backed Trump's efforts to cut off funds for the UN organization that aids Palestinians and joined in his attacks on Iran. But she also hinted at her disagreements with the president, saying she had a "personal conversation" with Trump about his response to white supremacist violence in Charlottesville, Virginia, last year.
Haley has repeatedly insisted that she's focused on the job at hand, not future opportunities, in response to the speculation about her political ambitions.
After an anonymous U.S. official published an op-ed last month declaring that there was an internal resistance to Trump's policies, Haley published her own op-ed in the Washington Post declaring her fealty to the president.
"I don't agree with the president on everything," Haley wrote in her Sept. 7 op-ed. "When there is disagreement, there is a right way and a wrong way to address it. I pick up the phone and call him or meet with him in person."
Tensions bubbled up between Haley and Trump in April when Vice President Mike Pence hired a long-time Haley aide and Republican pollster as his national security adviser, prompting speculation that Haley and Pence were forging a political alliance, White House advisers said. The aide, Jon Lerner, who was planning to split his time between working for Haley and Pence, withdrew his name from consideration after backlash from within the White House.
Trump advisers outside the White House have assumed Haley would have her own presidential aspirations at some point, but doubt she would mount a run against Trump in 2020.
Her announcement also comes a day after Citizens for Responsibility and Ethics in Washington, a watchdog group, called for a federal investigation to determine if Haley complied with ethics rules when she accepted seven free flights on private airplanes from three South Carolina businessmen. She listed the flights on her 2017 financial disclosure.
Haley's resignation plan also comes the morning after Trump held a ceremonial swearing-in for Supreme Court Justice Brett Kavanaugh. Three women alleged Kavanaugh engaged in sexual misconduct while in high school and college, and Haley has publicly supported women in similar circumstances, though not Kavanaugh's accusers specifically.
"Women who accuse anyone should be heard. They should be heard, and they should be dealt with," Haley said on CBS's "Face the Nation" in December. "Any woman who has felt violated or felt mistreated in any way, they have every right to speak up."