Night Forest Trek, Garbage Coup Tell Tale of New Macron Foes
(Bloomberg) -- To Charles Billardey, it was no walk in the park.
On May 16, the construction worker, who lives in a western Paris suburb, was forced to trek 16 kilometers along the Seine river at night through woods to get home. Someone had used a blowtorch to cut power cables on a train line that connects Paris with his town of Cergy. Billardey was among thousands of commuters stranded far from their homes.
The act, which the national rail service SNCF said "appeared intentional," came as workers at the state-owned company were in the midst of a rolling strike to protest government plans to change work conditions as the sector is opened to competition.
"They have the right to strike, but it's starting to get heavy for us, the passengers," said Billardey, 41, who says he nearly panicked during his 3 1/2-hour trek home after a drained mobile battery threatened to leave him Google Map-less.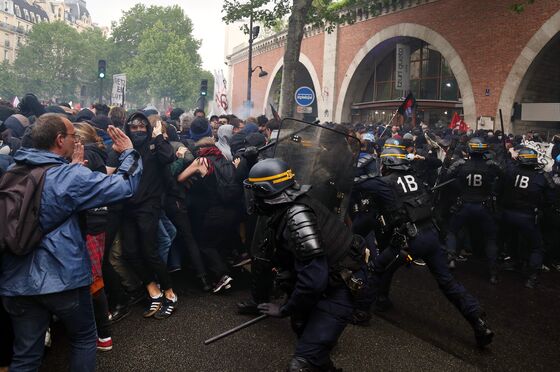 With the strike now in its seventh week, the absence of massive street protests against the government's plans has spared President Emmanuel Macron the fate of his predecessors, who were forced to retreat from ambitious projects. Still, the emergence of a new kind of hard-core opposition -- sometimes bordering on the anarchic -- may be more difficult to address, for the president and for ordinary French people.
On Friday, the police arrested two garbage-collection workers in the heart of Paris as they drove a stolen truck full of waste, intending to dump its contents in front of Macron's party headquarters near the Opera, Agence France-Presse reported. At the same time, in a stunt coordinated by France's second-largest union CGT, over a 100 garbage, rail, electricity and sewage maintenance workers stormed the building and switched off water and power supply.
More action may come on Saturday, when several protest movements plan to converge in a demonstration dubbed the "human tide," initiated by groups including the unsuccessful 2017 presidential candidate Jean-Luc Melenchon's anti-capitalist party France Unbowed and the CGT, which has avoided previous actions.
Far-left unions and their political allies are mobilizing workers "in strategic positions, such as train drivers," to achieve maximum disruption even if their numbers aren't large, said Remi Bourguignon, a professor at the Sorbonne Business School in Paris.
Only 14 percent of employees participated in the strike on May 23, the lowest level since the walkouts began, according to SNCF figures.
Since February, employees at Air France, of which the state is the largest shareholder, have staged rolling strikes as well, forcing hundreds of flight cancellations. Students protesting the creation of selection procedures by universities for high school graduates, have blocked such institutions, forcing several of them to delay or even cancel final exams.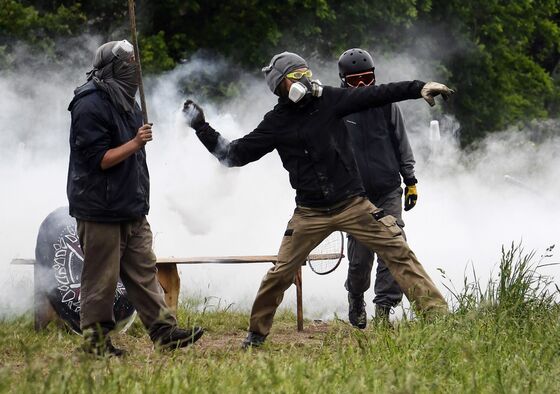 Although several groups have hit the streets in recent months, ranging from retirees protesting higher tax to civil servants refusing job cuts and elderly care assistants opposing spending cuts, their numbers and impact have been limited.
Unions and opposition parties alike have tried many times to call the French to the streets. But the mass demonstrations that have paralyzed the nation in the past, forcing the governments to back down, have yet to be seen.
Protest fatigue and disillusionment with politicians may be keeping French people away, said Jean-Yves Camus, a researcher on political radicalism at the Paris-based Fondation Jean Jaures think-thank. Similar sentiments prompted many voters to stay away during the election that Macron won, he said.
"What is rather new is a very high level of confrontation, which is likely to persist as groups that are much more clamorous than unions join protests," he said.
Several recent protests have turned ugly amid clashes between the police and activists, including members of anti-capitalist movements Black Bloc or Antifascist Action, notably in Paris.
On Tuesday, an activist's hand was blown off as grenade-throwing troops chased anarchists at Notre-Dame-Des-Landes, in western France, where they've squatted farmland for a decade to oppose the construction of an airport.
While Macron has abandoned the planned airport, his decision to dislodge the squatters triggered a confrontation reminiscent of the "Larzac" in southern France, a decade-long rural flight that helped catapult the Socialists to power in 1981.
Transforming SNCF, which turned 80 this year, is a minor aspect of Macron's reform act. Still, the power and influence its unions wield and its role in a subsidized transportation system that connects thousands of small towns, villages and large cities through high-speed links, have made it a litmus test of Macron's ability to deliver on his pledges.
A victory on SNCF would help the government tick down a long list of promised structural reforms such as cutting unemployment benefits, taxes and public spending.
Last fall, Macron pushed through an overhaul of the country's labor code after unions threatened massive work stoppages that failed to materialize. Polls show that most French support reform of the SNCF, with 65 percent saying the government should "go all the way," according to a poll published May 20 in the Journal du Dimanche.
Still, 42 percent in the same poll said the SNCF workers' protests were "justified." Unhappiness with Macron's methods has been mounting, with a record 58 percent saying they disapprove of the president, according to an Ipsos poll published on May 23. The seemingly mixed message in the polls reflects French voters' desire for "reform, but not in an authoritarian manner," the Sorbonne's Bourguignon said.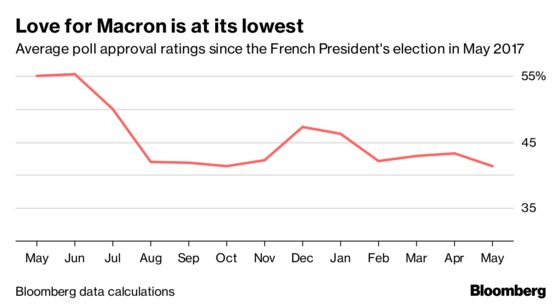 For now, Macron's administration seems unfazed.
"There's growing support of the population for rail reform," government spokesman Benjamin Griveaux said after a Cabinet meeting on May 23. "There's no convergence" between the demands of various protesting groups that could lead to mass nationwide action, he said.