Nigerian Shiite Group Says Police Fire on Abuja Protesters
(Bloomberg) -- A Nigerian Shiite group said the police opened fire on a procession of its members in the capital, Abuja, a day after at least three of them were killed by soldiers during a similar march.
The police shot live rounds and tear gas at members of the Islamic Movement of Nigeria who were protesting for the fourth consecutive day the detention of their leader, Ibrahim El-Zakzaky, IMN spokesman Ibrahim Musa said Tuesday by phone.
The police spokesman in Abuja, Jesse Manzah, declined to comment when reached by phone and said a statement would be issued later.
No IMN member was killed Tuesday, but at least 10 died between Saturday and Monday, with security forces trying to stem the marches of thousands of Shiites, according to Musa. The military said six protesters died since Saturday, and that soldiers, several of whom were injured, acted in self-defense.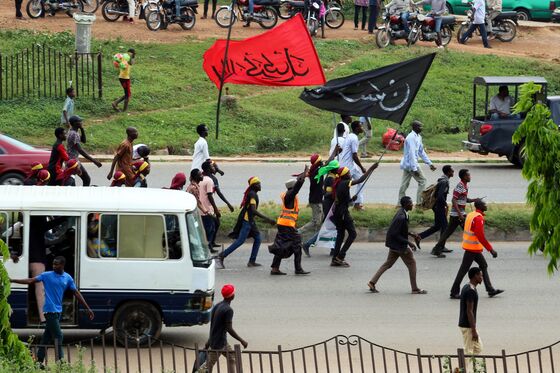 "At least 10 of our members have been confirmed killed since Saturday and several wounded," Musa said Monday. "The security agencies carted away the corpses of our members whom they killed."
Nigeria, Africa's most populous country with almost 200 million people, is almost evenly split between a mainly Muslim north and a predominantly Christian south. The north is overwhelmingly Sunni, but there are an estimated 3 million Shiites. They are mostly followers of El-Zakzaky, who became leader of the Nigerian movement in the 1990s.
"Each time the state uses force on its own citizens, it delegitimizes itself further," independent political analyst Chris Ngwodo said by phone from Abuja.
President Muhammadu Buhari, who's seeking a second term in February, hasn't yet commented on the violence of the past days.
El-Zakzaky and his wife have been held by state security forces since 2015, in defiance of court orders that they be granted bail. Prior to his arrest, advocacy groups including Human Rights Watch have accused troops of killing more than 300 people and burying them in mass graves in the aftermath of clashes between his followers and soldiers accompanying an army chief's convoy.
The four-day march was planned in the lead up to Arbaeen, a religious festival celebrated by Shiites globally.