Nigerian Forces Aimed to Kill Shiite Protesters, Amnesty Says
(Bloomberg) -- The Nigerian security forces violated international law by using live ammunition against Shiite Muslim demonstrators during a series of protests in the capital, Abuja, to demand the release of their detained leader, Amnesty International said.
The London-based human-rights group said the security forces killed at least 45 members of the Islamic Movement in Nigeria and wounded 122 during processions leading up to Arbaeen, a religious festival celebrated by Shiites globally. A spokesman for the Shiite group, Ibrahim Musa, on Wednesday put the death toll at 49.
"Video footage and eyewitness testimonies consistently show that the Nigerian military dispersed peaceful gatherings by firing live ammunition without warning, in clear violation of Nigerian and international law," Osai Ojigho, Amnesty's director in Nigeria, said in a statement on Wednesday.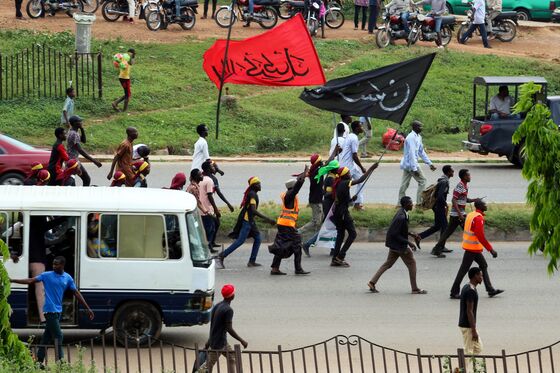 President Muhammadu Buhari, who's seeking a second term in February, hasn't yet commented on the violence of the past days. Presidency spokesman Femi Adesina declined to comment Thursday while defense spokesman John Agim said a response to Amnesty's claims would be issued later. Army and police spokesmen didn't answer calls.
The army said earlier in the week it killed six protesters and acted in self-defense. The police said in a statement also issued earlier this week that 400 people were arrested, some of whom threw petrol bombs and burned a patrol vehicle, without mentioning casualties.
The Nigerian authorities have detained the Shiites' leader, Ibrahim El-Zakzaky, and his wife since 2015 in defiance of court orders that they be granted bail. Nigeria, Africa's most populous country with almost 200 million people, is almost evenly split between a mainly Muslim north and a predominantly Christian south. The north is overwhelmingly Sunni, but there are an estimated 3 million Shiites.