Nigeria Chief Justice's Trial Can Resume, Appeals Court Says
(Bloomberg) -- The trial of Nigeria's suspended chief justice, Walter Onnoghen, on charges of lodging a false declaration of his assets, can go ahead, an appeals court ruled.
The unanimous decision by the three judges at the Court of Appeal in Abuja, the capital, on Wednesday means Onnoghen's trial at the Code of Conduct Tribunal, which prompted President Muhammadu Buhari to suspend him last week, can resume. It lifted a temporary stay of proceedings. The court is scheduled to make a final ruling Feb. 4 on whether the CCT has jurisdiction in the case.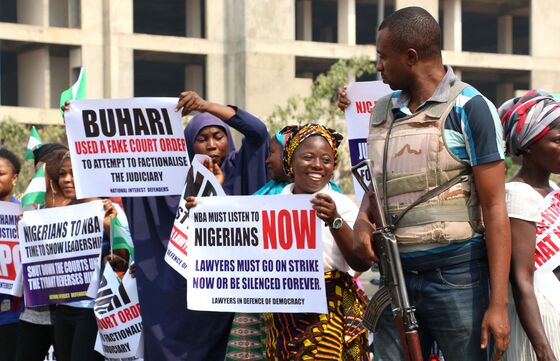 Buhari's decision to suspend Onnoghen just before the Feb. 16 general elections prompted condemnation by the leading opposition challenger to the president, Atiku Abubakar, and the legal community because any disputes over the vote are likely to go to the Supreme Court. The U.S. and European Union said the move could undermine the credibility of the vote.
"Onnoghen will be forced to step down pending the end of the investigation," Adedayo Ademuwagun, a Lagos-based analyst at Songhai Advisory, said by phone. "If the president had followed that process and approached the National Judicial Council to do its job as it's currently doing, the case would have been more transparent, less political."
Buhari said the Code of Conduct Tribunal ordered him to suspend Onnoghen until the trial's over and replaced him with the Supreme Court's second-ranking judge, Ibrahim Tanko Muhammad, in an acting capacity.
Muhammad's position too "is untenable," Ademuwagun said, and he'll probably face questions from the judicial council about why he agreed to be sworn in by Buhari.
The Senate leadership said it has asked the Supreme Court to rule whether Buhari breached the constitution by replacing Onnoghen, and the Nigerian Bar Association has called for his reinstatement.
"We will continue to urge the federal government to reverse the decision in regards to the suspension," bar association President Paul Usoro said by phone after the ruling.