Insurgents Plan 'Massive Attacks' in Nigeria, Minister Says
(Bloomberg) -- Nigeria's government has evidence that Boko Haram Islamist militants as well as armed bandits are planning to carry out attacks across the nation ahead of elections next month, Information Minister Lai Mohammed said.
"We have credible intelligence that armed bandits and Boko Haram insurgents have been mobilized to engage in massive attacks and other acts of violence in several states across the country," Mohammed said in an emailed statement Monday. He said at least 10 of Nigeria's 36 states were targeted.
The U.S. warned Friday that Islamist militants are planning to disrupt next month's elections with possible violent attacks.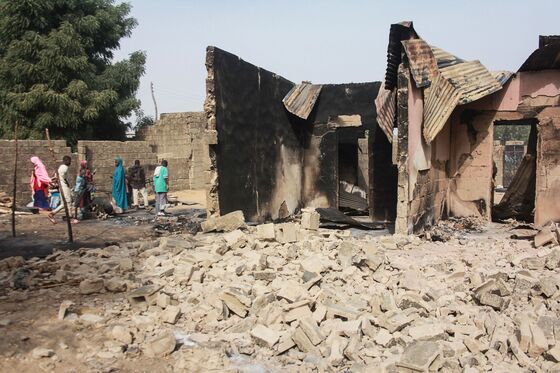 Mercenaries from neighboring Niger have been recruited to target top government officials "between now and the elections," Mohammed said. He accused the opposition of orchestrating violence ahead of the vote, without naming any party.
President Muhammadu Buhari, 76, is seeking a second four-year term in polls scheduled for Feb. 16 as the country is struggling to contain a decade-long militant campaign by Boko Haram in the northeast. Jihadists loyal to Boko Haram and the Islamic State have stepped up attacks in recent months as they seek to impose their version of Shariah law on Africa's most populous nation.
"It is very likely that Boko Haram will take advantage of the distraction that the election provides to mount an offensive," said Cheta Nwanze, head of research at Lagos-based risk advisory SBM Intelligence.
The U.S. embassy in Abuja, the capital, warned on its website that militants are planning to attack "security and infrastructure as well as places of gathering such as markets, hotels and malls." Similarly, the United Nations has advised staff in Nigeria to avoid crowded places and political gatherings.
The campaign to win the presidency in Africa's biggest oil producer has become increasingly bitter. Buhari's main challenger, Atiku Abubakar, a 72-year-old former vice president and wealthy businessman, has accused the president of being inept at running the economy of the continent's most populous nation. Buhari's camp has suggested Abubakar acquired his wealth corruptly.
Atiku's Peoples Democratic Party rejected Mohammed's claims Monday as "irresponsible and ludicrous" in an emailed statement and said Buhari should be held "directly responsible for any escalation of violence in our nation."
"Based on the information available to us, it is clear that there will be violence in 2019 general elections," SBM's Nwanze said. "We fear that it will be of a greater magnitude than in 2011" when at least 600 people were killed.