Nigeria Says Abubakar Faces Questions Over Bank Collapse
(Bloomberg) -- The Nigerian authorities believe opposition presidential candidate Atiku Abubakar has questions to answer over his alleged role in a failed bank when he returns from a foreign trip, Information Minister Lai Mohammed said.
"Any time Abubakar returns home he has questions to answer following the fresh evidence that we have that he benefited from slush funds that led to the collapse of the former Bank PHB," Mohammed told reporters Friday in the capital, Abuja. The central bank revoked Bank PHB's license in 2011 amid a crisis in the financial sector, and created Keystone Bank Ltd. to take on its assets and liabilities.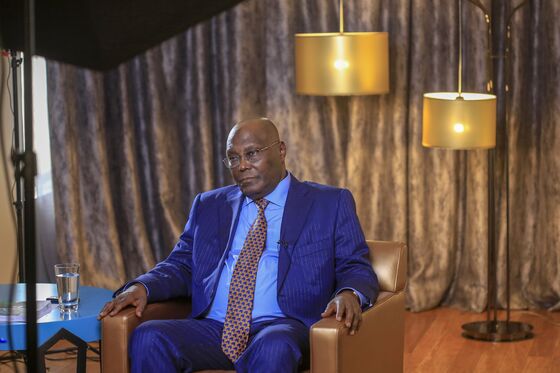 Abubakar, who's the main challenger to President Muhammadu Buhari in next month's election, is currently visiting Washington, where he has met with U.S. lawmakers. Mohammed didn't respond to questions whether Abubakar would be arrested or charged when he returns.
"When he gets back, whatever it is that they have that they couldn't throw before he traveled to the U.S., he will come back and he will respond to it," his spokesman, Paul Ibe, said. "As far as I can tell you, this is just a needless distraction, it is aimed at trying to diminish the essence of Atiku's U.S. visit."
Mohammed's comments highlighted the increasingly bitter campaign to win the presidency in Africa's biggest oil producer. Abubakar, a former vice president and wealthy businessman, has accused Buhari, a 76-year-old ex-military ruler, of being inept at running the economy of the continent's most populous nation. The president's camp has suggested Abubakar acquired his wealth corruptly.
"It is making everybody to be worried with the way the election is actually going," said Idayat Hassan, director at Centre For Democracy and Development. "They are unnecessarily heating up the polity. It is fast becoming a trend particularly 28 days into the election and it calls for caution."