Deadly Attack on Niger Base Forces President to Shorten Trip
(Bloomberg) -- Niger President Mahamadou Issoufou cut short a trip to Egypt to return home after an attack on a remote army base in western Niger left at least 71 soldiers dead and dozens missing.
Heavily armed assailants on motorbikes and pickup trucks raided the camp in Inates near the West African nation's border with Mali on Dec. 10, army spokesman Colonel Boubacar Hassan said in a statement on state television Wednesday. Issoufou had been in Egypt to attend a conference that continues today.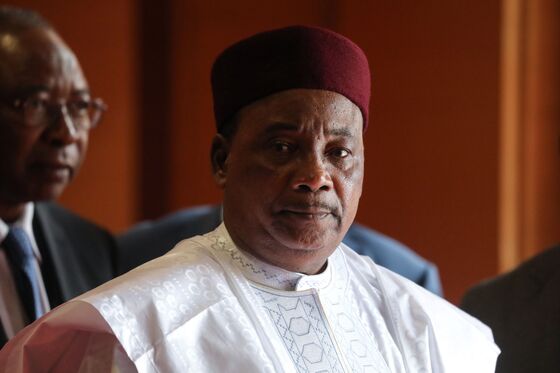 Landlocked Niger is at the center of an international counter-terrorism effort to stop an Islamist insurgency in the Sahel region from expanding further, and efforts to manage a deteriorating security situation in Libya. France and the U.S. both have a military presence in Niger -- the U.S. built a $110 million drone base in northern Niger and has deployed special forces.
French President Emmanuel Macron and Issoufou proposed postponing talks with West African leaders on France's involvement in the region scheduled for Dec. 16 to early 2020 because of the attack, the French presidency said in a statement. France has thousands of troops in the Sahel, the semi-arid region on the southern fringe of the Sahara, fighting extremists and hunting down their commanders.
The death of 13 French soldiers in Mali and anti-French sentiment among the population and even their leaders, according to Macron, may force France to revise its troop deployment.
The operation, known as Barkhane, is France's largest overseas military deployment with a budget of about $665 million a year. Still, violence by al-Qaeda and Islamic State militants is growing and spreading across borders.
At least 15 Niger soldiers were killed in a similar attack on the camp in Inates earlier this year.