Nicaragua's President Wins in Landslide After Jailing His Opponents
(Bloomberg) -- Nicaraguan President Daniel Ortega won a fourth consecutive term in a landslide after jailing his most popular opponents, in a vote the U.S. and the European Parliament called a farce. 
With 98% of ballots counted from Sunday's election, Ortega had 76% of the total, the head of the country's electoral authority Brenda Rocha said in a press conference Monday. Turnout was 65%, she said.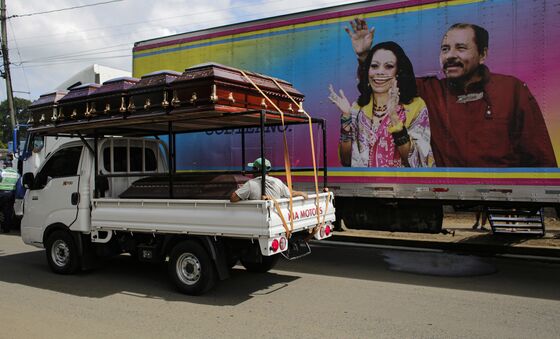 Other candidates besides Ortega were on the ballot, but from small parties without major support. Ortega's next five-year term begins in January. 
In the run-up to the election, seven opposition candidates were jailed or placed under house arrest, and international monitors were barred. Security forces detained politicians, journalists and civil society leaders under a draconian "anti-treason" law passed in December. 
Governments from Sweden to Costa Rica, as well as Human Rights Watch, denounced the election as a sham. U.S. President Joe Biden described it as a "pantomime", and said the U.S. will use diplomatic and economic tools to hold Ortega accountable for abuses.  
Ortega, a 75-year-old former guerrilla blasted opponents on Sunday as "demons" and "terrorists". He fought the U.S.-backed Contras during the Cold War, and still blames Washington for many of his country's problems.  
On Monday, Fitch Ratings said the election worsened relations with the U.S. and increased the risk of sanctions. 
Ortega first took power in the 1980s, and has been in office continuously since 2007, making him one of the world's longest-serving presidents. After decades of rule, Ortega faced mass protests in 2018, triggered by proposed changes to the social security system. The violent crackdown that followed turned the country from a country with an authoritarian government to something closer to a full-blown dictatorship.
A Cid Gallup poll before the election showed Ortega with 19% support, while independent organization Urnas Abiertas estimated abstention on Sunday was 81.5%.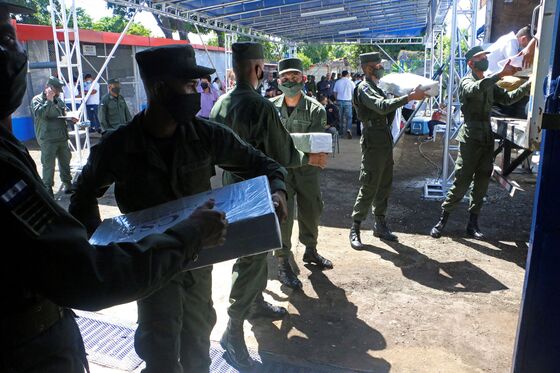 Until recently, Nicaragua wasn't a significant source of migration to the U.S. compared to neighbors such as El Salvador, Guatemala and Honduras. But U.S. customs and border patrol detained a record 50,700 Nicaraguans in fiscal year 2021, a 280% increase on 2019 and well above historical tallies below 2,000.