Nicaragua Arrests Fifth Presidential Candidate in Crackdown
(Bloomberg) -- Nicaraguan police arrested journalist and presidential hopeful Miguel Mora on terrorism charges in a broadening crackdown on government opposition ahead of a November election.
Mora, previously arrested in a 2018, is the fifth opposition candidate to be detained in the past month. Authorities have also arrested a dozen other people considered opponents to President Daniel Ortega using a two-article anti-terrorism law passed in December. The head of of Nicaragua's Business Chamber, Jose Adan Aguirri, and banking executive Luis Rivas, director of Banpro Grupo Promerica, are among those under arrest.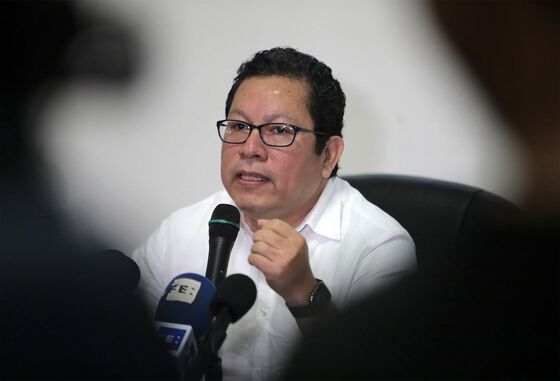 Nicaragua will hold a single-round presidential vote Nov. 7, the first election since anti-government violence erupted in 2018 over Ortega's plan to raise social security contributions while cutting benefits. Ortega is seeking his fourth consecutive and fifth overall term as president.
Opposition party, CxL, must select a candidate to face Ortega by Aug. 2. Party President Kitty Monterrey said in an interview with Confidencial on Monday the party plans to participate in the election and run a candidate in the November vote despite the recent arrests.
Ortega, 75, was last seen publicly on May 18 during a ceremony honoring Nicaraguan revolutionary Augusto Sandino. He has a habit of disappearing from public view and was absent for more than a month last year as the pandemic spread through the region.
The Organization of American States last week condemned the arrests and a bipartisan group of 18 U.S. lawmakers sent a bill to Congress to review Nicaragua's compliance with the Dominican Republic-Central America Free Trade Agreement. On Monday, Mexico and Argentina recalled their ambassadors from Nicaragua citing "actions that have put at risk the integrity and freedom of several opposition figures, activists and Nicaraguan businesspeople."