Newly Elected Women Bring Military, National Security Experience to Congress
(Bloomberg) -- Among the record-setting class of women newly elected to Congress on Tuesday are a core group who'll arrive in Washington with backgrounds in national security work or the military.
At least five of those women won key races that helped Democrats take control of the House. In Virginia, former CIA officer Abigail Spanberger and retired Navy Commander Elaine Luria beat Republican incumbents. Air Force veteran Chrissy Houlahan of Pennsylvania, former CIA analyst Elissa Slotkin of Michigan, and former Navy pilot Mikie Sherrill of New Jersey also flipped seats for Democrats.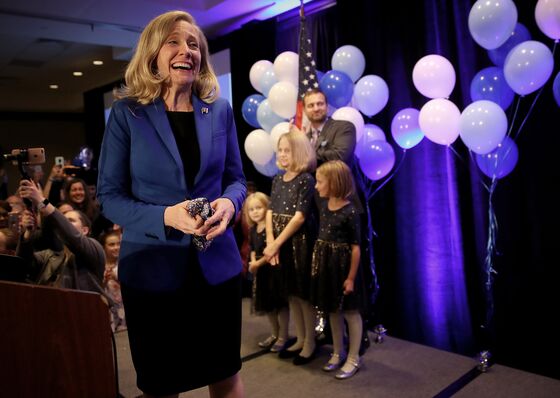 Air Force veteran and Republican Representative Martha McSally currently has a lead in the contest to be the first woman elected to the Senate from Arizona. In Texas, Iraq war veteran Gina Ortiz Jones is in a deadlocked race with Republican Representative Will Hurd, a former CIA officer, who is leading by less than 1,000 votes.
The next Congress will have at least 16 newcomers, men and women, who served in some branch of the military. They'll join a veterans caucus of more than 100 that includes Senators Tammy Duckworth, an Illinois Democrat, and Joni Ernst, an Iowa Republican.
Sherrill said veterans, men and women, would bring a bipartisan spirit to Congress. "As a Navy helicopter pilot I never flew Republican missions or Democratic missions, I would have had a very short career," Sherrill said Wednesday on MSNBC. "This is something I do think vets bring to the table, this willingness to work with everyone."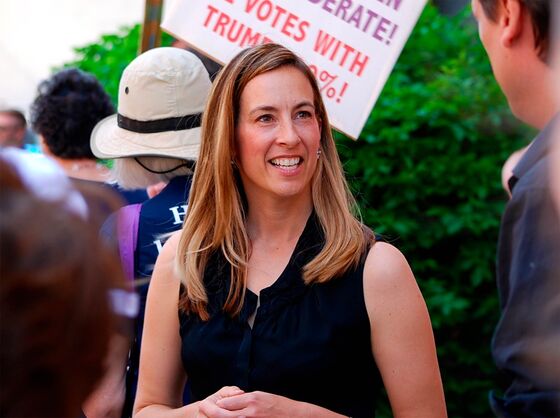 She said the record number of women elected -- 96 to the House with several races still to be decided -- would also have a "transformative" effect on Congress because of their experience breaking down gender barriers. "As women that's what we've been doing our careers," she said.
Though the Arizona Senate race is too close to call, McSally leads Democratic Representative Kyrsten Sinema by about 1 percent, with 99 percent of precincts reporting. McSally was the first American woman to fly in a combat mission.
Democrats have aggressively recruited candidates with national security backgrounds, eager to challenge the stereotype that Republicans are more focused on national security. The female national security candidates elected in 2018 may also help break the perception of some that women aren't as involved on the issue.
Many of the candidates said they were motivated by concerns that the country is moving in the wrong direction under President Donald Trump, and wanted to serve their country in a new way. They also stressed that they hope to see a more functional Congress.
"I would love to see more bipartisanship," Sherrill said. "What people tell me again and again is 'I just want Congress to work.'"
Having a national security background proved critical for a number of candidates. Spanberger pointed to her CIA background when the Congressional Leadership Fund, a super-political action committee backing House Republicans, attempted to tie her to terrorists after learning she briefly taught at a private Islamic school. The group obtained an unredacted copy of her federal security clearance application.
Spanberger warned that the group was setting a dangerous precedent by using her private security application for political purposes, which might discourage future candidates with similar backgrounds. "When I served as a federal agent with the U.S. Postal Inspection Service and as a case office with the Central Intelligence Agency, I did so to serve my country and protect my fellow citizens," she said in a statement.