New Zealand's Ardern Faces Tight Election Battle, Poll Shows
(Bloomberg) -- New Zealand Prime Minister Jacinda Ardern could be facing a tough battle to win re-election this year, with her opponents holding a small lead seven months out from the vote, a new poll shows.
The opposition National Party is steady on 46% support, retaining its position as the country's most popular political party, the Colmar Brunton/One News poll shows. Ardern's Labour Party has 41% support and its ally the Greens has 5%, meaning the center-left bloc is neck-and-neck with National. However, the poll shows National could form a government together with the small ACT Party, which has 2% support.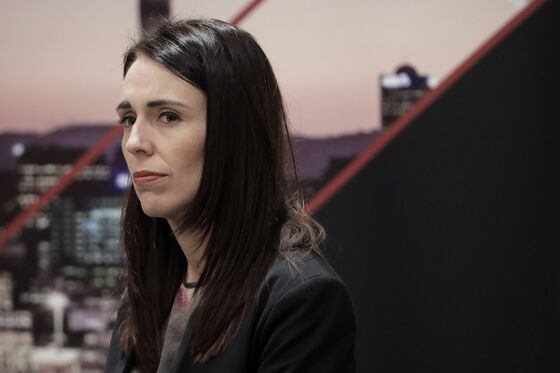 While Ardern has won plaudits for her leadership overseas and enjoys strong personal ratings at home, her government has been criticized for failing to deliver on key promises, such as fixing a housing crisis and tackling homelessness. Coalition partner the New Zealand First Party is also under investigation by the Serious Fraud Office over donations from companies and wealthy individuals that may not have been properly declared.
Ardern does have one big advantage -- her personal popularity. She remains the country's preferred prime minister by a wide margin, with 42% support compared with just 11% for National leader Simon Bridges.
The central bank also forecasts that come election day on Sept. 19, New Zealand will be in the midst of a robust economic recovery, aided by rising house prices and the government's infrastructure spending plan. The Reserve Bank predicts growth of 2.7% over the final three quarters of 2020 alone.
New Zealand will hold two referendums with the general election that will ask voters whether the country should legalize cannabis and euthanasia. They could give platforms to the libertarian ACT Party, which proposed the euthanasia reform, and the Greens, who champion the marijuana law change.
Under New Zealand's proportional electoral system, parties need to get 5% of the vote or win an electorate seat to get into parliament. ACT has one seat whereas the populist New Zealand First, currently doesn't. It had 3% support in the poll and would not get back into parliament on those numbers unless it won an electorate.
The Colmar poll was conducted Feb. 8-12 and has a margin or error of 3.1 percentage points.