New York Mayor in Iowa Says He's Still Weighing White House Bid
(Bloomberg) -- New York Mayor Bill de Blasio acted very much like a White House candidate during his weekend visit to the state that starts the presidential nominating process, meeting with Democrats and pitching a populist message.
"I've been clear I'm certainly not ruling out a run for the presidency," de Blasio said Sunday afternoon at a union hall in Des Moines, Iowa. "I've also said that as a progressive, as someone who believes that we need to change this country -- we need to change the Democratic Party -- I am going to go all around this country talking about the changes I think we need."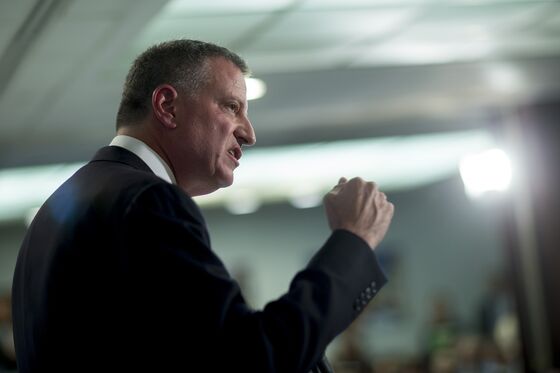 De Blasio made the remarks after a young man asked whether he was running as part of the swelling field of 2020 Democrats. The mayor pledged to inform the boy first, after he makes his decision. "Make sure you give me your phone number," he said.
In two weekend appearances in Iowa, de Blasio argued that the nation is at a pivot point.
"We need to seize this moment," he said Sunday. "We need to go out to reach people, organize people, engage them. But show that it's personal for them, it's also personal for us. If we do that, we not only have an election we could win, we could be ushering in a whole new progressive era in this country."
De Blasio also suggested that Democrats focus on the needs of voters and not the current White House occupant. "The last person we should focus on is Donald Trump," he said.
The mayor didn't see many people at his events, and a severe winter storm didn't help. A local report said he drew about 30 people at a bar Saturday evening in Sioux City, and about 40 people attended his Sunday appearance.
The mayor's comments in Iowa echo some he made in January when he said he wouldn't rule out a presidential bid, in a race where there are already a dozen declared candidates and the field is expected to continue to grow in the coming weeks.
De Blasio has touted as accomplishments the lower crime rate in New York City under his leadership, and policies he's championed that include requiring two weeks of paid vacation for workers in companies of more than five employees, as well as the establishment of universal, all-day pre-kindergarten in the nation's largest city.
Since he took office in 2014, de Blasio has traveled around the U.S. seeking to enhance his national profile, saying his promotion of such policies could build consensus for them nationwide.
Trump took a shot at de Blasio when reporters asked him in the Oval Office on Friday about the mayor's trip to Iowa.
"He has to learn New York City before he starts running the country because he hasn't done a very good job," Trump said. "Including, by the way, with Amazon."
The world's biggest online retailer on Feb. 14 abruptly canceled plans to establish a corporate campus in the city's Queens borough, following a backlash from some community organizers and politicians about $3 billion in government financial incentives promised to the company for a project that aimed to create thousands of high-paying tech jobs.
In his Des Moines remarks, de Blasio called for national legislation to "ban companies from demanding or receiving subsidies past a certain point," a change he said would "minimize the amount of very manufactured competition" created by corporations between cities for new offices and factories.