New York Hell Week: Presidents, Protesters Converge in Manhattan
(Bloomberg) -- New Yorkers know this is the week to work from home and dine in, if you can.
The United Nations General Assembly, featuring almost 200 world leaders, a shifting maze of police cordons, and caravans of Lincoln Town Cars shuttling all over Manhattan, is back. Even President Donald Trump, who's rarely visited his home town since moving to the White House, will be back, likely retreating to his eponymous Fifth Avenue tower between events.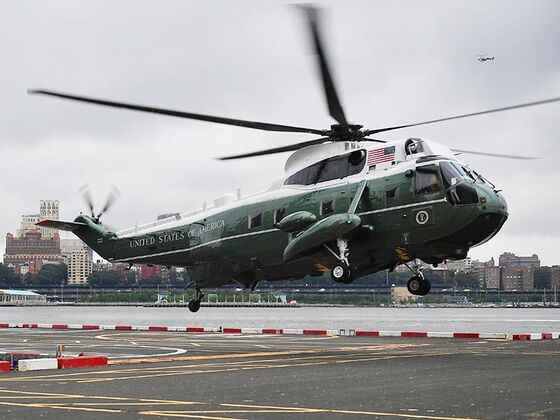 The meeting, which is already under way, reaches its peak Sept. 24-29. World leaders start taking the UN podium on Tuesday, and Trump hosts a meeting of the Security Council on Wednesday, with a heavy focus on Iran and non-proliferation expected.
Security for the annual event increases every year, said Tom Galati, the New York Police Department's chief of intelligence. This year, NYPD has worked with the Secret Service and FBI to devise new protective strategies in light of an arrest in June regarding an alleged plot to assassinate Israeli Prime Minister Benjamin Netanyahu, and the apparent attempt to use drones to kill Venezuela President Nicolas Maduro in Caracas in August.
"There will be much the public will see and much the public won't see," said New York Police Commissioner James O'Neill. "There's not going to be any shortage of uniforms on the street."
One thing the public will notice: police expect at least 100 motorcades to travel through Manhattan each day.
O'Neill wouldn't give a precise number of how many personnel the 38,000-officer department would deploy during the event, but NYPD expects at least 67 protests near the UN and across the city. Overtime costs, traditionally reimbursed by the federal government, have historically run as high as $30 million, he said.
Don't discount the positive side of this week's chaos, though. The Mayor's Office for International Affairs released a study in 2016 saying the UN and its affiliates generate about $3.7 billion a year in total economic output to the city's economy.
And the traffic could have been worse: North Korean leader Kim Jong Un, who's been on a diplomatic offensive all year, including a summit with Trump, isn't coming to New York (yet). Neither are Vladimir Putin and Xi Jinping: the Russian and Chinese leaders regularly skip the annual gathering. For those who do come, here's what they're likely to debate:
Trump's decision to withdraw from the 2015 nuclear agreement with Iran alienated allies and angered adversaries. The remaining members of the deal -- including France, the U.K., Germany, Russia and China -- will meet this week to determine if they can keep the agreement alive. But Trump appears to have scored a major blow by reimposing sanctions that prompted a number of European companies to pull out or cancel planned investments in the Islamic Republic. Tougher restrictions hit in early November, when the U.S. is threatening to sanction countries who continue buying Iranian crude.
Kim was belittled by Trump last year as a "rocket man on a suicide mission," and retorted by calling the U.S. president a "dotard." How things have changed. The two leaders now regularly trade public words of effusive praise, even if their detente has produced few concrete results. Following fresh promises this month by North Korea, South Korean President Moon Jae-in said Kim's eager to hold a second summit with Trump soon. Lots of questions remain about what denuclearization means to Kim, but most of the world is just glad that the threat of nuclear war appears to have receded.
Russia's decision to call off a large-scale military operation in Idlib this month was greeted with relief by UN Secretary-General Antonio Guterres. The deal reached by Turkey and Russia for a demilitarized zone also averts a clash with the U.S. and its western allies, who had warned they wouldn't tolerate the use of chemical weapons or excessive conventional force. The seven-year war in Syria is a stark reminder of the UN's limitations when it comes to solving global conflicts, especially when one of the great powers is involved. In 2017, the UN Security Council discussed Syria 33 times and adopted 23 resolutions and will once again feature during high-level meetings. But with Putin staying home, progress may be limited.
The oil-rich nation's economic crisis has turned into a migrant disaster, with more than 2 million Venezuelans now living outside their stricken country, with about 1.6 million having fled since 2015, according to the United Nations High Commissioner for Refugees. Venezuela was once prosperous, but the collapse brought about by years of misrule has led to shortages of nearly every basic human need, from water to medicine. The exodus is equal in scale to the European refugee crisis. Venezuela will be very much at the top of the agenda when leaders gather to discuss the UN-sponsored Global Compact for Migration and the Global Compact for Refugees.
Besides the UNGA, world leaders and top corporate executives will also gather in New York on Wednesday to discuss economic and social trends including climate change during a forum hosted by Michael R. Bloomberg, the founder and majority owner of Bloomberg LP, the parent company of Bloomberg News. Bloomberg has told the New York Times that he's considering a campaign for president as a Democrat. Participants will include U.K. Prime Minister Theresa May, Turkish President Recep Tayyip Erdogan, and Malaysian Prime Minister Mahathir Mohamad.