Ex-Commissioner Kelly Doubts Democrats on Crime: Election Update
(Bloomberg) -- New York City residents are voting Tuesday for a mayor to lead the most populous U.S. city's recovery from the coronavirus pandemic. Polls opened at 6 a.m. and will run through 9 p.m. It will be the city's first mayoral contest to be decided by ranked-choice voting, which asks New Yorkers to select their top five candidates rather than choose just one.
Brooklyn Borough President Eric Adams led in an Ipsos poll released Monday on the Democratic primary, with former presidential candidate Andrew Yang in second, former city Sanitation Commissioner Kathryn Garcia in third and civil-rights attorney Maya Wiley in fourth. The winner of the Democratic primary is heavily favored to win the November general election.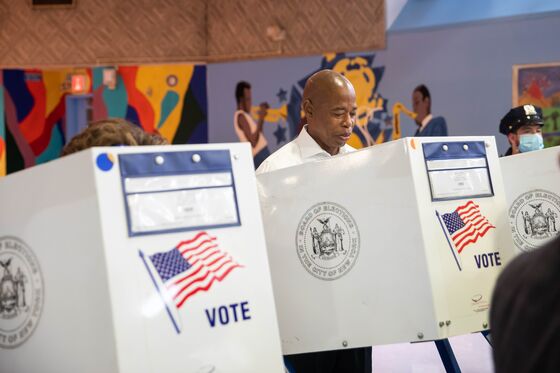 Michelle Goldberg: Only the Women Can Save Us Now, New York
Rising crime is a top issue for New York City residents, but former Police Commissioner Ray Kelly was pessimistic that any of the Democrats running can bolster public safety.
"All of the mayoral candidates are talking in some way, shape or form on further restrictions on the police," Kelly said in a Bloomberg Television interview. "Police aren't taking taking the proactive measures that we took a few years ago that made New York the safest big city in America."
Under former Mayor Mike Bloomberg, the founder and majority owner of Bloomberg LP, Kelly used stop-and-frisk search practices that a federal judge found unconstitutional. Bloomberg's successor, Bill de Blasio, curbed the tactic, focusing on so-called community policing. Major crime declined, but has since spiked during the pandemic.
Brooklyn Borough President Eric Adams, who has made public safety central to his campaign, suggested that the city could return to some form of stop-and-frisk. He also called for the revival of a plainclothes unit criticized for aggressive tactics.
"Getting guns off the streets: It's very difficult, particularly here in New York City, where they have eliminated the anti-crime units," Kelly said. -- Martin Z. Braun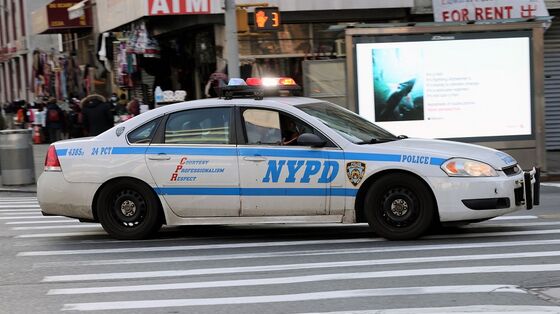 Yang said he holds no ill will against Garcia for not reciprocating his endorsement of her as second choice.
"We've had both private and public conversations," Yang said at a campaign stop at the Brooklyn Junction subway station. "I wasn't upset." -- Emma Kinery
Wiley Campaigns in Brooklyn
Wiley, who canceled an afternoon campaign stop in the Bourem Hill neighborhood of Brooklyn, resumed campaigning at the Parkside Avenue subway station.
"We saw people coming out to the polls this morning, we saw people going to the polls in the afternoon, for us it has been about being in high traffic sites." Wiley said when asked if the weather will potentially discourage voters. "We just hope to get the message out that we hope everyone steps up, comes out to vote, that your voice counts, it matters."n -- Skylar Woodhouse
Adams on MSNBC did not state who he ranked below him on his mayoral ballot this morning, but said he was disappointed that only the top eight Democratic candidates are talked about.
"There's a large number of people running," Adams said. "I looked at all the candidates that I share similar beliefs with on how to keep the city safe, how to deal with inequality, and how to make our city affordable city and I rank based on that, I was excited by some of my choices." -- Emma Kinery
Yang Predicts 'Vote for Change'
Yang said he loves the concept of ranked-choice voting. The former presidential candidate campaigned with rival Garcia in recent days to encourage people to rank as many as five candidates in order of preference on their ballots.
"I love ranked choice voting, the fact that New Yorkers can support more than one candidate," Yang said. "People come to me and say, 'Hey I voted for you first choice.' Sometimes they say you're on my ballot, I still give them a high five because that's exactly what the system is about."
"New Yorkers want leaders who can work with others and bring people together," Yang said. "Campaigning with Kathryn Garcia has been a joy for that reason."
Yang predicted a "resounding vote for change."
"We need a new start and that's exactly what New Yorkers are going to be saying at the ballot box today," he said.
Speaking with reporters outside of a polling site in Cobble Hill, Brooklyn, Yang said he has been encouraged by voters he's spoken with today. "We expect to win this race," he said. -- Henry Goldman and Emma Kinery
In the neighborhood streets surrounding Brooklyn Borough Hall, candidate Ray McGuire, the former Wall Street banker and vice chairman of Citigroup Inc., said hello to and took photos with passerby Tuesday afternoon. One of his biggest supporters, Gwen Carr, the mother of Eric Garner, the unarmed black man whose 2014 death in a police chokehold helped ignite the Black Lives Matter movement, closely followed McGuire and his campaign staff.
Carr, also helped pass out campaign fliers and said hello to those who recognized her. She said she cast her vote for McGuire Tuesday morning in her Staten Island neighborhood. Carr said she first met McGuire in December and questioned him on his stances on several issues, including police reform in the wake of her son's tragedy, before deciding to endorse him. "We need to make major changes for those who come after my son," Carr said. "That's what I'm interested in now, that we have police reform."
McGuire is "who I think would do the best job, who I think would bring a change to the city," Carr said. "Cause when I look at the rest of them who have already been in politics, they have done absolutely nothing." -- Mary Biekert
Eric Adams affirmed that he would accept the election results should he lose, after he leveled accusations that a joint campaign appearance by Garcia and Yang, designed to influence and encourage ranked-choice voting, was aimed at "disenfranchising Black voters."

At a campaign event on Tuesday, Adams said he's more concerned about saving the city than a recent partnership between Garcia and Yang that has emerged in opposition to his candidacy.

"If they win, they win," he said at an appearance at a polling place on Manhattan's Upper East Side, where he also greeted voters and took photos. "Whoever is elected, they will have my full support and I hope that they say the same thing when Eric is elected." -- Fola Akinnibi
Quinn Hails Women Candidates
Former City Council Speaker Christine Quinn, who ran unsuccessfully for mayor in 2013, hailed this year's diverse slate of mayoral candidates.
"It's the most diverse field of candidates we've ever had in the city of New York," Quinn said in an interview on Bloomberg Television. "That diversity really speaks to who we are as a city and what our greatest strength is."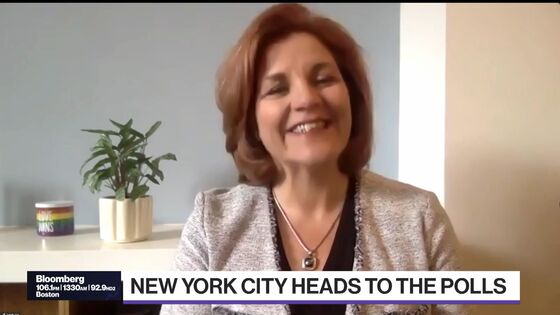 Earlier this month, Quinn wrote a popular editorial in the New York Times entitled "What'll It Take for New York City to Elect a Woman as Mayor?" in which she said Yang referring to Garcia as a great deputy mayor was sexist.

"Every time I hear Andrew Yang say that Kathryn Garcia would make a great first deputy mayor or Eric Adams question the civil-rights lawyer Maya Wiley's knowledge of policing, I want to scream," she wrote.

On Tuesday, Quinn said the city needed a more inclusive comeback but also a "dynamite manager, somebody who can take this city back to when it ran efficiently and take on the city's big problems." She declined to name who she was voting for but said all of the leading candidates were "tough."

She said female candidates need to fight against the stereotype that women can't be tough. "It speaks to how in politics and life that women are held to a different standard," Quinn said. "We've had 109 mayors in New York City -- they've all been men -- 108 have been White men. This is the year to change that with such terrific female candidates." -- Hadriana Lowenkron
De Blasio Keeps Choice to Himself
After repeatedly saying he may or may not disclose his choice for mayor, incumbent Bill de Blasio opted against making it public.
"Whoever wins, for all the different offices, I want to work with them, and I think the best way to do that is just keep my personal decisions to myself," he said Tuesday in a press conference at City Hall. He planned to cast his vote at around 11:30 a.m. at the Park Slope Library in Brooklyn, according to his public schedule.
De Blasio also offered closing thoughts on his term, looking back on the city's emergence from the pandemic. "I have a sense of sole satisfaction that we're moving in the right direction," he said. "I'll be able to pass the baton to the next mayor with the city coming back strong." -- Nic Querolo
Campaign Finance Board at Poll Sites
The city's Campaign Finance Board said it was sending staff to poll sites in all five boroughs on Tuesday as part of a routine audit process.
The board responded to a question on Twitter about why it was interviewing people at the sites. It denied a claim on social media that it was asking campaign workers to leave.
"The CFB interviews campaign workers only, not voters, and workers are free to decline to be interviewed," the board said in a statement. "The interviewers are contractors hired by the CFB and visit each poll site and campaign office briefly. We do not maintain a presence at any location throughout the day. The focus of these spot-checks is to assure public funds are being spent appropriately." -- Stacie Sherman
Ocasio-Cortez's Second Choice Is Stringer
U.S. Representative Alexandria Ocasio-Cortez said she ranked city Comptroller Scott Stringer as her second choice.
"I think he's also a really strong candidate from a policy perspective," Ocasio-Cortez said Tuesday on Hot 97, in a video posted on Twitter by Stringer's spokesperson Tyrone Stevens.
An e-mailed request for comment to Ocasio-Cortez's press office wasn't immediately returned.
Ocasio-Cortez endorsed civil-rights lawyer Maya Wiley, a fellow progressive, as her first choice, bolstering Wiley's campaign and making her a leading candidate.
Stringer, like Wiley, led a progressive campaign and had the endorsement of the Working Families Party, a left-leaning political group, until Stringer was accused of sexual harassment by two women. Stringer has denied the claims. The party retracted its endorsement of Stringer and backed Wiley instead. -- Skylar Woodhouse