New Taiwan Vice-President to Make Highest-Profile U.S. Trip in Four Decades
(Bloomberg) -- Taiwan's Vice President-elect will make the most high-profile visit to the U.S. by a Taiwanese politician in decades, a move likely to further strain ties between America and China as the world seeks a coordinated response to a deadly coronavirus outbreak.
Lai Ching-te is slated to attend the National Prayer Breakfast in Washington Wednesday, setting up the possibility of a meeting with President Donald Trump.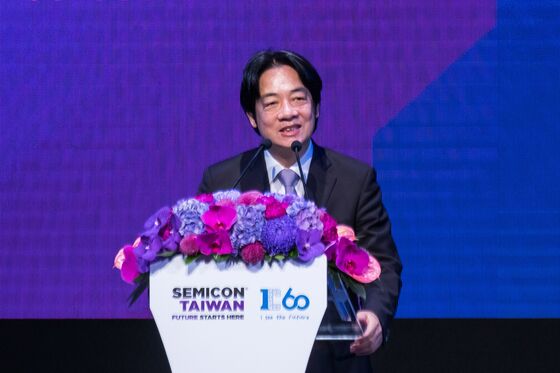 Lai, a vocal advocate of formal independence for Taiwan, won't hold an official government position until he's sworn in in May and is traveling in a private capacity. But his trip is still the most visible to the U.S. capital by a senior Taiwanese politician since the U.S. severed ties with the democratically run island in 1979. It comes after incumbent president Tsai Ing-wen, Lai's running mate, won re-election in a landslide last month.
"Lai is a pretty radioactive figure for Beijing as he is seen as a stoking horse for independence within Tsai's circle," said Shelley Rigger, a political science professor focusing on Taiwan and China at Davidson College in North Carolina. "Beijing will react strongly, so there's a lot of risks for Taiwan and Tsai in a meeting between Lai and Trump."
Taiwanese politicians frequently travel to the U.S., but visiting Washington itself has remained off-limits to senior government officials over American concerns of angering Beijing, which claims the self-governed island as part of its territory.
The trip by Lai -- who served as premier under Tsai between 2017 and 2019 -- is the latest signal of staunch U.S. support for Taiwan in recent years, including Congress's passing the Taiwan Travel Act to encourage more Cabinet-level Taiwanese officials to visit the U.S. and the Trump administration's approval of a $8 billion sale of 66 new F-16 fighter jets to the island last year.
It won't be the first time Trump has angered China over Taiwan. As president-elect, he accepted a phone call from Tsai, the first time an incoming U.S. commander-in-chief has had direct contact with a Taiwanese leader in 40 years. Chinese Foreign Minister Wang Yi dismissed the call as a "little trick pulled off by Taiwan."
Since the independence-leaning Tsai came into office in 2016, China has frozen all contact with Taiwan and steadily increased diplomatic, military and economic pressure on her government, including attempts to lure away Taipei's few remaining allies. Lai's visit could invite further sanction from Beijing.
"It's entirely possible that [Trump] will freak out if he gets criticized too heavily or he comes under pressure with his phase one deal," Rigger said in a telephone call. "No matter what happens it will just intensify pressure on Taiwan more."
A Japanese colony for the first half of the 20th century, Taiwan came under the control of China's Nationalist government after World War II. It became a refuge for Chiang Kai-shek and his troops as they fled the Communists at the end of China's civil war.