Brazil's Bolsonaro Backtracks on Some Controversial Proposals
(Bloomberg) -- Brazil President-elect Jair Bolsonaro backtracked on some of his more controversial pledges on Tuesday, promising to expand trade with China, reconsider plans to merge ministries and rethink the idea of moving the country's embassy in Israel to Jerusalem.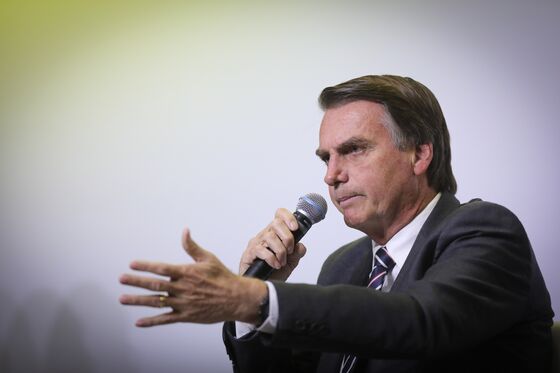 Bolsonaro, a lower house deputy, returned to the capital Brasilia for the first time since winning a landslide election on Oct. 28 to meet various senior officials and discuss names for the remainder of his cabinet.
In comments to reporters throughout Tuesday, Bolsonaro said that he was no longer inclined to merge the agriculture and environment ministries as he had previously planned. On China, a country the president-elect has long regarded with suspicion, he said he wanted to expand trade. In response to a question about his plans to move Brazil's embassy in Israel from Tel Aviv to Jerusalem, Bolsonaro said that it was "not a point of honor".
While the former Army captain said the military would have a key role in his government, he also reiterated his commitment to the rule of law.
"The only guide for democracy is the constitution," he told Congress during a ceremony commemorating 30 years of Brazil's basic law.
In contrast to the election campaign when he skirted issues such as unpopular belt-tightening measures, the president-elect on Tuesday also raised the issue of needing to cut back on pension spending. Bolsonaro said that he would like to get a bill to cut pension spending approved in Congress this year, and that establishing a minimum retirement age of 62 could be an option. "We'd like to get something done on pensions," he said. "It's not what we or the economic team would want, it's what we can get through the House and the Senate."
Meanwhile, Paulo Guedes, Bolsonaro's designated finance minister, said approving a pension bill would be a nice conclusion to Temer's administration. Guedes met with current Finance Minister Eduardo Guardia, while Bolsonaro was scheduled to meet with the heads of various branches of Brazil's Armed Forces.
Much of Bolsonaro's future success hinges on his relationship with Brazil's fractious Congress. The former Army Captain will have to muster lawmaker support to approve his reform agenda, which includes an overhaul of the country's bloated social security system and a measure that would grant the central bank formal independence.
Investors have snapped up Brazilian assets on bets that Bolsonaro will tackle long list of economic challenges including rising debt, a large fiscal deficit and sluggish growth. The benchmark stock exchange closed at an all-time high on Monday, while a gauge of investor risk perception has dropped to the lowest level since May.
Still, to accomplish his goals, Bolsonaro's administration will have to forge agreements with a highly fragmented Congress. The lower house alone has 513 members of which only 52 hail from Bolsonaro's PSL party. Meanwhile, the opposition Workers' Party of former President Luiz Inacio Lula da Silva is the largest in the Chamber of Deputies.
Brazil's central bank said on Tuesday that uncertainty had dissipated since Bolsonaro's victory last month. Policy makers reiterated that continuing economic reforms is crucial to keeping interest rates low.