Netanyahu Worked With Pompeo in Jerusalem Embassy Campaign, Official Says
(Bloomberg) -- Israeli Prime Minister Benjamin Netanyahu helped squeeze the president of Honduras into Secretary of State Michael Pompeo's crowded schedule in Brazil, betting that the Latin American leader will move his embassy to Jerusalem ahead of April elections where the premier is fighting to keep his job, according to a senior Israeli official.
Netanyahu and Pompeo held an unusual three-way meeting in Brasilia on Tuesday designed to coax Honduran President Juan Orlando Hernandez into recognizing Jerusalem as Israel's capital and moving the Central American nation's embassy from Tel Aviv within the next two months, said the official, who was present at the gathering. Honduras also wants Israel to open an embassy in its capital, Tegucigalpa.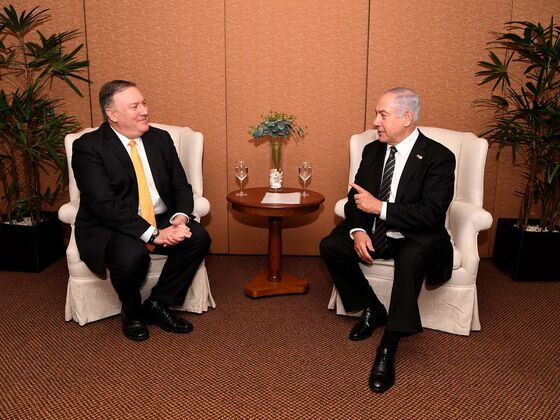 Hernandez had said he wanted "a few minutes" with Pompeo, which Netanyahu arranged via the trilateral meeting, the official said. The Trump administration's top diplomat was in Brazil for the inauguration of President Jair Bolsonaro. Netanyahu and Hernandez were part of a roster of international leaders attending the festivities that also included Hungarian Prime Minister Viktor Orban, Serbian President Aleksandar Vucic and Chilean President Sebastian Pinera.
Honduran government officials didn't immediately respond to a request for comment on the meeting or its outcomes.
Facing elections in April amid intensifying corruption probes, Netanyahu is presenting himself to voters as the only candidate with the stature and nerve to play diplomacy in the big leagues. Moreover, Israeli leaders have long sought to leverage the perception that they can open doors in Washington for those with less access. The Israeli official said many foreign leaders vie for face time when Pompeo travels to events such as the inauguration, and Netanyahu saw an opportunity for mutual benefit by helping out the Honduran leader.
Netanyahu frequently pitches the advantage of Israeli technology, including desalination plants, as well as cyberware and weaponry, to foreign governments. Honduras has bought military hardware from Israel in the past. As part of his outreach, Netanyahu sent his wife Sara on a diplomatic mission to Guatemala last month. She also joined him for part of the meeting with Honduras's president in Brazil.
Netanyahu spent five days in Brazil, seeking to clinch Bolsonaro's commitment to fulfill a campaign promise and move Brazil's embassy to Jerusalem. While Netanyahu said the Brazilian leader told him "it's a matter of when, not if" he would move the embassy, Bolsonaro avoided any such public commitment during Netanyahu's visit.
After the Honduras meeting, a joint statement from the three countries that was issued by the State Department spelled out what Netanyahu and Hernandez had received from Pompeo.
"It was agreed to strengthen political relations and coordinate cooperation on development in Honduras," the message said. "They also agreed to pursue a plan of action, which includes meetings in their three respective capitals, to advance in the process of the decision to open embassies in both Tegucigalpa and Jerusalem."
President Donald Trump decided at the end of 2017 to transfer the U.S. embassy to Jerusalem and made the move in May by upgrading an existing consular building. That infuriated the Palestinian leadership, which claims part of the city as a capital for a future state. Guatemala moved its own embassy to Jerusalem days later.