Netanyahu's Oman Visit Sets Off Israeli Cabinet Rush to Gulf
(Bloomberg) -- Prime Minister Benjamin Netanyahu's surprise visit to Oman pried open a door to the Persian Gulf usually shut to Israelis, and several of his cabinet members are following him through.
Miri Regev, minister of culture and sport, paid an official visit Monday to the Sheikh Zayed Grand Mosque in Abu Dhabi, the third largest in the world, a day after hearing Israel's national anthem played at a sports gathering in the emirate. Communications Minister Ayoob Kara, a Druze Arab, traveled to an international conference in Dubai, while Transportation Minister Israel Katz will participate next week in a global gathering in Oman.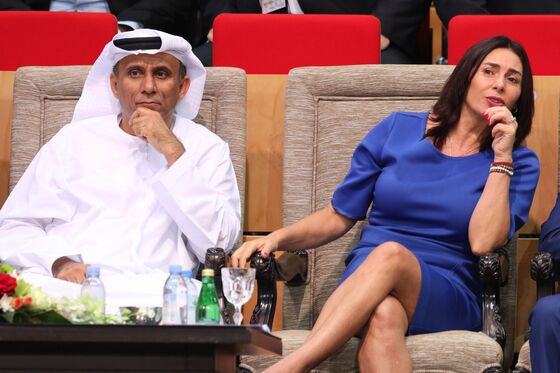 "The whole message here is of unity and peace," Regev said in a statement. The minister, who was dressed at the mosque in a crimson Arabic robe and white head covering, is one of Netanyahu's most hard-line cabinet members on relations with the Palestinians. She's been in the United Arab Emirates since Friday, accompanying Israel's national judo team, which won a gold medal at the Abu Dhabi Grand Slam.
Israel's ties with Gulf states have warmed in recent years, primarily over a shared distrust of Iran and its push for regional hegemony. U.S. President Donald Trump has promoted this rapprochement, seeing Saudi Arabia and other Middle East allies as key to his policy of confronting Iran and advancing the regional peace proposal he's promised to deliver soon.
That approach has been complicated as its linchpin, Saudi Crown Prince Mohammed bin Salman, faces an international outcry over the killing of government critic Jamal Khashoggi in the kingdom's consulate in Istanbul.
Gulf countries are gradually making gestures to accept Israel, prodded by Trump and their desire to participate in international activities that forbid their barring other United Nations member states.
"It's a sign that Israel and the Arab world are moving closer," said Michael Oren, Netanyahu's deputy minister for public diplomacy.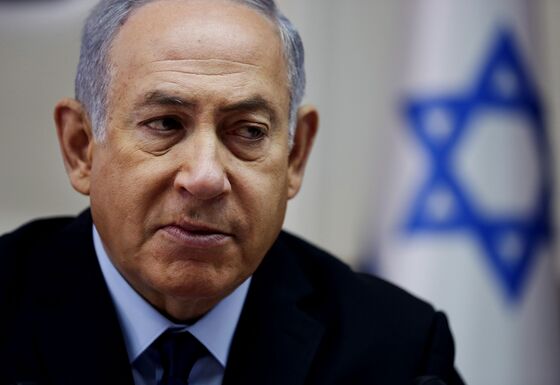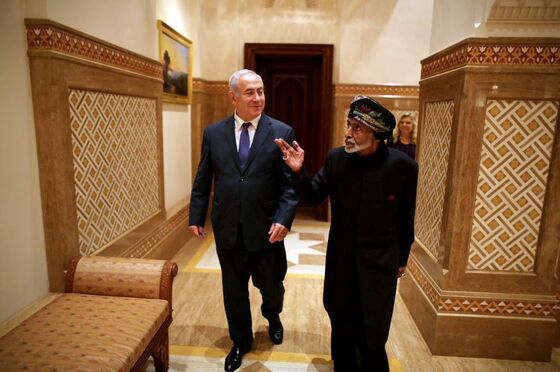 In a statement Sunday after his weekly cabinet meeting in Jerusalem, Netanyahu said his visit with Oman's ruler, Sultan Qaboos, included "very important talks for Israel's security," adding, "there will be more." None of the Gulf states has diplomatic relations with his country.
While ties with Arab governments have improved, Israel remains deeply unpopular among ordinary citizens who support the Palestinian cause.
"Visits by teams and officials from the Israeli enemy to Gulf capitals pain our hearts," prominent U.A.E. political commentator Abdulkhaleq Abdullah wrote on Twitter. "If governments see it necessary to welcome them, people still have choices, and I choose to say a thousand 'nos' to normalization with the Israeli enemy."
Regional Broker
Netanyahu's 24-hour trip last week included a first-known flight of an Israeli leader over Saudi Arabia, and was the first public appearance by an Israeli premier in Oman since 1996. While the Israeli leader says he hopes Trump's peace efforts will help to expand his country's ties in the Middle East, the trip was meant as a signal to Iran, Oren said.
"Iran poses an existential threat to these governments and regimes and they know Israel's going to help them," Oren said. "It's perhaps not coincidental that this meeting takes place days before the imposition of the Trump administration's tough sanctions."
Oman has often been a go-between to resolve issues between Saudi Arabia and Iran, and the sultan was an important back channel in discussions between Iran, the U.S. and other world powers that led to the 2015 nuclear deal, said Riad al Khouri, a director of political risk adviser GeoEconomica based in Amman.
Netanyahu's trip "has nothing to do directly with anything but Iran, Iran and Iran," Al-Khouri said. "The Omanis have been for many years a conduit between other Gulf states and Iran, between America and Iran and probably others. Their only leverage is with Iran."
Arab countries fought Israel's establishment in 1948 and have shunned it at the UN in support of the displaced Palestinians, who seek their own state. Israelis are not allowed to visit Gulf countries, though many enter with second passports from other countries.
Following the 1993 Oslo peace accords, Israel was allowed to open up trade offices in Oman and Qatar, but those were later shut after fighting with the Palestinians resumed in 2000. Still, many Gulf states have unofficial security ties and conduct business deals with Israel.
International organizations also have forced the sides together publicly. Three years ago, Israel opened a representative office to the International Renewable Energy Agency in Abu Dhabi, which allowed an Israeli presence because the agency is part of the UN.
Last year, when Israeli Tal Flicker won a gold medal at the Grand Slam judo tournament, Abu Dhabi organizers refused to display Israel's flag or play its national anthem. This year, threatened with being stripped of hosting the tournament, the emirate relented: Israeli Sagi Muki won a gold medal Sunday, with Regev in attendance as the national anthem "Hatikvah" was played.