Rivals Edge Closer to Ending Netanyahu's 12-Year Grip on Power
(Bloomberg) -- Benjamin Netanyahu's opponents edged closer Monday to forming a government that would oust the longest-serving prime minister in Israel's history after winning over an erstwhile ally.
Naftali Bennett, a pro-settlement security hawk who's previously served under Netanyahu in various cabinet positions, said he'd work to clinch a "government of change" with former Finance Minister Yair Lapid after four inconclusive elections in two years showed the premier was no longer capable of forming a right-wing government.
"I will work to the utmost to form a national unity government together with my friend Yair Lapid," Bennett said.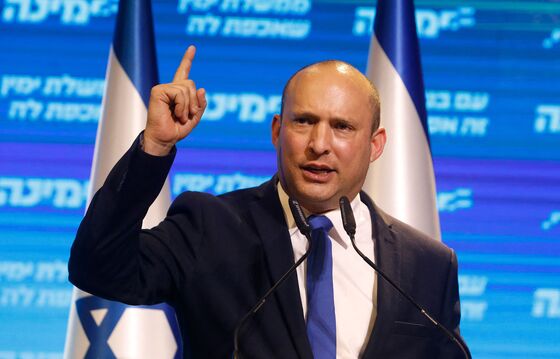 If they manage to cobble together a coalition, Lapid and Bennett could end the grip of a political survivor who's been in power for 15 of the past 25 years and left a lasting mark on Israel and the broader region. Under Netanyahu, Israeli politics shifted to the right, the Palestinian-Israeli peace process was sidelined while settlements were expanded in the West Bank. Netanyahu also reached normalization deals with four Arab countries, including the United Arab Emirates and Bahrain, only last year.
Even that wasn't enough to hand Netanyahu a clear majority in the latest election, a win he desperately needed to hold onto power and shield himself from multiple charges of corruption and influence-peddling.
There's no guarantee, however, that an opposition lineup led by Lapid and Bennett would bring the political stability that Israelis want.
To get the required 61-seat majority in parliament, the pair will have to pull together a coalition of nationalists, centrists and leftists, secular and religious parties, and will need to rely on the support of an Arab party -- in the most unlikely alliance in the annals of Israeli politics.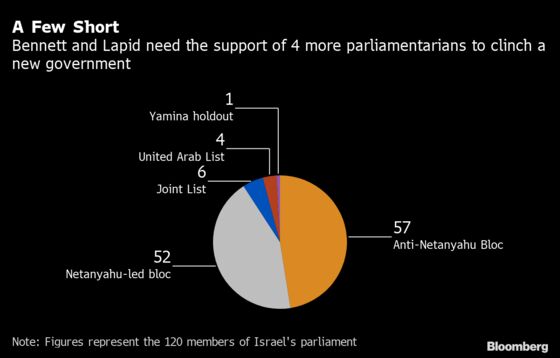 The two men would be expected to share power if they manage to clinch enough support in parliament for their government, with Bennett expected to serve first as premier.
"There are still plenty of obstacles in the way of the formation of the new government," Lapid said on Monday. "Maybe that's a good thing because we'll have to overcome them together. That's our first test."
He has until midnight Wednesday to present a formal coalition agreement to President Reuven Rivlin. If he fails, Israelis could end up going to a fifth election.
Israel has been in a state of political turmoil ever since Netanyahu brought down the government in December 2018 and put in motion a cascade of elections and one short-lived government. Lapid, who heads the main opposition bloc, was tapped to try to piece together a government after the 71-year-old prime minister failed to form a government after the last round of voting on March 23.
Retaining power offers Netanyahu his only chance of halting his corruption trial, through the passage of legislation protecting incumbent leaders from prosecution. He says he's done nothing wrong and is the victim of a political witch hunt by leftist opponents.
Netanyahu has been quick to dismiss efforts to oust him and has appealed to right-wing parties and politicians including those now in the opposition camp not to back a coalition that may take the country in a different direction.
The latest twist came after this month's 11-day conflict between Israel and Gaza appeared to set back opposition efforts to form a government and strengthen Netanyahu's position.
Bennett pulled out of talks with Lapid in the midst of the fighting, which killed 13 people in Israel and 256 Palestinians, many of them civilians. So did the Arab grouping headed by Mansour Abbas. Both have since resumed negotiations.