Netanyahu Camp Lead Narrows in Snag for Coalition Building
Prime Minister Benjamin Netanyahu's path to forming the next Israeli government became harder after near-final election results showed his lead narrowing.
Preliminary tallies had suggested Netanyahu would have an easier time putting together a coalition, after he plunged his country into a yearlong political crisis linked to the corruption cases entangling him. But with just several thousand more votes to count, his nationalist-religious bloc shrank to 58 of parliament's 120 seats, media reported.
That's only a loss of one seat since exit polls after Monday's race, the third in less than a year. In Israel's fractured political landscape, however, a seat or two can make all the difference between the formation of a government and a fourth back-to-back election.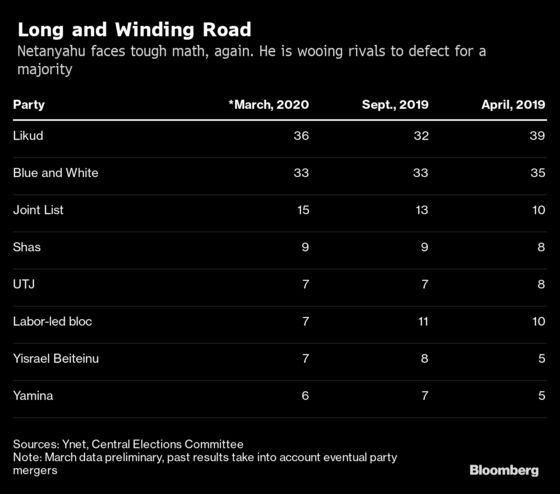 Recently indicted in three graft cases, Netanyahu has gambled on repeat votes to win a majority in parliament and possibly keep himself out of jail.
To form a coalition with a parliamentary majority, the prime minister will need to peel away three defectors from opposing parties, and he's already hinted efforts are underway to entice lawmakers from former military chief Benny Gantz's Blue and White bloc, which placed second with 55 seats.
The impending March 17 start date of Netanyahu's trial may complicate those efforts due to the negative optics of joining forces with someone who's soon to be sitting in a court dock.
Several lawmakers identified as potential targets have dismissed the notion of joining forces with Netanyahu. And Blue and White has ruled out sitting together in a unity government with the prime minister's Likud party as long as he heads it because of the indictments, bloc lawmaker Meir Cohen told Army Radio on Wednesday.
The Israeli leader is accused of accepting about $290,000 in gifts over a decade from wealthy friends, and scheming to win sympathetic press coverage by benefiting media moguls. He's been charged with bribery, fraud and breach of trust, and Likud lawmaker Miki Zohar has said Netanyahu's lawyers are trying to delay the start of his trial.
The Movement for Quality in Government petitioned the High Court of Justice to rule on whether Netanyahu can serve as prime minister while charged with serious crimes. On Wednesday, the court said it can't consider the petition at this time because the results aren't final and President Reuven Rivlin hasn't asked political parties who they recommend he tap to build the coalition.