Deal Sealed After Late Pushback by India and China: COP26 Update
(Bloomberg) -- Delegates at high-stakes COP26 climate talks in Glasgow agreed on a global deal to boost climate action after last-minute wrangling. They also approved rules that would create the framework for a global carbon market.
The final version of the broad document, named the Glasgow Climate Pact, kept contentious proposals despite last-minute pushback from China and India -- two of the world's biggest emitters. That included language on reducing coal and fossil-fuel subsidies and coming back by next year with new climate targets. The proposals passed after an eleventh-hour watering down, negotiated in plain sight in the plenary room.
They also agreed to a set of sweeping rules on international carbon trading. Negotiators reached compromises on issues including how to avoid double-counting of credits and how to make sure a share of proceeds goes to helping poor nations adapt to a warming planet. Still, activists warned that those concessions could set back efforts to cut heat-trapping emissions.
Experts expressed cautious optimism that the measures would keep alive the Paris Agreement's stretch goal of limiting global warming to 1.5 degrees Celsius from pre-industrial levels. But environmentalists maintained their criticism over the lack of finance commitments from rich countries, who are under pressure to do more to help developing nations decarbonize and deal with more extreme weather events.
After India's intervention, a call to phase-out coal was diluted to "phase-down"
The language on coal is still a first, and goes beyond G-20 pledges
Countries told to strengthen climate plans next year
Island nations are disappointed but accepted deal as the best one on offer
Extinction Rebellion labels COP26 a failure
(Timestamps are Glasgow, Scotland.)
Delegates Approve Rules for Carbon Market (7:51 p.m.)
Delegates approved a set of sweeping rules on international carbon trading. 
Negotiators reached compromises on issues including how to avoid double-counting of credits and how to make sure a share of proceeds goes to helping poor nations adapt to a warming planet. Still, activists warned that those concessions could set back efforts to cut heat-trapping emissions.
India Raises Last-Minute Objection (7:40 p.m.)
In a last-minute move, India proposed weakening fossil fuel language in the pact, shifting from a commitment toward "accelerating efforts towards the phase-out of unabated coal power" to instead supporting a "phase down unabated coal power."
Switzerland and the European Union expressed strong objections to India's proposal, but ultimately accepted it, paving the way for the adoption of what EU climate czar Frans Timmermans called a "historic" document. 
Ending Unabated Coal, Fossil Fuel Subsidies Stay in Draft (5:55 p.m.)
Lines on ending inefficient subsidies on fossil fuels and phasing out unabated coal have survived into another draft of the COP26 agreement. The final draft also still asks countries to upgrade their climate targets next year.
Delegates will soon be asked if they have objections to the text before it is gaveled through. 
Stocktaking Session Ends (5:37 pm)
The more than 2 1/2-hour long stocktaking session ended with India and China raising objections to the draft text of the agreement, while others including the U.S., the EU and vulnerable nations supporting it. Delegates will gather again shortly for a final formal plenary.       
Brazil Sees 'Delicate Balance' (4:42 p.m.)
Brazilian ambassador Paulino de Carvalho Neto said that the draft text achieved a "delicate balance" and was "workable," particularly the progress made on global carbon market. "This is why we support the current text to be the basis for our work in the coming years," the ambassador said.
Vulnerable Nations Support Texts (4:07 p.m.)
Representatives of island nations on the very front lines of climate change banded together Saturday to plead for adoption of a final deal with a promise to accelerate the phase-out of unabated use of coal, even though they said it falls fall short of delivering the finance poor countries desperately need.
The text in front of us "does not have everything that everyone wants, but it has extremely important elements that do serve the planet," said Tina Stege, of the Marshall Islands. "It is not perfect. It is not without fault. We have much work to do. But it does represent real progress -- and that is what we need at this moment."
One after another, delegates from island nations insisted adopting the accord was better than failing to agree. "We cannot afford no progress," Stege said. "I am not willing to leave here with nothing."
They said was still needed to address climate finance, including a shortfall in support from rich nations since 2020 and compensation for the loss and damage they are experiencing from global warming.
EU Warns of Stumbling With Finish Line in Sight (3:47 p.m.)
The European Union's climate chief Frans Timmermans implored nations to accept the draft text as written, saying that they shouldn't "kill this moment." 
"I wonder if we're not at risk of stumbling in this marathon a couple of meters before reaching the finish line," he said. Our children and grandchildren "will not forgive us if we fail them today," he said to loud applause in the auditorium.
India Says Deal Remains Elusive (3:38 p.m.)
Indian environment minister Bhupender Yadav said that it's not fair to single out coal and fossil-fuel subsidies. He also objected to asking countries update their climate pledges by 2022. "Consensus remains elusive," he said. 
China Seeks Weakening of Fossil Fuel Line (3:30 p.m.)
China's representative asked to amend the line on phasing out fossil fuel subsidies and unabated coal use. He said the language should instead reflect what's already been agreed by G-20 countries and what the U.S. and China agreed in a joint declaration this week.
Protests on Loss and Damage (3:30 p.m.)
Just a few steps outside the plenary hall, more than a dozen protesters unrolled a red line and fell to the floor, a demonstration which they said was meant to illustrate the deaths to come from climate change without meaningful spending on climate mitigation, adaptation and compensation.
The issue about funding for countries struck by climate-related catastrophes is shaping up to be a final stumbling block in a deal.
Rich countries "say we cannot agree to finance for loss and damage," but that just means "more people will die and more people will be displaced," said one activist, as he paced along the red line on the carpeted floor. "It cannot be a red line for anybody."
Time for Objections (3:12 p.m.)
After much huddling and pouring over texts, COP26 President Alok Sharma has finally got everyone seated. Now listen out for objections as countries take turns to have the floor.
Sharma has made clear he wants to wrap up "this afternoon." It'll soon be clear what kind of deal has emerged from two long weeks of talks.
Extinction Rebellion Labels COP26 a Failure (2:55 p.m.) 
Extinction Rebellion activists disrupted the City of London Lord Mayor's event as they declared COP26 a failure. They displayed a float with a giant drowning head and two outstretched arms, and with banners saying "COP has failed" and "Stop Fossil Fuel Funding," the group said in a statement.   
U.S.-China Huddle (2:41 p.m.)
U.S. and Chinese negotiating teams are huddling as they try to get a deal over the line. Sharma had called people back for 2:30 p.m. But it looks like they still have some chunks of text to discuss. U.S. climate envoy John Kerry, masked and wearing reading glasses, is parsing the texts with his Chinese counterpart Xie Zhenhua.
There's been a fair amount of backslapping too, particularly between the Brits and Americans.
Plan Is to Close Summit Today (2:01 p.m.)
COP26 President Alok Sharma insisted he plans to close the summit this afternoon, as he gave delegates more time for informal talks to try to get a deal over the line.
A plenary session was delayed as delegates huddled in small groups for last-minute horse-trading. Sharma has called everyone back for 2:30 p.m.
"At the end of the day what has been put forward here is a balanced package," he said. "Everyone's had a chance to have their say."
Financing Still a Challenge (1:08 p.m.)
Climate financing continues to be the biggest challenge, said Brazil's Environment Minister Jaoquim Leite. Rich nations have not only missed their target of $100 billion a year of annual funding for poor countries to tackle climate change, but some say that money is just not enough. The financing has been a key sticking point, and major complaint from vulnerable nations. 
"They signed in 2015, promised for 2020 and now are kicking the can down the road to 2023 or 2024, for resources that are no longer enough," Leite said. 
He added that an agreement on carbon trading is likely on Saturday, after nations have finally agreed on a compromise to avoid double-counting carbon credits.
"The global carbon market is one of the solutions but not the biggest," he said. "The main solution is more resources, funding above $100 billion."  
How Good is the Carbon-Trading Deal? (12:45 p.m.)
As negotiators close in a deal on a global carbon market, activists and experts are pouring over the detail.
The new proposal has been praised by some activists for offering stronger provisions on accounting -- a key issue. Another important element of the draft is also an obligation to cancel 2% of newly issued credits -- a step that would ensure pollution is cut, rather than just offset elsewhere.
Kelley Kizzier, vice president for global climate at the Environmental Defense Fund and a former negotiator, called the new draft text a good deal.
"It gives us a robust accounting framework, especially for compliance markets," she said in an interview. "I think it also provides the opportunity for avoiding double counting for voluntary markets for the first time. But that will definitely be the job for civil society and national governments to make sure that that's implemented."
Yet some activists voiced concerns over the treatment of old carbon credits generated under the now-defunct Kyoto Protocol-era offset market. Up to 4 gigatons of old units could be carried over -- more than the annual emissions of Russia and Indonesia combined, according to WRI's Helen Mountford.
"This is a concern, and we need to ensure that this is as limited as possible" lest it undermine ambition," she said.
Maldives Laments Lack of Progress (12:50 p.m.)
With just minutes to go before countries take to the floor to take stock, the Maldives have signaled their unhappiness with the amount of adaptation finance provided for in the draft text, setting the stage for a potential showdown. 
"We know through the trillions that are invested in fossil fuels every year that money is not the question -- the question again is one of political will," said Shauna Aminath, environment minister for the chain of 26 atolls in the Indian Ocean, which are threatened by rising sea levels. 
"We have 98 months to halve our emissions. We are not there. The difference between 1.5 and 2 degrees is a death sentence for us."
Saudi Arabia Doesn't Reject Fossil-Fuel Line (11:50 a.m.)
Saudi Arabia doesn't object to the line in the text that calls for a phase-out of "unabated coal power" and "inefficient" fossil-fuel subsidies, according to a person familiar with the country's position.
The coal line would be a big win for the summit as it would make the first time a final COP text references the need to move away from the dirtiest fossil fuel. Still, the fossil-fuel language matches what the G-20 has been saying for years, even as members continued to pump billions of dollars into subsidies.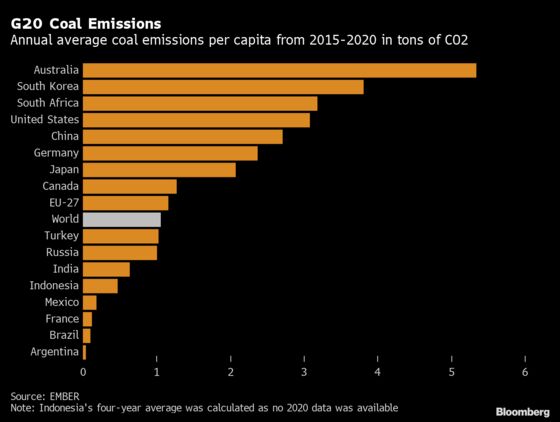 Greenpeace Celebrates Fossil-Fuel Language (11:30 a.m.)
"The key line about fossil fuels is still in the text," says Greenpeace International Executive Director Jennifer Morgan
"It's weak and compromised, but it's a breakthrough, it's a bridgehead and we have to fight like hell to keep it in there and have it strengthened."
The Risk of Compromise (9:43 a.m.)
The draft compromise proposal on a UN-supervised carbon market is a good start but still needs stronger provisions on the use of credits from a previous program, according to Gilles Dufrasne of Carbon Market Watch. Under the new documents, offsets from projects registered under the Clean Development Mechanism in 2013 or later could be transfered to the new market.
The controversial, technical issue of provisions to avoid double counting also needs more analysis, according to Dufrasne. "It looks like the risk has been reduced but the devil is in the detail and we will need to see how this can be implemented in practice."
New Ad Hoc Finance Group (9:30 a.m.)
Climate finance has been one of the thorniest issues at COP26, and newly released drafts are unlikely to mollify poor nations angered by wealthy countries' failure to fulfill a pledge for $100 billion annually that was supposed to start flowing by 2020.
Under draft documents released Saturday, an ad hoc group would work to develop a new climate finance plan for the second half of the decade with the new collective funding goal established in 2024.
But negotiators have dialed back any commitment on what that plan would actually look like -- including by omitting proposed language to set the floor at $100 billion annually and mobilize at least $1.3 trillion per year by 2030.
Coal and Fossil Fuel Phase-Out (9:05 a.m.)
COP26 is set to call for a phase-out of "unabated" coal and "inefficient" fossil-fuel subsidies, according to the latest draft. It will likely be considered a win after the line faced fierce resistance from some countries. If it survives until the end, it will be the first time a final COP text references fossil fuels. 
Still, the G-20 has been calling for an end for inefficient fossil-fuel subsidies for a decade, and the latest numbers show those countries spent $600 billion subsidizing fossil fuels. 
"It's a major shift if it survives since it's been so verboten," said Collin Rees, a senior campaigner at the environmental group Oil Change U.S. Even if the language won't "deliver much tangible change by itself," he said, the real value is in signaling the shift away from fossil fuels and setting a precedent to build on.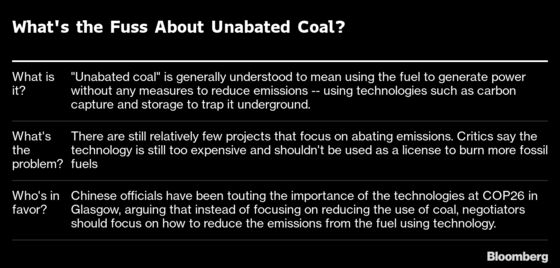 Paying for Climate Damage (9:15 a.m.)
Negotiators have moved closer to a plan for compensating climate-vulnerable countries for the damage caused by global warming. A new draft has countries committing for the first time to provide funds to a program that was set up years ago but still doesn't really work.
Under the latest draft text, the so-called Santiago network "will be provided with funds to support" efforts to avert, minimize and address loss and damage associated with climate change. 
It still falls short of the demands from climate-vulnerable countries.
Gaps Are Closing on Carbon Trading (8:45 a.m.)
Envoys moved closer to a deal on launching a global carbon market market, according to a new draft. 
The document outlines solutions to some of the biggest sticking points, including the accounting rules. Here, negotiators backed provisions endorsed by Brazil, Japan and the U.S., which environmental activists say creates the risk of lax accounting -- or greenwashing.
Negotiators kept a rule that 5% of revenues from offset trading under the new UN-supervised program would have to be channeled to developing countries to help them adapt to climate change. And to ensure that the market accelerates pollution cuts, 2% of newly issued offsets would have to be canceled.
There's also a draft compromise on the use of old Kyoto Protocol-era offsets. The unused so-called Certified Emission Reductions would only be authorized for use to meet nations' first climate plans under the Paris Agreement. To qualify, the offsets would have to come from projects registered no earlier than 2013.
New Steps on Carbon Trading (8:10 a.m.)
Negotiators are making progress on creating rules for international carbon markets. A new draft proposal published on Saturday moves ahead on the thorny issue of how to use cash generated from bilateral emission trades. 
Instead of channeling a fixed share of revenues to developing countries, a demand voiced by African nations and other developing countries, now they are "strongly encouraged to commit" to contributing funding for adaptation, particularly through the Adaptation Fund.
EU, Italy Seek Band-aid on Finance (9 p.m.)
The European Union and Italy are rushing to draft a last-minute climate finance proposal that would help rich countries make good on failed funding promises -- and perhaps rescue COP26 negotiations.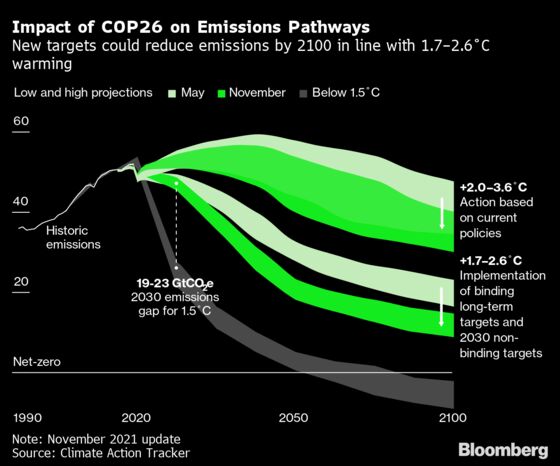 (Michael Bloomberg, the founder and majority owner of Bloomberg LP — the parent company of Bloomberg News — committed $500 million to Beyond Carbon, a campaign aimed at closing the remaining coal-fired power plants in the U.S. by 2030 and halting the development of new natural gas-fired plants. He also started a campaign to close a quarter of the world's remaining coal plants and cancel all proposed coal plants by 2025.)