Barnier Sees Path to a Deal as Soon as This Week: Brexit Update
(Bloomberg) -- The European Union's chief negotiator, Michel Barnier, told a private meeting of ambassadors that a trade deal with the U.K. could be completed as soon as this week, but there are still significant differences to be bridged.
The U.K. has made concessions on the level playing field and is now pushing the bloc to soften its demands on fisheries, Barnier told envoys from the EU's 27 member states on Monday, according to two diplomats with knowledge of the meeting. A compromise on the latter subject could unlock the accord, Barnier said.
The pound jumped as much as 1.6%, putting it on track for its biggest daily gain in almost two months.
Chief negotiators hold first meeting of the week late morning
Negotiators see chance of completing an agreement this week
Von der Leyen will lunch with French President Emmanuel Macron
From Bloomberg Opinion
"If a Brexit deal gets done, a sterling rebound could prompt global investors to reassess whether the U.K.'s domestic-focused stocks are too cheap," Chris Hughes writes.
France: Talks Shouldn't Go Beyond This Week (4:30 p.m.)
France's junior minister for EU affairs, Clement Beaune, said he doesn't think the negotiations should be extended beyond this week, AFP reported.
"I don't think we're going to go beyond the coming week, it wouldn't be very reasonable" because there is little time left to get organized, he said on trip to Strasbourg, according to AFP.
U.K.: No Deal Is 'Possible Outcome' (1:05 p.m.)
British envoys are "committed to try and bridge the gaps that still exist" between the U.K. and EU in the talks, Prime Minister Boris Johnson's spokesman, Jamie Davies, told reporters. "We've been clear that we will continue to work, and hope to reach a free trade agreement."
"Obviously, no deal is a possible outcome," he said. "Time is in very short supply and it has been for some time."
That marks a step back from Boris Johnson's warning on Thursday that a no-deal split was a "strong possibility."
Von der Leyen Says Competition Must Remain Fair (11:38 a.m.)
Speaking at an event hosted by the Organisation for Economic Cooperation and Development, von der Leyen suggested negotiators are fine-tuning the mechanism for ensuring that competition remains fair in future.
"We want a level playing field not only at the start but also over time and this is the architecture we are building," she said on a panel alongside Macron. "We are fine about the architecture itself but the details in it, do they really fit? These are crucial points."
"If the U.K. wants a seamless access to the single market of the EU -- and it's the largest one in the whole world -- they are welcome, but they have to play by our rules," von der Leyen added.
Barnier: U.K. Has Made Concessions (10:56 a.m.)
Barnier told diplomats in Brussels that the U.K. has made concessions on fair competition rules and, in return, wants the EU to soften its stance on fishing rights.
But the details remain complex. While the U.K. has moved closer to the EU on the level playing field and there is now some agreement on "cross retaliation" -- the ability to impose tariffs on trade for breaches of separate areas of the agreement -- significant differences remain.
As many predicted at the start of the negotiations, it could come down to finding a solution on fisheries in the last remaining days. Barnier told envoys that there are still many issues to be resolved, including how often access is renegotiated, quota numbers, and the U.K.'s proposal to toughen ownership rules determining which vessels can carry the British flag.
Barnier Tells Envoys How the Deal Could Get Done (10:10 a.m.)
The EU's chief negotiator sketched out different scenarios for ambassadors this morning. One is that there could be a deal this week if there a compromise on fish, two diplomats briefed on the meeting said. Alternatively, the talks could run right up to the Dec. 31 deadline, he said.
Barnier warned that the discussions on fish are problematic so there is a lot of negotiating to be done before an agreement comes into view.
France's Le Maire Urges Tough Stance (9:30 a.m.)
French Finance Minister Bruno Le Maire said negotiators are right to stick to a tough line as France has little to lose economically from no deal compared to the U.K.
"The British are the big losers from Brexit," Le Maire told radio France Info. "Brexit is a madness: a political madness, an economic madness and a historical madness. I regret that my British friends will pay the price for populism, lies, and approximations."
According to Le Maire, Brexit will knock only 0.1 percentage points off France's economic output next year. While 150,000 French exporters will take a hit, the government is ready to support them, he said.
The finance minister also slammed the U.K.'s move to run exercises scrambling Royal Navy vessels to prepare to intercept fishing boats in British waters. Le Maire supported President Emmanuel Macron's tough stance on protecting the French fishing industry, which he said is part of the country's culture.
From Bloomberg Intelligence
FTSE Set Up for Final Brexit Countdown
Fisheries Chief: No Deal Likely for Now (8:40 a.m.)
Soeren Gade, a Danish member of the European Parliament and vice-chair of its committee on fisheries, said that he doesn't expect a trade deal will be struck this year.
"If there was supposed to be an agreement, you would have had it already," he told Bloomberg Radio's Caroline Hepker and Roger Hearing. "The world doesn't stop because there's no deal, and something will come out of it later, but I don't think there will be a deal right now."
He pointed out that 65% of the fish British boats catch in domestic waters are sold to mainland Europe. Without a deal, those products will be subject to tariffs, so a deal will likely be struck at a later date.
Ireland: Level Playing Field, Fishing Still a Problem (8:37 a.m.)
"I'm hopeful, but I don't want to understate the very significant challenges" remaining, the Irish Prime Minister told RTE radio. Micheal Martin said he still sees a chance of a deal even though the areas of the level playing field and fisheries remain problematic.
"The real end deadline is New Year's Eve," Martin said, but he added that "both sides are very possessed of the need to try and get outcomes to these negotiations in the next number of days."
Barnier and Frost to Meet Later (8:25 a.m.)
Michel Barnier and his British counterpart, David Frost, will hold their first meeting of the week in Brussels late morning, according to an official briefed on their plans.
After speaking to the bloc's 27 ambassadors first thing, Barnier will discuss the latest on the negotiations with the European Parliament's Brexit group of lawmakers.
Barnier Tells Ambassadors There's a Narrow Path to Deal (8:10 a.m.)
Michel Barnier told EU government envoys in Brussels that the last few days of negotiations have brought some limited progress on the enforcement of any deal, while disagreements over state aid remain, according to a senior diplomat present at a private meeting on Monday morning.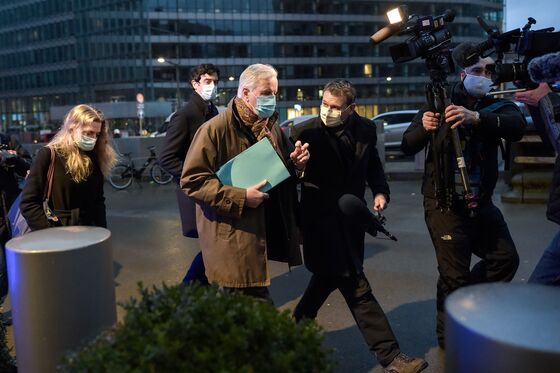 The EU's chief negotiator also said that the U.K has been backtracking on fisheries, according to the diplomat, who asked not to be named discussing the content of a non-public discussion.
U.K. Plans Own Carbon Trading Plan After Brexit (8 a.m.)
The U.K. will start its own carbon market at the beginning of next year to help cut emissions after Brexit.
The move, announced Monday, answers the long-awaited question of whether the government would put a price on carbon or a simple tax. It leaves open the possibility to link the U.K. emissions trading system with the larger European one at some point in the future.
Businesses Plead for Extra Time (Earlier)
British business groups called on the government to give them more time to prepare for the nation's departure from the EU after leaders from both sides agreed to continue talks on Sunday.