Alexey Navalny's Condition Is Serious But Stable, Berlin Hospital Says
(Bloomberg) -- Chancellor Angela Merkel raised the prospect of a coordinated European response should evidence mount that Russian opposition figure Alexey Navalny, who remained in an induced coma in a Berlin hospital, was the target of a poison attack.
Although Navalny fell ill on a domestic Russian flight to Moscow, the German leader drew a link between the case and the 2018 attempted murder of a former Russian spy, Sergei Skripal, and his daughter on British soil. U.K. allies joined together and expelled 150 Russian diplomats in retaliation, leading to a sharp escalation in tensions.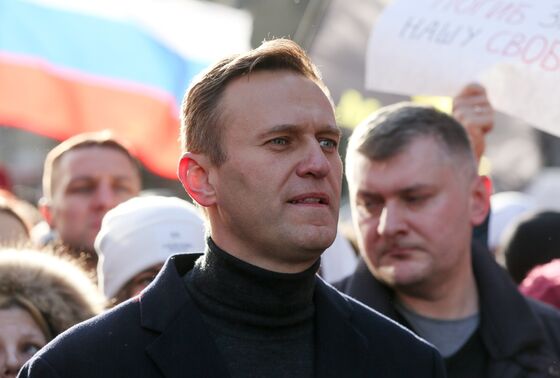 "When we have more clarity about the background, similar to what was at hand in the Skripal case, we will certainly try to have a European reaction, not only reactions by individual states," Merkel told reporters in Berlin Friday at a press conference. ​
​Navalny remains in serious but stable condition and his symptoms are receding, according to officials at Berlin's Charite hospital.
Navalny, a vocal critic of President Vladimir Putin, became violently ill on a flight from the Siberian city of Tomsk last week and was later flown to the German capital for treatment. Doctors in Berlin said he was exposed to a cholinesterase inhibitor, a chemical group that includes some nerve agents, though the exact compound hasn't yet been identified.
Merkel has become exasperated with the Russian leader, whom she views as showing no flexibility as a list of grievances with the Kremlin continues to mount. The Navalny affair is now another point of contention, in addition to a murder in broad daylight in a Berlin park last summer and a 2015 cyberattack on the Bundestag, Germany's lower house.
Putin on Wednesday warned against making "premature and unfounded accusations."
German Foreign Minister Heiko Maas said authorities would wait for more conclusive evidence of the suspected poisoning. Should evidence mount and Russia -- as in the other cases -- fails to cooperate, "we should surely have to deal with the question of how we'll react," Maas said in Berlin on Friday.