Navalny Plans to Return to Russia After Surviving Poison Attack
(Bloomberg) -- Alexey Navalny returned to social media Tuesday for the first time since he was poisoned last month, as allies said he plans to return to Russia once he's recovered.
"No other option was ever considered," Navalny's spokeswoman Kira Yarmysh said by text message. "We haven't discussed concrete plans yet."
Navalny's health has continued to improve after he collapsed on a plane bound for Moscow from a campaign trip in Siberia. Germany said he was poisoned by what European laboratories have identified as Novichok, a weapons-grade nerve agent developed in Russia, and has demanded an explanation from the Russian government.
On Tuesday the opposition leader posted a picture of himself flanked by his wife and children, and joking about his state of health.
"Hi, this is Navalny. I miss you," reads the Instagram post. "I still can't do practically anything. But yesterday I breathed on my own for the whole day. All by myself. No outside help, even didn't use this valve in my throat. I liked it a lot. A surprising process, underestimated by many. I recommend it."
Navalny is able to get out of bed for short periods, according to a statement Monday by Charité hospital, the Berlin clinic that's treating him.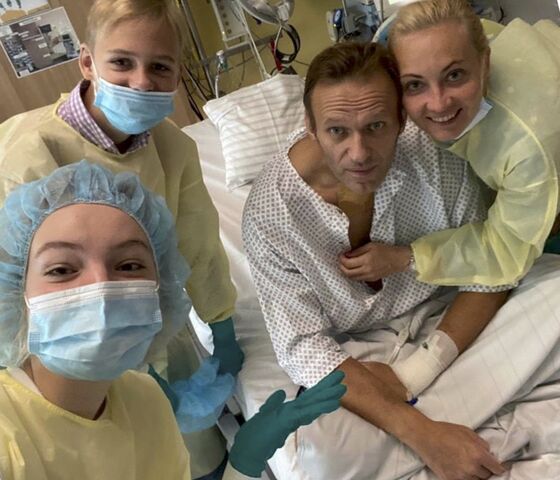 French President Emmanuel Macron called the attack an "assassination attempt" in a phone call with his Russian counterpart Vladimir Putin on Monday, and demanded a transparent investigation. The Kremlin labeled the allegations groundless. It's refused to open a criminal investigation, asserting it has no evidence Navalny was poisoned.
Russia is willing to work with Germany to investigate the case but hasn't received a response to its request for "the patient's biological material," Kremlin spokesman Dmitry Peskov told reporters on a conference call Tuesday. "If French specialists got this chance, if Swedish specialists got this chance, if OPCW specialists were somehow informed about the results of the analyses, we don't understand why this opportunity isn't given to Russian specialists."
There should be no rush to judgment about the potential impact of the case on Russia's relations with Europe, he said. "From our point of view, we are convinced there are no factors that can negatively affect and that should in some way negatively affect our relations," Peskov said.
While German Chancellor Angela Merkel's government said it will consult with its European and Nato allies on how to react to the attack, a senior Social Democratic party member said on Tuesday that the case should be taken to the United Nations Security Council, even though Russia has a veto right there.
"I have the impression that Russia would seek to avoid international condemnation, so building up international pressure is the right way forward," Rolf Muetzenich, SPD parliamentary caucus leader, told reporters in Berlin on Tuesday.
Navalny, 44, was hospitalized initially in the Siberian city of Omsk, after his flight made an emergency landing to save his life. The hospital refused to discharge him for two days, citing his unstable condition, before he was flown to Berlin.