Alexey Navalny Discharged From Berlin Hospital, Full Recovery Possible
(Bloomberg) -- Alexey Navalny may make a full recovery from his poisoning by weapons-grade nerve agent Novichok, according to doctors at the Berlin clinic after the Russian opposition leader was discharged on Tuesday.
"Based on the patient's progress and current condition, the treating physicians believe that complete recovery is possible," the Charite clinic said Wednesday in an emailed statement. "However, it remains too early to gauge the potential long-term effects of his severe poisoning."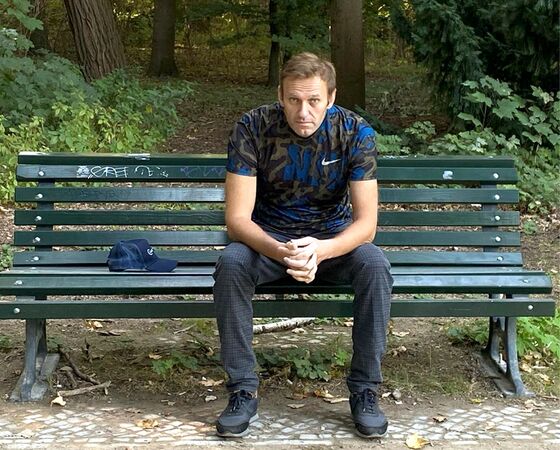 The attack on Navalny last month has ratcheted up tensions between Russian President Vladimir Putin and the European Union, already strained over issues such as the war in eastern Ukraine. French President Emmanuel Macron called it an assassination attempt and German Chancellor Angela Merkel and other leaders demanded that Russia clarify the incident, as Berlin consults with its EU and NATO allies on how to respond.
Navalny posted a photograph of himself on Instagram sitting on a park bench after he left the hospital for the first time in over a month.

"The first thing I did was to ask them to take me somewhere where there are trees," he said. "My plans are pretty simple: physiotherapist every day. Maybe the rehabilitation center. Stand on one leg. Recover full control of my fingers. Keep my balance."
Putin's spokesman, Dmitry Peskov, said the Kremlin welcomes Navalny's discharge from the hospital, as usual without referring to him by name. "It's great if the patient is really getting better, we wish him a speedy recovery," he told reporters on a conference call.
Merkel's chief spokesman, Steffen Seibert, lauded Navalny's recovery, declining to comment on his whereabouts. German Foreign Ministry spokeswoman Maria Adebahr said the government in Berlin was awaiting an assessment by the Hague-based OPCW.
Navalny is staying in Germany for the moment to complete his treatment, his spokeswoman Kira Yarmysh said on Twitter Wednesday.
Russia says it has no evidence Navalny was poisoned and has no basis to open a criminal investigation, accusing German authorities of failing to cooperate. The Kremlin vehemently rejects allegations it had any role in his illness. In a call with Macron on Sept. 14, Putin suggested that Navalny may have poisoned himself, having produced the Novichok on his own, Le Monde newspaper reported.
In an Instagram post late Tuesday, Navalny offered an acerbic take on Putin's reported claim.
"It's a good theory. I think it deserves the most thorough attention," Navalny wrote. "To die in the Omsk hospital and wind up in the Omsk morgue, where they would have determined the cause of death as 'he lived long enough' -- that was the goal of my cunning plan. But Putin outplayed me. In the end, I wound up spending 18 days in a coma like a fool but didn't succeed."
Macron's office declined to comment when asked about the Le Monde report. Peskov, the Kremlin spokesman, said the report included "many inaccuracies" but didn't specify what they were.
Navalny, 44, was initially hospitalized in the Siberian city of Omsk, where his flight made an emergency landing after he fell violently ill.
The clinic refused to discharge him for two days, citing his unstable condition, before he was evacuated to Germany at his family's insistence.
He was treated for 32 days at the Charite, close to Merkel's office in central Berlin, 24 of which he spent in intensive care. German authorities tightened security for Navalny this month to prevent any further attempt on his life, magazine Der Spiegel reported.
Navalny's allies have said he plans to return to Russia once he's recovered fully.