Nationalism in Europe Casts Shadow Over Balkan Healing Process
(Bloomberg) -- When Zoran Zaev sets out his vision of prosperity and integration for the Balkans, there's one major risk on the horizon.
The prime minister of Republic of North Macedonia hopes that his country's imminent NATO membership will be part of a wider process that will bind the combustible region into the European Union and lay the foundations for its economic development over the next decade. But the rise of nationalists in the EU parliamentary elections in May could block that goal. And the persistence of Balkan nationalists at home could give them an excuse.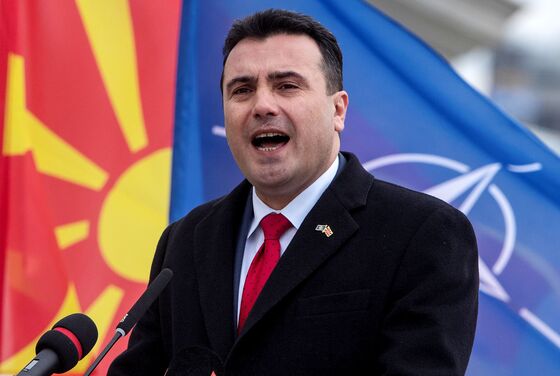 "If we intend to be together, we must stop thinking that everything in the world started from our nations," Zaev said in an interview in Munich Friday. "And not only in the Balkans."
Zaev said integration is a way to boost the living standards of some of Europe's poorest people and to stop the exodus of their most talented to the west. Yet the nationalist sentiment that sparked Europe's bloodiest post World War II killings is still causing divisions.
From the Republic of North Macedonia to Bosnia, nationalist politicians remain influential in the western Balkans. In Bosnia-Herzegovina, Serb minority leader Milorad Dodik has emerged as the most powerful politician by advocating partition of a country still grappling with the aftermath of the wars of the 1990s.
"I hope that politicians will be more in favor of the states and common European society than in their or party polls," Zaev said. "That's the future of the world."
For his nation of 2 million, he hopes NATO membership will help to kick start the economy, which came to a standstill during the corruption scandals that brought him to power in 2017. Zaev and his Greek counterpart Alexis Tsipras agreed last year to change the nation's name, prompting Greece to lift its veto over its neighbor's membership in the North Atlantic Treaty Organization and the EU.
German Chancellor Angela Merkel on Saturday praised the two leaders for their courage in reaching a compromise.
"I had given up," she told an audience of senior defense and foreign policy officials in Munich. "In all of those protracted conflicts for which we have not found solutions, if you have the necessary courage, you can find one."
Zaev hopes NATO membership will see foreign investment surge. He projects extra investment of as much as 300 million euros ($340 million) a year. In 2017, the country received 181 million euros of investments.
One thing he's not worrying about though is the likely change of leadership in Greece after this year's election. The leader of Greek opposition party New Democracy, Kyriakos Mitsotakis, said last month that Greece retains the right to veto its neighbor's bid to join the EU at any time.
"It's easier to comment on something when you are an opposition politician," Zaev said. "I think the rhetoric will change once he is in power."