National Guard Sent to Philadelphia After Shooting: Protest Wrap
(Bloomberg) -- Pennsylvania's governor deployed the National Guard on Tuesday after a police shooting on Monday sparked protests, the Philadelphia Inquirer reported, just a week before the swing state will help decide the presidential election.
Governor Tom Wolf sent the National Guard to Philadelphia a day after demonstrators clashed with police following the death of a 27-year-old Black man, Walter Wallace Jr. He was fatally shot by police, who said he was armed with a knife. Wallace's family said they had called for an ambulance to get him help with a mental health crisis, not for police intervention, the Associated Press reported.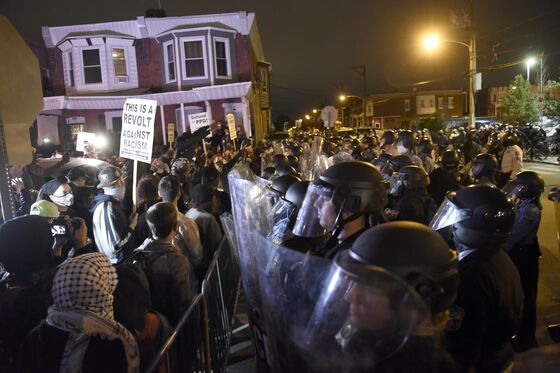 Thirty police officers were treated for cuts and bruises overnight, caused in most cases by bricks, rocks and debris thrown by protesters, a police spokesman told The New York Times. A sergeant was treated at a hospital for a broken leg after she was hit by a pickup truck, the spokesman said. Some businesses were damaged.
The Philadelphia Office of Emergency Management posted on Twitter that residents in several districts in the city should "remain indoors except when necessary." It said these areas had "experienced widespread demonstrations that have turned violent with looting."
The clashes in Philadelphia reignited the issue of police shootings of Black men in the waning days of a presidential campaign that has been shaped by protests since the May killing of George Floyd in Minneapolis. The city's African-American community is considered key to Democrat Joe Biden's push to win Pennsylvania's electoral votes. Donald Trump's narrow victory in the state four years ago helped send him to the White House.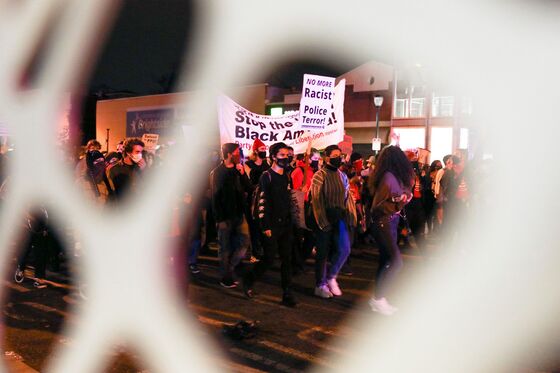 The Biden campaign issued a statement saying, "Our hearts are broken for the family of Walter Wallace Jr., and for all those suffering the emotional weight of learning about another Black life in America lost." The campaign also said that "no amount of anger at the very real injustices in our society excuses violence."
Biden's campaign repeated the contention that the president had only made matters worse regarding racial injustice in the U.S. "All Donald Trump does is fan the flames of division in our society," according to the statement.
At a campaign rally in Wisconsin, Trump said Philadelphia had been "torn up by Biden-supporting radicals," adding, "I stand with law enforcement, Biden stands with the rioters."
White House Press Secretary Kayleigh McEnany, in a late night statement, called the deminstrations "riots," faulting Democrats for not standing by police while also saying all lethal force incidents must be fully investigated. The Trump administration, she said, "stands ready, upon request, to deploy any and all federal resources to end these riots."
Meanwhile, in Washington, D.C., demonstrators demanded to see police camera footage of an incident where a man died in an electric scooter crash, after police say officers tried to stop him for riding without a helmet, according to local media reports.
In Gettysburg, Trump Supporters Clash With BLM Protesters: WPT