Nairobi Attack a Blow for Vulnerable Kenyan Tourism Industry
(Bloomberg) -- The attack on an upmarket hotel complex in Kenya's capital that claimed at least 14 lives may damage the East African nation's key tourism industry, which was recovering from a wave of Islamist assaults earlier this decade.
Al-Qaeda-linked militants in Somalia have claimed responsibility for Tuesday's terror attack on 14 Riverside in Nairobi, their first significant assault in Kenya since killing at least 147 people at a university in the northeast in April 2015. The tactics echoed their September 2013 attack on the Westgate shopping mall, also in the capital, that left at least 67 dead.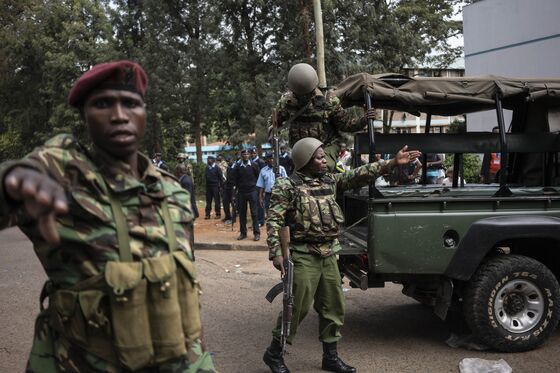 Tourism is Kenya's largest source of foreign exchange after agriculture and earnings climbed about a third year-on-year in 2018 to $1.54 billion. It was an apparent sign of confidence that the threat from al-Shabaab, which is thought to have committed more than 150 mainly small-scale attacks in Kenya since 2011, had waned.
The following are comments from analysts watching the region:
Robert Besseling, Executive Director, EXX Africa
Al-Shabaab has selected a target that is highly symbolic of Kenya's economic success and its latest attack is aimed at undermining foreign investment and the recovery of the country's tourism sector.
The latest attack on foreigners, international companies, and hotel assets is likely to trigger a fresh review of travel advisories by countries such as the U.S. that will have a significant impact on Kenya's tourism sector.
A now likely drop in tourism earnings is expected to make a broader economic impact this year.
Kenneth Minjire, Head of Securities, Genghis Capital
The biggest hit will be on Kenya's tourism, which had posted great recovery during the last two years. The shilling and the stock market may face a short-term knee-jerk reaction, but investors and traders will soon settle down.
Standard Bank, comments from Africa Brief
There is a risk that the attack may undermine tourism, which has enjoyed a long period of revival.
It's possible that (visitor arrivals) amounted to over 1 million for 2018 as a whole, eclipsing this mark for the first time since the terrorist attack in 2013.
Omar S. Mahmood, Researcher, Institute for Security Studies
Even if there have not been major incidents in Nairobi in recent years, al-Shabaab remains a sophisticated and determined actor, which still has its sights on the city.
Credit should be given to the Kenyan security apparatus for preventing attacks over the past few years. There have been a few plots we know of that have been broken up. At the same time, it is difficult to prevent every single incident. The lull in incidents prior to this is more likely due to proactive security force action, rather than a lack of trying on the part of al-Shabaab.
Jared Jeffery, Analyst, NKC African Economics
The issue of Kenyan troops in Somalia, the main driver of the extremist group's activity in Kenya, has largely fallen out of the political discourse, with little mention of it during 2017's election campaigns despite the spike in al-Shabaab's attacks at the time. An attack in Nairobi will ensure that it gets more attention. But the use of terror to reach political ends is rarely successful, and there is little reason to expect this will force a significant change in policy.
For now, at least, this is an isolated event after nearly five years with no such attacks in the capital. It appears as though the security forces' response to the attack was notably better than what was witnessed at Westgate in 2013.
Ed Hobey-Hamsher, Senior Africa Analyst, Verisk Maplecroft
Al-Shabaab has historically targeted sites that represent multiple constituencies to maximize the propaganda value of its actions. The DusitD2 hotel should not be seen as their sole target. The complex in Riverside is also home to the offices of foreign companies and high-end shops, giving them three high-value targets.
The extent to which the foreign companies were central rather than peripheral to the attack will determine how far the needle is moved for foreign investors reassessing security policies and protocols for Nairobi.