N.Y. Budget Head Aims to Meet Deadline, No Deal Yet on Taxes
(Bloomberg) -- New York State Budget Director Robert Mujica said lawmakers were on track to meet a budget deadline this week and that multiple scandals facing Governor Andrew Cuomo haven't interfered with budget negotiations.
When asked on Wednesday whether allegations of sexual harassment and covering up Covid deaths has complicated budget talks, Mujica said the Cuomo administration and the state legislature were proceeding without distraction.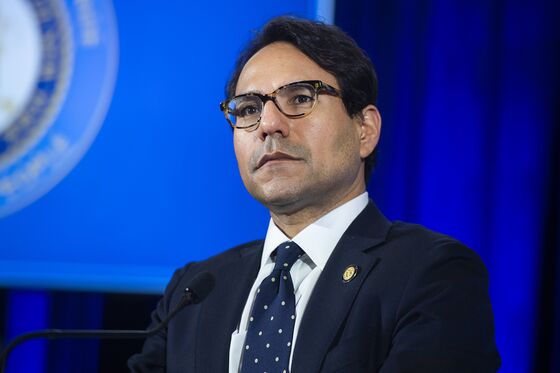 "The complication is not being in the same room, having to do things remotely adds complexity," he said in a pre-taped appearance on NY1 on Wednesday.
Cuomo on Wednesday signed a bill legalizing marijuana, ushering in the largest marijuana market in the U.S. after California. Cannabis storefronts will be allowed to open as soon as next year and the program is expected to generate $4.2 billion in sales once fully rolled out.
Mujica said lawmakers haven't come to a resolution on whether to increase taxes on the wealthiest New Yorkers as part of a roughly $200 billion state budget, one of the largest remaining points of contention between the governor and the legislature.
In his January budget proposal, Cuomo called for a $1.5 billion income tax increase. But that was before the state knew how much money it would receive from a federal aid package. New York received $12.6 billion of the $15 billion in federal aid it wanted, leaving a hole of nearly $2.5 billion, Mujica said Wednesday.
"There is a shortfall of about $2.5 billion just to make up the revenue shortfall," Mujica said. "And then there are spending priorities focused on the recovery that we have to fund in the budget."
Those priorities include cannabis legislation, as well as public-safety and building plans, rent relief and universal broadband.
Leaders of the Senate and Assembly each discussed raising more than $6.5 billion of revenue, which included proposals to increase income, estate and corporate taxes. The proposals include a 1% surcharge on capital gains income.
Democratic Assembly Member Phil Steck said that the conference hasn't yet taken up how it plans to raise revenue needed to cover its spending proposals.
Assembly Member Ron Kim, a Democrat from Queens, said he expects a final budget package to include raising personal income taxes on wealthy residents and a capital gains levy. He said negotiators are first haggling over spending needs before addressing how to pay for the programs, but that lawmakers want to avoid cuts to essential services.
"I absolutely believe we will have at least some incremental progressive taxes to lay the foundation for the next couple of years to structurally go after some of the wealth tax in a way that's not too disruptive in my opinion to business and markets," Kim said in an interview.
Freeman Klopott, a spokesman for Cuomo's budget office, said the administration is working "around the clock" to reach a finalized budget and that negotiations are focused on which priority areas to spend the money on and how much taxes need to be increased to cover the additional spending. He called the $2.5 billion a "baseline" of how much additional funds need to be raised.
"All issues are under discussion," said Klopott without offering any further details on negotiations. "The overall financial plan is resolved as the final fiscal picture becomes clear on both spending and revenues."
Last week, Mujica pushed back on plans by Democratic legislative leaders to target rich taxpayers as part of multibillion-dollar package. The Cuomo administration had previously signaled a willingness to raise personal income taxes on wealthy New Yorkers under its initial January proposal, but have walked back those plans over fears that higher levies may damage the state's economy and force residents to permanently leave.
Earlier this month, JPMorgan Chase & Co. Chief Executive Officer Jamie Dimon, Goldman Sachs Group Inc. CEO David Solomon and scores of other New York business leaders warned Cuomo and lawmakers that proposed tax hikes would risk the state's economic recovery and worsen the exodus of residents to lower-tax locations. In a letter sent by the Partnership for New York City, the group said raising taxes weren't needed given the federal stimulus programs and higher-than-expected tax receipts in 2020.
"The threat of a weakened governor from the left is making it hard for him to stop the increases," Kathryn Wylde, CEO of the Partnership for New York City, said in an interview earlier this month. "Advocates have capitalized on the pronounced inequities exposed by the pandemic to advance the case for redistribution of wealth as all the reason they need to raise taxes."
On Wednesday, Mujica said there was a "tipping point" when it comes to raising taxes, which opponents say could drive wealthy New Yorkers out of the state at a time when the economy is still reeling from the pandemic.
"We know a lot of New Yorkers have left New York. We know that the unemployment rate right now is relatively high. And whatever we do on the tax side, we want to make sure that we're striking that balance with funding the items for the recovery, but at the same time, not discouraging job growth and not discouraging those jobs from coming back to New York," Mujica said.