How New Jersey's Top Lawmaker Plans to Fix the Pension System
(Bloomberg) -- New Jersey's top-ranking lawmaker is counting on turning around the state's budget-choking pension system by tapping homeowners' disgust with paying the highest property taxes in the nation.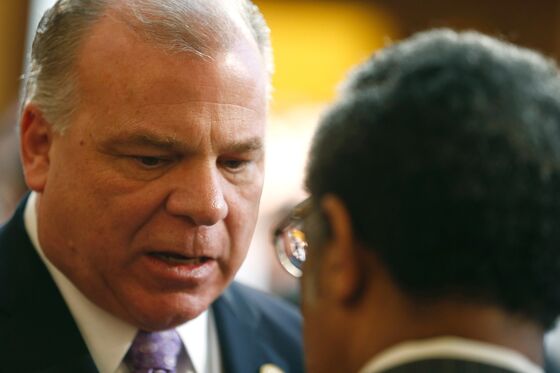 "If we can click with the public and they get angry, we've got to channel that anger to demand solutions," Senate President Steve Sweeney, a Democrat from West Deptford who has flirted with running for governor, said in a Thursday interview in Bloomberg's Princeton office.
Sweeney, 59, is meeting with local government leaders and homeowners, whose tax bills averaged $8,690 in 2017, to sell his plan for fixing one of the nation's worst-funded pension systems. A panel he convened in August issued a 30-page report that recommended changing the defined-benefit plan, with 769,000 members, to a hybrid model. It also urged cheaper health benefits for $1.4 billion in savings; regionalized school districts; and revenue transfers from such assets as the New Jersey Turnpike and water utilities.
Lawmakers, after the listening tour, will begin drafting legislation in January and want bills signed for the fiscal year that starts July 1, Sweeney said.
"That movie 'Network,' when the anchor says, 'I'm angry as hell and I'm not going to take it anymore?"' Sweeney said. "We need to engage the public. The public has given up at times. I can't tell you how many people I've heard say, 'As soon as my kids are out of school, I'm out of here.'"
Broad fixes to the state's pension troubles were pitched in 2005 and 2014, with limited impact. Sweeney cooperated with Republican Governor Chris Christie in 2010 to cut worker pay and benefits, then blocked a second round when Christie failed to stick to a seven-year schedule to increase pension payments. The state has budgeted a $3.2 billion pension payment, its largest ever, for this year.
Governor Phil Murphy, a Democrat who took office in January and promised a "stronger and fairer" economy, is on a trade trip in Germany and Israel to coax businesses to set up a presence in his home state. New Jersey for years has ranked last or near-last among U.S. states on a business-climate index maintained by the Tax Foundation, a Washington-based non-profit research group.
Sweeney suggested that Murphy, a retired Goldman Sachs Group Inc. senior director and former U.S. ambassador to Germany, had more basic work to do stateside.
"The problem we have with the economy here: Businesses don't like high taxes," said Sweeney, the sponsor of a bill that made New Jersey's corporate-business tax the nation's second highest, behind Iowa's. That legislation, along with measures to close tax loopholes, will lead to an estimated $800 million in revenue to support the $37.4 billion budget for the fiscal year that started July 1. In all, Murphy's first budget included more than $1.5 billion in new or higher taxes.
Still, that revenue is going largely to pension and health payments, rather than higher education, fixes for beleaguered New Jersey Transit or property-tax relief. That's the legacy of years of skipped or reduced pension payments by Democratic and Republican governors, plus $2.8 billion in borrowing in 1997 to pay for election-year tax cuts -- a maneuver that by 2027 will have cost the state $10.8 billion, Sweeney said.
The pension system, without changes, is on track to consume 27 percent of state spending by 2027, according to a December 2017 analysis by a Christie-appointed commission. Had New Jersey stuck to its actuarial funding plan, the required payment would have been just one-third of this year's record $3.2 billion.
"There is money -- it's just all in one place," said Sweeney, referring to the pension burden's crowding out other priorities. "There would have been $2.1 billion this year to spend in the areas where we needed to spend."